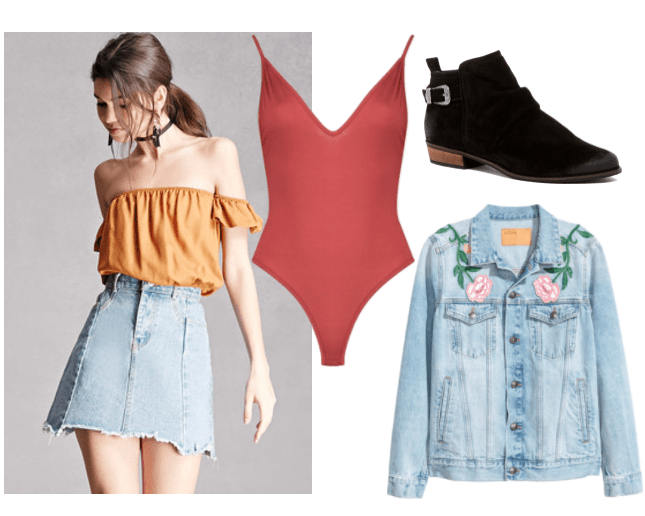 For the fans of Judd Apatow's romantic comedy, Love, Mickey Dobbs should not be an unfamiliar name.
However, to those of you who haven't had the pleasure of binging the two seasons Netflix has available, let me introduce the most stylish girl on the show. (Sorry, Berty!)
Love is an inside look into the world of dating, told in a very realistic way. Mickey Dobbs, played by Gillian Jacobs, is just as cool as you'd expect her to be. She's a twenty-something who works in radio, but she's also a hot mess. She wears bathing suits for tops, drinks an unhealthy amount of alcohol, and makes a lot of other not-so-okay decisions in the course of the show's two seasons.
The show follows her and Gus' (Paul Rust) on-again-off-again relationship.
While her life is a bit of a mess, Mickey's style is far from it. With minimal makeup in her arsenal and loose waves for days, her look is not only very laid-back but cute as heck, too.
So hit up your local thrift stores some vintage inspiration because this week, I'm giving you some tips on how to steal Mickey's signature style.
Look 1: Tanks, Tanks and More Tanks
Mickey loves a good tank top. They're not only easy to throw on, but they're also simple to dress up or down. They're an obvious staple for someone living in L.A, but, again, Mickey makes it work no matter where she is.
Steal this look with a bright yellow tank that screams '70s chic and tuck it into some grungy ripped jeans. You can go slightly skinny like Mickey or opt for a pair of boyfriend jeans — your choice.
For a bit of a neutral contrast between the dark jeans and the yellow tank, throw in a cognac crossbody and finish the look off with a pair of Mickey's signature buckled, black ankle boots. (She's never without them.)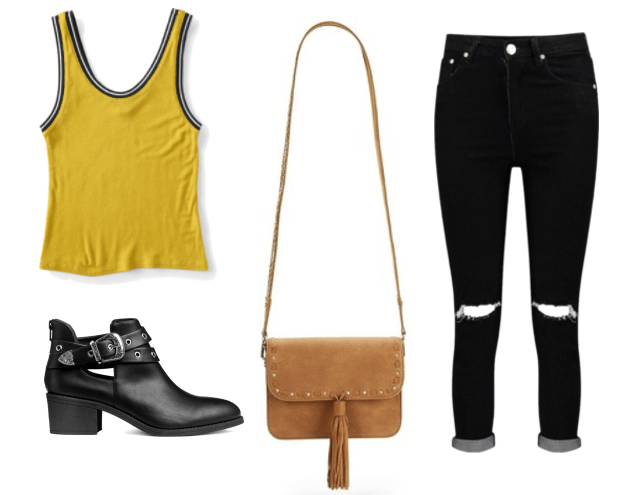 Products: Jeans – Boohoo, Tank – Aeropostale, Boots – H&M, Bag – Lord & Taylor
Look 2: The "It" Jacket
Every "It" Girl has their "It" jacket. However, Mickey isn't your average "It" Girl. She's got more jackets than anyone I know in real life. Whether she's rocking a flannel-turned-light-jacket or a simple denim one, if Mickey doesn't have her arms out in a tank, they're covered by some sort of jacket.
It's easy to get this style vibe. Start with a little denim-on-denim action with a light blue, frayed mini-skirt and matching jacket. They're two pieces that take you back to another time without being over-the-top. Plus, the frayed aspect of the skirt emphasizes Mickey's cool-girl, carefree attitude.
Slip into a bright red bodysuit to break up the blue and reference the red swimsuit that Mickey wears as a top in the pilot. And don't forget the buckled black ankle boots to tie it all together.
Products: Boots – Nordstrom Rack, Jacket – H&M, Skirt – Forever 21, Bodysuit – Boohoo
Look 3: The Overalls
If you've seen the show, you know which overalls I'm talking about. After this episode, everyone was lusting over these mustard yellow overalls.
Even though they're men's overalls, the loose fit of them makes for an uber cozy look. If you're looking to tackle this piece and rock it like Mickey, pick up some overalls yourself and pair them with a striped, vintage-looking tank. Slide a bunch of rings on your hands and, of course, finish with buckled ankle boots.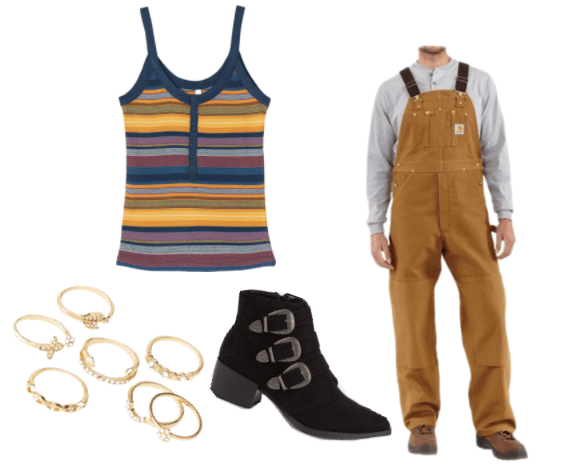 Products: Boots – Tilly's, Overalls – Sierra Trading Post, Rings – Charlotte Russe, Tank – RVCA
What do you think?
Do you just "love" Love like I do? Or are you watching something you think is better? Who is your favorite character on the show? Do you think Mickey and Gus will last? Let me know in the comments!