Obviously, we at College Fashion love Disney/Pixar, but given that you all seemed to enjoy the previous post about fashion inspired by How To Train Your Dragon, I figured that we might as well give another Dreamworks production a turn in the spotlight!
Rise of the Guardians has been popping up on my Tumblr dashboard for months now, but I didn't get the chance to see it until last week. And I'm so glad I did! Rise of the Guardians is highly original and beautifully animated, with a memorable cast of quirky and lovable characters. (Perks of writing this column: I've convinced myself that watching copious amounts of movies and television is actually "research.")
Know Your Geek: About Rise of the Guardians
Dreamworks's 2012 film Rise of the Guardians is based on William Joyce's book series, The Guardians of Childhood.
When the Boogeyman threatens to darken the world with nightmares, Santa Claus, the Easter Bunny, the Tooth Fairy, and Sandman recruit a reluctant Jack Frost to join their ranks as a Guardian, an elite group chosen by the Man in the Moon to protect the children of the world.
Outfits Inspired by Rise of the Guardians
Ready to join the elite circle of Guardians? Read on for looks inspired by these mystical figures!
Jack Frost
Jack Frost, voiced by Captain Fine..I mean, Chris Pine… is dedicated to spreading fun and mischief in the form of snowball fights and epic sledding adventures. He can conjure snow and ice using his staff and can fly by controlling the wind. Although Jack prefers unfettered fun and is unwilling to face responsibility, he's tormented by the fact that no one besides the Guardians can see him, and constantly questions his true purpose in life.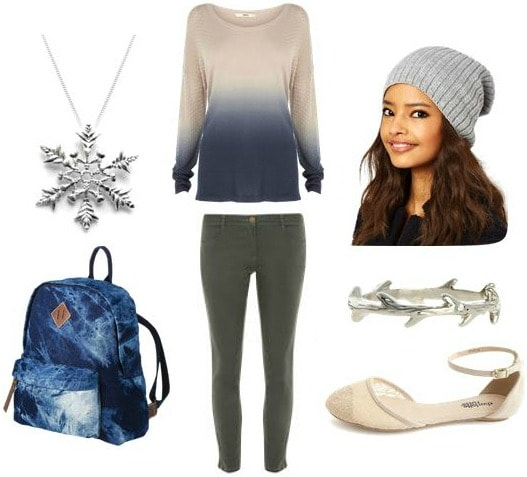 Product Information: Sweater, Pants, Shoes, Necklace, Ring, Backpack, Beanie
He might be a spirit of snow and ice, but Jack's wintry look is easily adaptable for autumn.
Jack is all about fun, so channel his playful nature with a cute and comfortable combination of an ombre sweater and stretchy khaki pants. Lacy white flats and a pretty silver snowflake pendant add a delicate touch of "frost" to the outfit, while a branch ring references Jack's wooden staff. Add a slouchy beanie and a roomy backpack for an effortless look that's perfect for an early morning class or a weekend jaunt with friends.
North
North, voiced by Alec Baldwin, isn't the jolly Saint Nick that you think you know! This burly, heavily tattooed Guardian is the de facto leader of the group, and resides in the North Pole. Flanked by his yeti henchmen (contrary to popular belief, the yetis, not the elves, make the Christmas toys), he cuts a rather menacing figure, but reveals to Jack that his purpose in life is to spread wonder.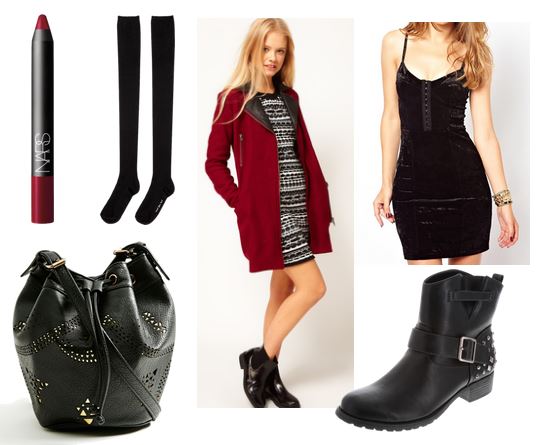 Product Information: Coat, Dress, Boots, Bag, Socks, Lipstick
Normally, you'd think an outfit inspired by Santa would be all fluffy, red, and white, but not this Santa!
Instead of a bright crimson, go for a deep red coat with leather accents. A slinky dress in winter-appropriate velvet and studded motorcycle boots add to the edgy vibe. Slip on a pair of thigh-high stockings for warmth (and a sly Christmas reference!). Finally, slick on a coat of vampy red lipstick and sling your bucket bag (or sack of toys, it's up to you) over your shoulder.
Tooth
The easily excited Tooth, voiced by Isla Fisher, is the Guardian of Memories: she and her team of tiny tooth fairies are responsible for collecting not just children's lost baby teeth, but also the memories of childhood contained within.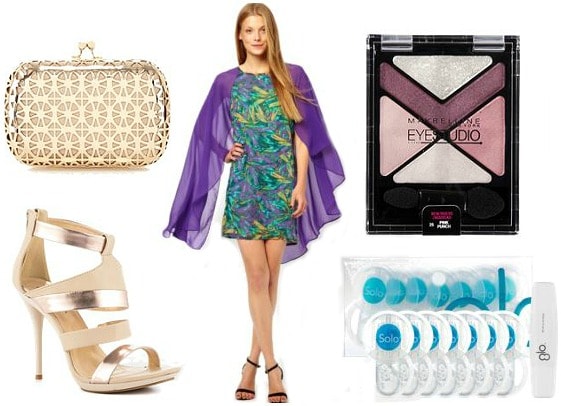 Product Information: Dress, Heels, Clutch, Eyeshadow, Whitening Kit
Tooth is a shimmering vision of iridescent wings and hummingbird-inspired feathers — the perfect inspiration for a memorable evening ensemble.
You'll stand out from a sea of LBDs in a brightly patterned chiffon dress complete with dramatic "wings." Brush on shimmery pink eyeshadow similar to Tooth's for a unique makeup look that complements the dress. Metallic heels and a delicate clutch are reminiscent of the golden cases that hold the teeth and memories. The best accessory, though, is a set of perfectly pearly whites, so don't forget to brush, floss, and whiten!
Bunny
At first glance, the fluffy Bunny seems like the polar opposite of that other critter that Hugh Jackman's famous for playing, but this cantankerous, boomerang-wielding hare is a force to be reckoned with.
As the harbinger of Spring, Bunny is the Guardian of Hope. Although he's vehemently opposed to Jack's initiation as a Guardian and more than a little grumpy, he does show a softer side when he's around children or around his precious eggs.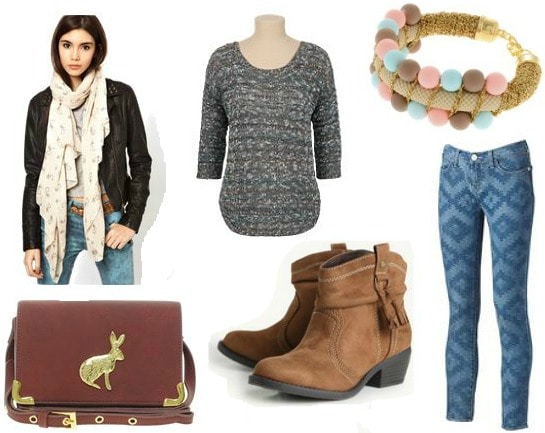 Product Information: Sweater, Jeans, Boots, Bag, Bracelet, Scarf
Put some spring into your step with a bold, Bunny-inspired look! Pair a marled sweater the same hue as his fur with patterned jeans reminiscent of the markings on his arms and legs. A cute rabbit-emblazoned scarf and messenger bag reference the Guardian, while a pretty pastel bracelet alludes to his beloved Easter Eggs. Finally, a pair of rugged boots round out an outfit that's both sweet and tough, just like Bunny!
Sandman
Sandman, also known as Sandy, is the enigmatic Guardian of Dreams, responsible for delivering happy dreams to sleeping children. He does not speak, communicating instead through the golden wisps of his magical Dream Sand. Although he's the calmest and arguably the wisest of the Guardians, he proves to be a formidable foe when his dreams are threatened.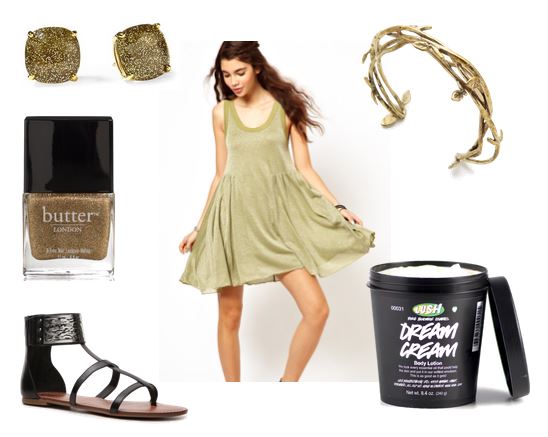 Product Information: Dress, Sandals, Earrings, Bracelet, Nail Polish, Lotion 
Go for gold with a floaty, dreamy look inspired by this mystical Guardian. A pair of black gladiators provides a nice contrast to a billowy metallic dress reminiscent of Sandy's ethereal golden robes. Sparkly nail polish and a pair of glittery earrings add some "Dream Sand" to the outfit, while a delicate vine bracelet resembles the snaking tendrils of dreams that he conjures.
Pitch
Pitch Black, voiced by Jude Law, is the shadow on the moon at night, filling your dreams to the brim with fright! (Who says I can't quote Disney in a Dreamworks article?)
Indeed, this Boogeyman is the villainous counterpart to the gentle Sandman, turning Sandy's golden dreams into menacing nightmares. He harbors a deep grudge against the Guardians, who defeated him and diminished his power, leaving him invisible to everyone but the Guardians.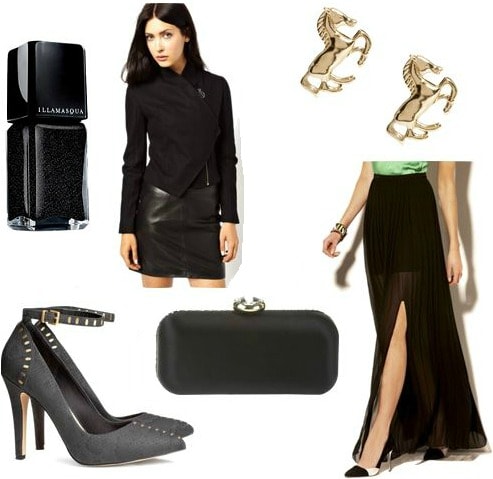 Product Information: Jacket, Skirt, Heels, Nail Polish, Earrings, Clutch
I don't know if I just have a strange proclivity for making the villain outfits dramatic and sexy, or if it's because all Big Bads kind of dress the same! But hey, you can never go wrong with a bold, all-black look.
Here, a sexy skirt stands in for the floor-length duster coat that Pitch wears. An edgy wrap jacket is a great way to take your summer maxi skirts into fall and winter, while studded pumps add more drama to the look. Brush on a coat or two of a smoky onyx nail polish, then accessorize with golden equine earrings as a reference to Pitch's fiendish Nightmares.
What did you think?
Have you seen Rise of the Guardians? Would you wear these outfits? What other geeky inspirations would you like to see? As always, let me know in the comments!