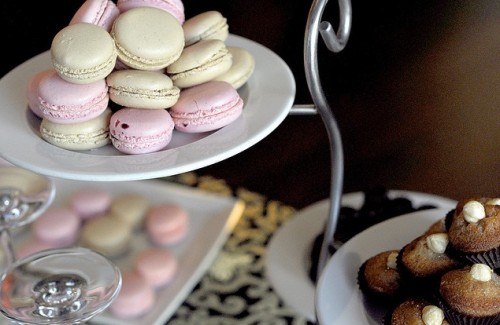 Whether you're a cupcake girl or you love candies from the corner store, we all love dessert. One bite of our favorite confections, and all our worries completely melt away.
Inspired by the colors, textures and emotions of our favorite sugary indulgences, I've decided to translate some of our favorite sweet treats into wearable looks good enough to eat. (Each look even includes some fun beauty products that match up with each profiled dessert.)
Chocolate Covered Strawberries
Chic and sophisticated, chocolate-covered strawberries are probably the most elegant dessert on the planet. From their association with romance to their classic look, these decadent delights make us feel like old Hollywood starlets with each and every bite.
Add a little bit of these sophisticated snacks into your wardrobe by copying the tuxedo-style coating by pairing a white blouse with a black skirt. Keep the look fun and feminine with a pair of funky black heels and some chic lace socks. Finish off with some subtle red accessories similar to the way a little bit of the red strawberry always peeks out of the chocolate coating.
Finally, jewelry is optional – skip it if you want to keep the look classic and sophisticated. However, if you want to add a little bit of a cutesy look, you could always put on a pair of strawberry stud earrings or a strawberry necklace.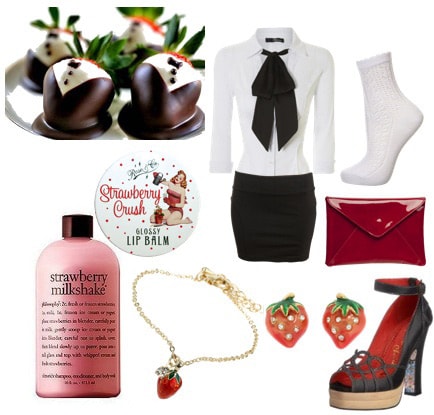 Blouse, Skirt, Heels, Clutch, Socks, Earrings, Bracelet, Lip Balm, Body Wash
Lollipops
When we hear the word "lollipop," we immediately get nostalgic for Shirley Temple, rewards for being good at our checkups, and Grandpa's candy dish. These sweet treats are timeless confections that remind us of simpler times when things were easy and life was uncomplicated.
Inspired by Shirley Temple and her Good Ship Lollipop, I've given this look a preppy nautical vibe with a colorful twist. Liven up a pair of white bermuda shorts and a dark blazer with an airy top in a fun multi-colored print. Use accessories to keep you look balanced – choose neutral tones for large accessories like heels and bags to maintain the preppy vibe, and add in a little bit of bright jewelry to keep your look fun.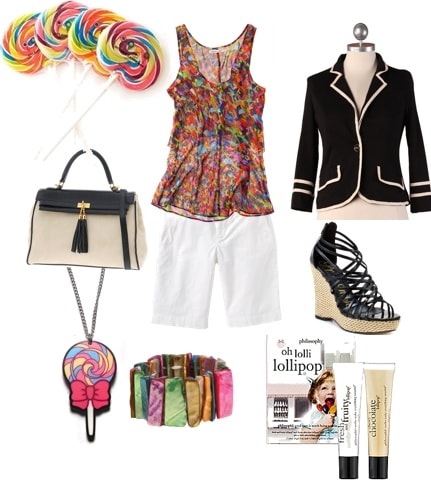 Top, Shorts, Jacket, Shoes, Bag, Bracelet, Necklace, Lip Gloss
Popsicles
One note of the familiar ice cream truck jingle, and we are transported back to lazy summer days when all we wanted to do was eat popsicles and run through the sprinklers. Cool, colorful, and refreshing, these summertime favorites always put us in a sunny mood.
The popsicle look is all about being carefree and spending time in the sun, like when we were kids. The key piece is the dress – look for one in a classic summery cut with a bright multi-colored pattern, similar to the lollipop look. However, instead of preppy neutrals, jazz your dress up with some neutral wedges (their color is reminiscent of a popsicle stick), and top everything off with some colorful accessories, like these ice blue bangles and neon orange clutch.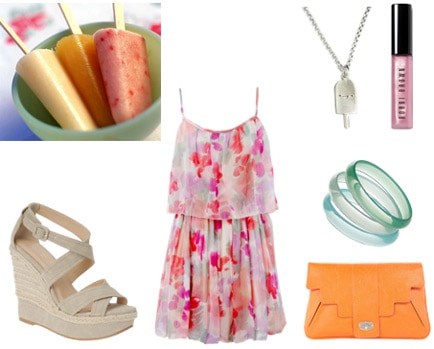 Dress, Espadrilles, Clutch, Bracelets, Necklace, Lip Gloss
Cupcakes
Light and fluffy, soft and sweet, cupcakes are the ultimate girly treat. Whether they're being served at a birthday party or at a fancy tea, these dainty desserts are always a pretty addition to any event.
Capture all of the girly goodness of a cupcake by choosing a lace dress in a nude ivory or a soft pale pink. Look for one with a full skirt to fully invoke the fluffiness of a cupcake. Add in a pair of heels and a bag in soft colors with girly touches like bows and laces. Top everything off with some dainty accessories like a pearl bracelet or a bejeweled cupcake necklace.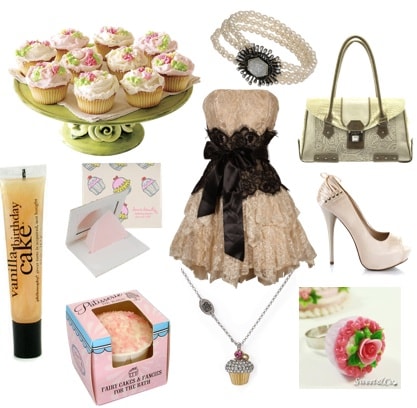 Dress, Heels, Bag, Necklace, Bracelet, Ring, Lip Gloss, Blotting Paper, Bath Fizz
Black Cherry Sticks
What is it about black cherry sticks that automatically makes a girl feel like she can kick some major butt and take on the world? Sweet and bitter, naughty and nice, black cherry sticks are the punk rockers of the dessert world.
Unleash your inner-black cherry by pairing some ultra-skinny black jeans with a sleeveless red top. Toughen things up with a gray faux-suede jacket and a pair of black combat boots. When it comes to accessories, keep them minimal, but keep them bold: Add a shiny red handbag and bright cocktail ring, or – for a more literal look – a sweet cherry necklace.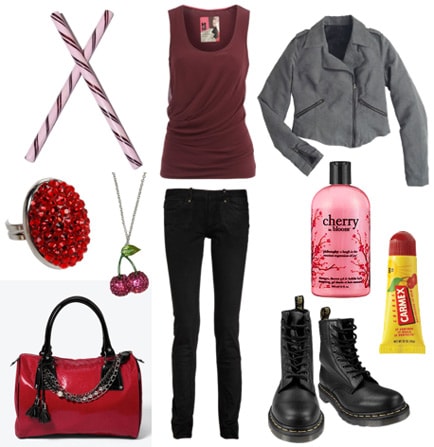 Top, Jacket, Jeans, Ring, Cherry Necklace, Handbag, Body Wash, Lip Balm, Boots
What do you think?
What do you think of my dessert-inspired looks? Would you wear an outfit based on a favorite sweet treat? Do you have a sweet look of your own? Comment below and let us know.