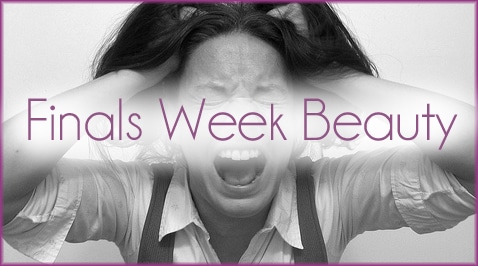 I don't know about you guys, but in the next eight days, I have two papers due and four exams to complete. And that's on top of packing to go home for winter break, attempting to have some semblance of a social life, and still keeping my sanity in-tact. Yes, ladies and gents, finals weeks is upon us.
While the next week of my life will be (un)happily spent schlepping to and from the library, coffee tumbler in hand, I'm determined not to let my beauty regimen slip up. Here are my tips on how to stay cute during finals week:
Skin

One of the most important things you can do to save your skin during finals week is to not stray from your usual skincare routine. Doing so will only stress your skin out more (yes, even more than those pesky neon lights) to the point of multiple breakouts.
I always carry extra moisturizer with me during the day so my skin doesn't get too dry, and I always remember to wash my face and apply my skincare products at night. I know that after a four hour study session, no one wants to do their skin routine, but I promise you'll be pimple-free on the plane ride home for break!
Hair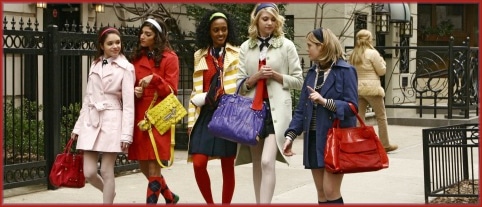 The one mistake I'm guilty of making during finals week is not paying attention to my hair. I know how easy it is to stick it under a baseball cap in a ponytail, but let's all take a cue from Gossip Girl with this one and rock the headband.
There are so many different types out there, from the delicate gold metal ones to the big, black Goody ones, so I don't want to hear any "my-head-looks-weird-with-headbands" excuses. Not only do they do a fabulous job of camouflaging dirty hair, they also make the sweats and tee shirt combo look more presentable and put-together.
Makeup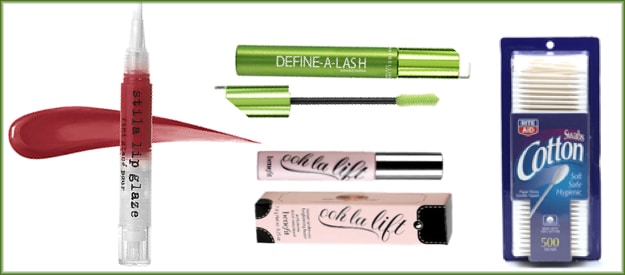 It's basically college law that no one gets enough sleep during finals week. Even so, it's easy to fake those eight hours you didn't get by keeping the focus on clean features.
Eyeliner and eyeshadow are time-consuming to put on, so I'll usually skip both of those until the Welcome Home/Christmas parties. Colleen recently profiled my favorite final's week beauty trick, Benefit's Ooh La La Lift ($22) which literally wakes me up when I put it under my eyes. Curl your lashes and use your favorite lengthening mascara to automatically open up your eyes.
In for a long day? Carry a few Q-Tips around with you to periodically swipe flake-y mascara out from under your eyes. If you're feeling extra daring, run a dab of your favorite lip gloss or lipstick (I'm a fan of Stila's Lip Glaze in Cranberry – $22) over your lips. All in all, this takes me approximately 3 minutes and instantly makes it look as if I've gotten a full night's sleep… When I really stayed up till 4 a.m. cramming for Gov!
What do you guys think?
How do you all stay beautiful during finals week? Do you have any tips for staying gorgeous and still passing your exams? Tell me in the comments!