This post may contain affiliate links, which means we may receive a commission if you purchase through our links. Please
read our full disclosure here
.
Every week, I scour the web to find inspiring outfits on your favorite celebs and help you recreate their looks! This week, I was inspired by Zoë Kravitz's ultra-cool, vintage-inspired style.
Read on to see how to get Zoë Kravitz's outfits for yourself, on a budget!
Zoë's Vintage Vibes
Zoë Kravitz recently turned heads while grabbing coffee in the ultimate cool-girl summer trend: a tennis skirt.
You may have noticed that pleated mini skirts (which are often seen on the tennis court) have made their way into the street style scene.
Zoë styled her skirt with a graphic print N.W.A. t-shirt, a '90s-inspired black shoulder bag, and some dark sunglasses.
She's also known for regularly rocking white socks with Mary Jane flats, which is how she completed her look.
Zoë Kravitz Outfit #1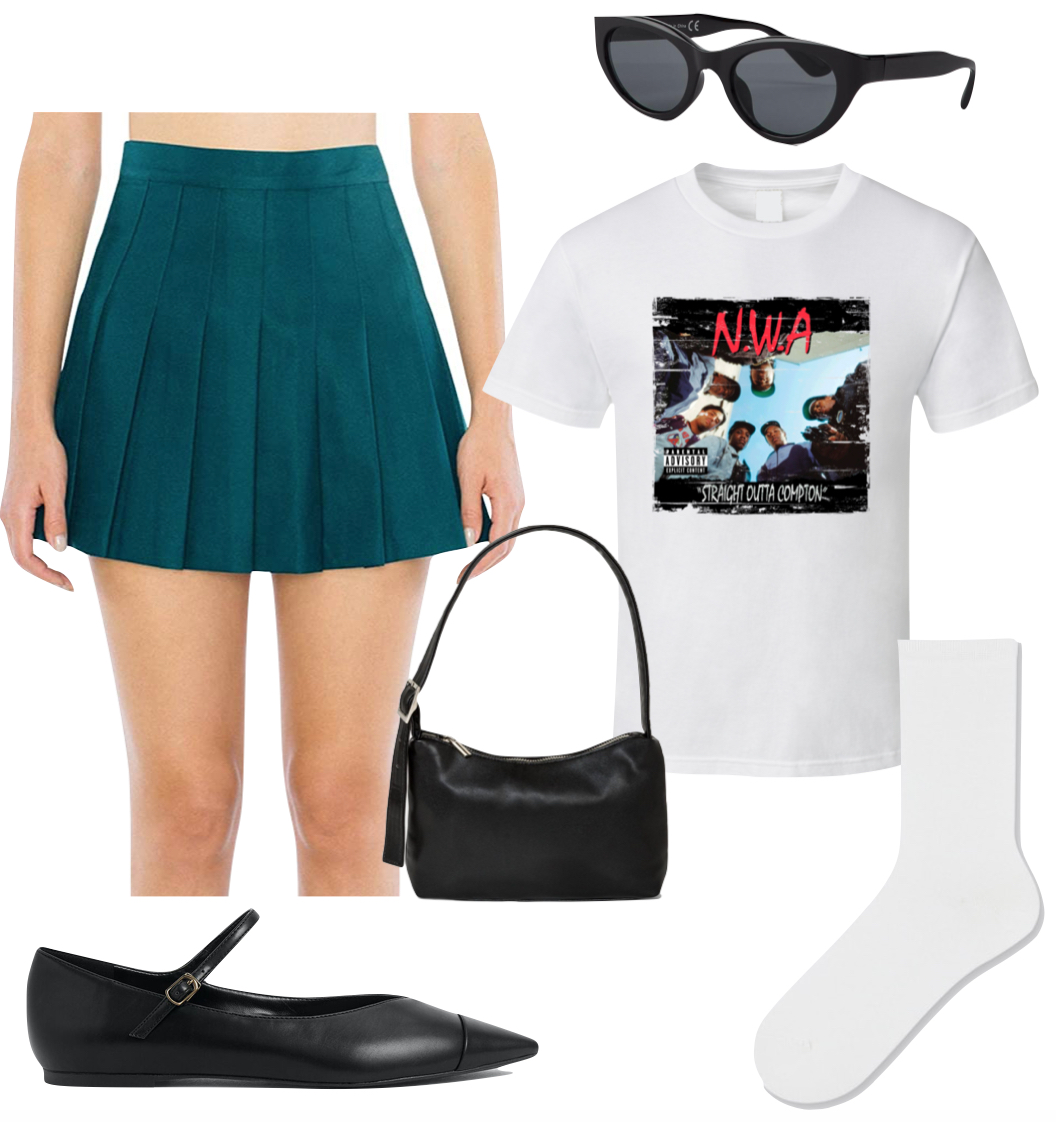 Products: Skirt, T-Shirt, Sunglasses, Bag, Shoes, Socks
Get Zoë's trendy look by pairing a graphic print musical group t-shirt with a pleated mini skirt. This green tennis skirt is a perfect match for Zoë's skirt.
Play up the vintage vibes with a black '90s-inspired shoulder bag and some oval cat-eye sunglasses.
For the full Zoë effect, try her signature white socks paired with black Mary Jane flats.
Zoë's Summer Style
Next up, Zoë looked ready for summer in some dark denim cutoff shorts and a cute bucket hat.
She also wore a white tank top with her signature socks-and-Mary-Jane-flats combo.
Zoë accessorized with a square buckle bet, gold hoop earrings, black cat-eye sunglasses, and an oversized black satchel bag.
Zoë Kravitz Outfit #2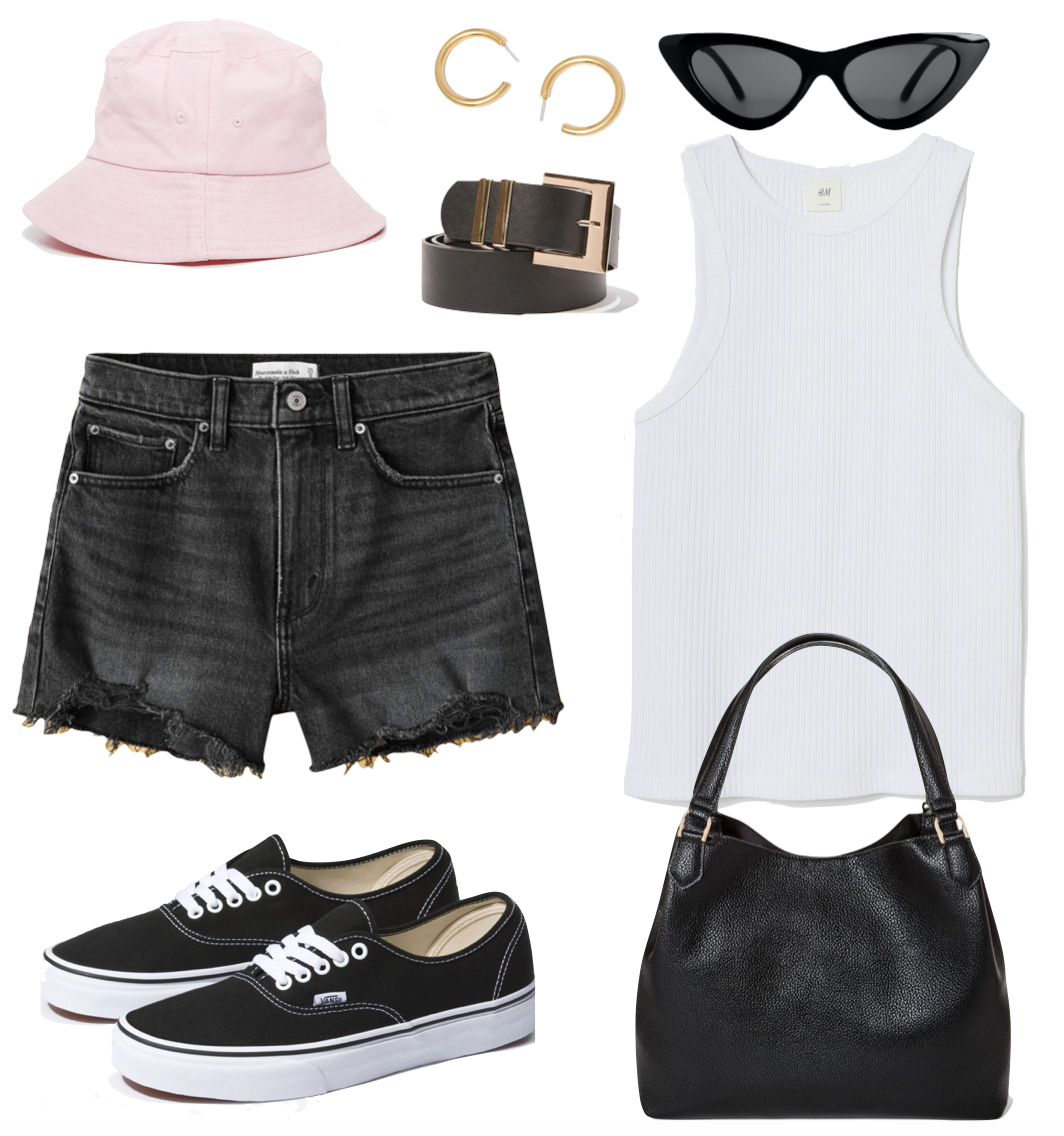 Products: Shorts, Belt, Tank Top, Hat, Earrings, Sunglasses, Sneakers, Bag
This outfit is simple, but the accessories make it really pop.
Pair a ribbed white tank top with some washed black jean shorts and a square buckle belt.
Have fun with trendy accessories like a light pink bucket hat, cat-eye sunglasses, chunky hoop earrings, and a large black satchel bag.
If socks and flats aren't your thing, try some black and white low-top sneakers for a casual vibe.
Zoë's Laid-Back Look
This past week, Zoë was spotted on a grocery store run wearing a laid-back yet cool look.
She wore some green Adidas track pants with a plain white tank top and some chunky black zip-front boots by The Row.
This unexpected pairing of athletic wear with edgy footwear makes her outfit stand out.
Zoë Kravitz Outfit #3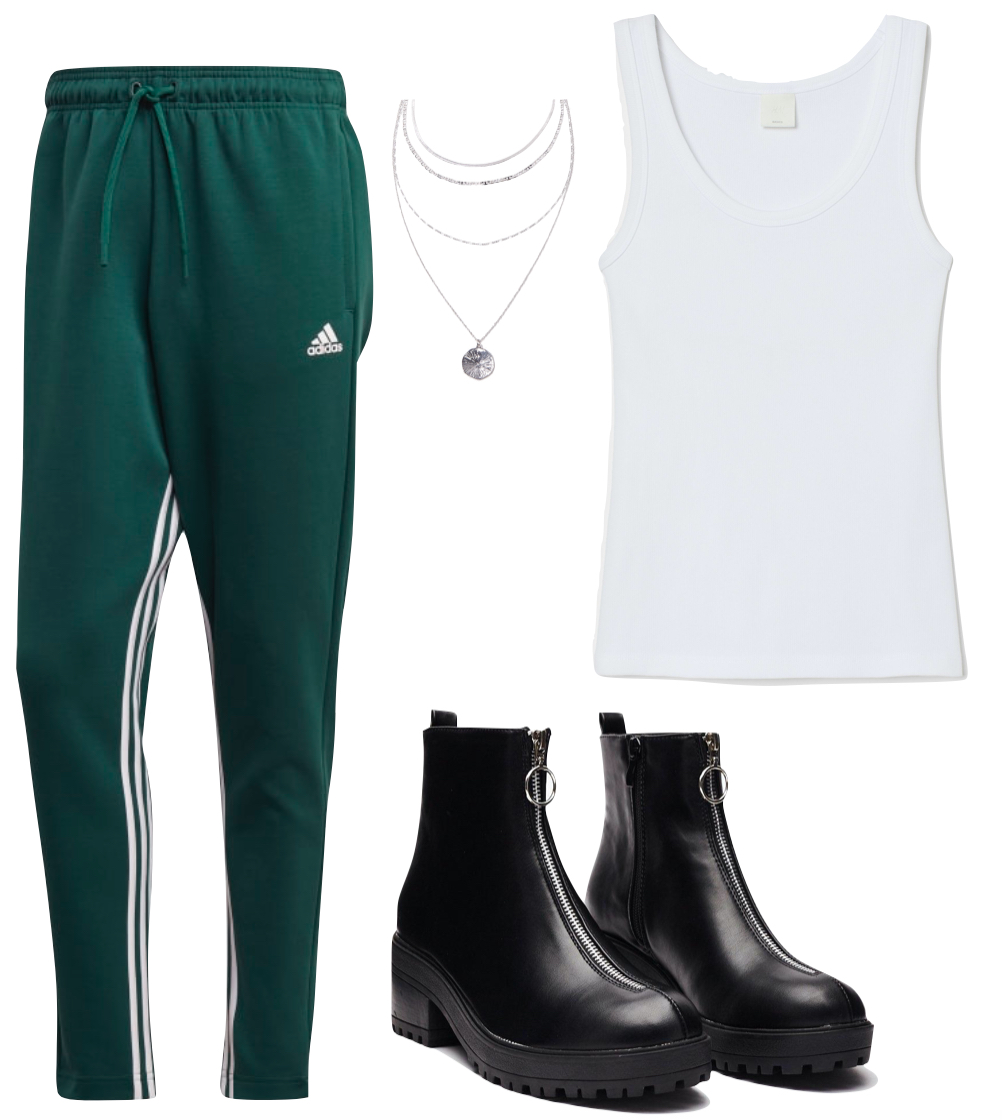 Products: Pants, Tank Top, Necklace, Boots
Do the unexpected as Zoë did by wearing a laid-back, athletic-inspired outfit with some edgy footwear.
These chunky black boots with a zipper-front detail are a more affordable version of Zoë's designer boots. Wear them with some striped green track pants and a white tank top.
Zoë accessorized her look with some layered necklaces – this silver necklace set will match the silver zippers on the booties.
What do you think of our Zoe Kravitz outfits guide?
Which outfit would you be most likely to wear? What other celebs would you like to see featured? Leave a comment and let us know!