Welcome to CF's new column, Women in Power! Inspired by the upcoming election, Women in Power will feature important women in history, outline their accomplishments, and explain how you can honor these amazing ladies in style. Enjoy!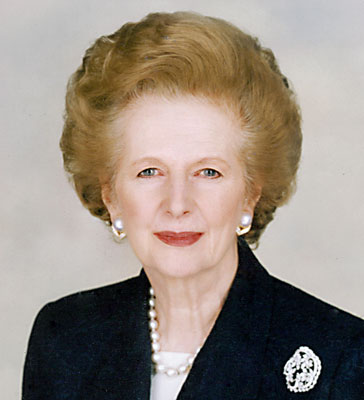 Photo: Chris Collins of the Margaret Thatcher Foundation
Via: Wikimedia Commons
The English hold a strange appeal over Americans; we find their accents distinguished and sexy, their boy wizards marvelous, and their weddings supreme. Just give me a double-decker bus and a picture of Big Ben and I'll be in heaven.
We love to associate British politics with fairy tale images of royalty. Who doesn't want to hear about a queen, a prince, and a lovely duchess? However, when it comes to really running the country, it is important to identify a different political leader: the Prime Minister.
The Prime Minister position has been in existence for hundreds of years and during that time, only one woman has held the position. Known as the "Iron Lady" for her no-nonsense attitude, Prime Minister Margaret Thatcher revolutionized the woman's role in politics during her 20 years in office.
Keep reading to learn more about the Iron Lady and Margaret Thathcher's fashion sense.
10 Facts about Margaret Thatcher:
Originally from Grantham, Lincolnshire, Margaret Thatcher attended Somerville College, Oxford and studied chemistry.
In 1970, Thatcher was appointed the Secretary of State for Education and Science. In 1975, she became the first woman to head a major UK political party when she was elected as Leader of the Conservative Party.
In 1979, Margaret Thatcher became the first and only female Prime Minister of the United Kingdom.
Thatcher became known as the "Iron Lady" after surviving a 1984 assassination attempt and expressing her fierce opposition to the Soviet Union.
Although Margaret Thatcher and Queen Elizabeth II had an amicable professional relationship, it was rumored that the two powerful women were constantly clashing. Thatcher later wrote that "stories of clashes between 'two powerful women' were just too good not to make up."
Thatcher and Ronald Reagan became closely aligned during the Cold War due to their stances against communism.
In 2007, Thatcher received a statue in the Houses of Parliament. Her statue stands opposite to Sir Winston Churchill.
Thatcher has been awarded numerous American awards, including the Republican Senatorial Medal of Freedom, the Ronald Reagan Freedom Award, and the Presidential Medal of Freedom, the highest civilian honor awarded by the US.
Cosmopolitan Magazine recently did an editorial on Margaret Thatcher's style. See the artistic spread here.
Meryl Streep plays Margaret Thatcher in the biographical (and Academy Award-nominated) film The Iron Lady, in theaters now. You can watch the full trailer here.
Style Inspired by Margaret Thatcher: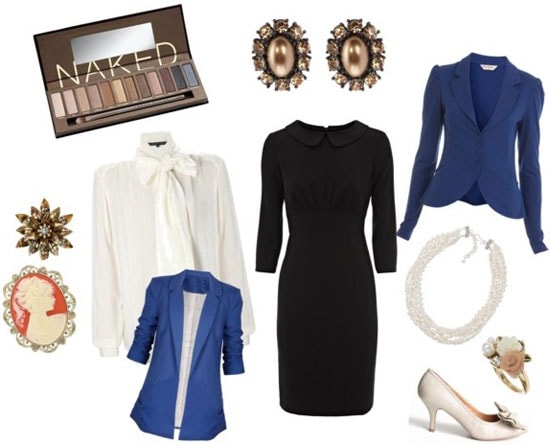 Product Information: NAKED Palette, Earrings, Blue Button Blazer, Gold Brooch, Blouse, Dress, Pearls, Vintage Brooch, Blue Open Blazer, Ring, Heels
As a prominent political figure, Margaret Thatcher is known for dressing in a very classy manner and she always appears respectable and put-together.
Channel her powerful vibe by wearing splashes of Thatcher's signature color; the former prime minister is almost always seen in either a royal or navy blue pantsuit, so rock a blue blazer as a nod to her. Add a brooch to a lapel for a fun splash of elegance, and distinguish yourself with oversized earrings and elegant pearls. Keep makeup minimal and natural; Urban Decay's NAKED palette recreates the natural, clean makeup look that is standard for women in politics.
Your turn!
Margaret Thatcher embodies the traits of a truly powerful woman: successful, driven, freedom-oriented, and respectable. She has had successes in office as well as in her professional relationships. As the Iron Lady ages with grace, pop culture has respected her legacy with editorials, movies, and awards.
What do you think about Margaret Thatcher's legacy? Her style? Is she a good role model for women? Who else would you like to see featured in the future? Make sure to leave your thoughts in a comment!