This post may contain affiliate links, which means we may receive a commission if you purchase through our links. Please
read our full disclosure here
.
Good news, everyone! The Geek Chic Express is blasting off to the 31st century to join the Futurama crew! I just recently started marathoning this show on Netflix and I'm totally hooked. After all, it's essentially the love child of sci-fi and The Simpsons, so what's not to love?
Know Your Geek: About Futurama
Futurama was created by Matt Groening (the creator of The Simpsons) and originally aired from 1999 to 2003 on Fox. Four direct-to-video films were released in 2007 and 2008, and were later shown on Comedy Central. The network then decided to revive the show; new episodes ran on Comedy Central from 2010 to 2013.
The show follows the adventures of Fry, a pizza delivery boy from the 20st century who's accidentally cryogenically frozen for 1,000 years. He wakes up in the year 3000 and finds himself in New New York, where robots crowd the streets and the wheel is obsolete.
Outfits Inspired by Futurama
Let's blast off (or, you know, spend 1,000 years frozen) into the 31st century for some outfits inspired by the characters of Futurama!
Fry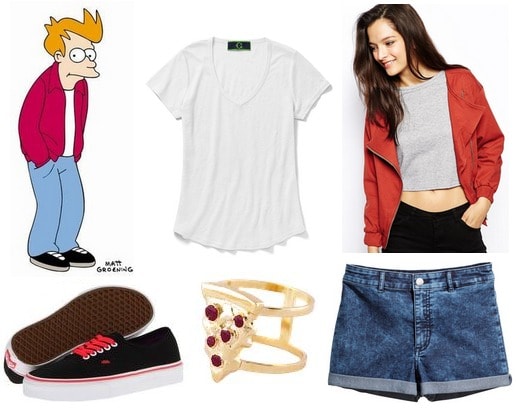 Product Information: Jacket, Tee, Shorts, Shoes, Ring
Philip J. Fry, voiced by Billy West, is a lovable loser from the 21st century, where he was a pizza delivery boy. In the future, he's found himself working essentially the same job as a delivery boy for Planet Express, an interplanetary delivery company headed by Professor Farnsworth, Fry's great (x 30) nephew. Although Fry's not the brightest bulb, he's got a good heart and proves to be a good friend to his Planet Express co-workers.
Fry's signature outfit was apparently modeled after James Dean's look in Rebel Without a Cause. Channel his laid-back look and dress up a basic white tee and shorts with a sleek motorcycle jacket and red-accented sneakers. As a final touch, slip on a ring featuring everyone's favorite junk food!
Leela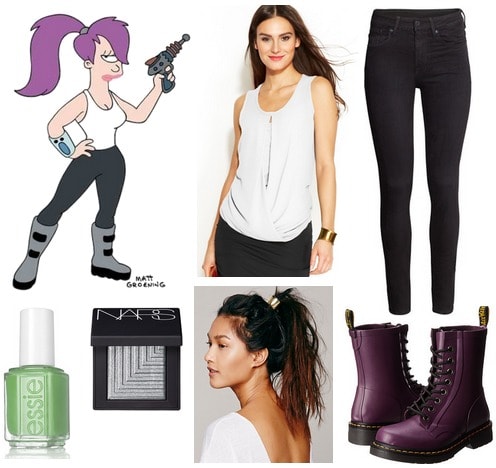 Product Information: Tank, Jeans, Boots, Ponytail Holder, Eyeshadow, Nail Polish
Leela, voiced by Katey Sagal, is the no-nonsense captain of the Planet Express ship. She's a one-eyed mutant who grew up in an orphanarium, where she developed her tough-as-nails demeanor as a response to constant bullying. Leela is definitely the most responsible and level-headed member of the team.
Just like her personality, Leela's attire is practical and tough. Take her look from 2-D to 3-D with a drapey tank, black jeans, and fun boots that echo her memorable hair color. A metal ponytail holder elevates a simple hairdo, while statement eye makeup is a must when you've only got one to show off! Finally, a coat of green nail polish references the Planet Express ship that Leela captains.
Bender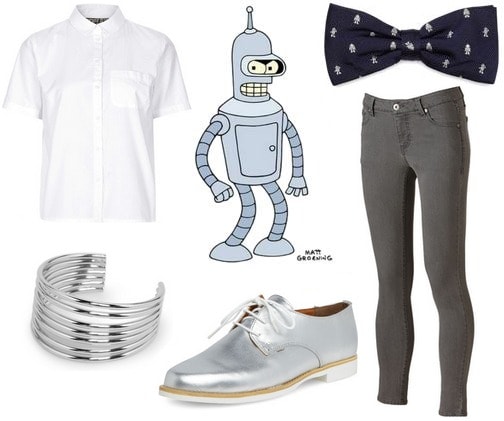 Products: Top, Bowtie, Jeans, Shoes, Cuff
Bender, voiced by John DiMaggio (a.k.a. Jake of Adventure Time), is a foul-mouthed, beer-guzzling, cigar-smoking, and completely amoral robot who frequently voices his desire to kill all humans. Despite his rather unsavory nature, Bender becomes Fry's best friend.
While Bender's not exactly the most dapper gentleman, he seems to think of himself that way. Channel that somewhat delusional thought with a monochromatic, androgynous outfit inspired by this saucy automaton. A crisp white shirt and gray jeans are a perfect foil for a pair of gleaming oxfords, while a bowtie emblazoned with robots adds a quirky touch. Put the "bend" in this Bender-inspired look with a curved silver bracelet!
Amy
Products: Top, Skirt, Heels, Cuff
Amy Wong, voiced by Lauren Tom (a.k.a. Mrs. Tran, for any Supernatural fans out there!), is a ditzy sorority girl and heiress from Mars who interns at Planet Express. She's extremely gullible and somewhat shallow, but has a kind heart. Amy rebels against her stern and controlling parents by dressing in provocative clothing.
While Amy's midriff-baring sweatsuit set might have been all the rage back in middle school, you can get a similarly flirty look with a more of-the-moment silhouette: the matching crop top and skirt. Pair this bubblegum pink ensemble with fun cut-out heels and an eye-catching turquoise cuff.
Doctor Zoidberg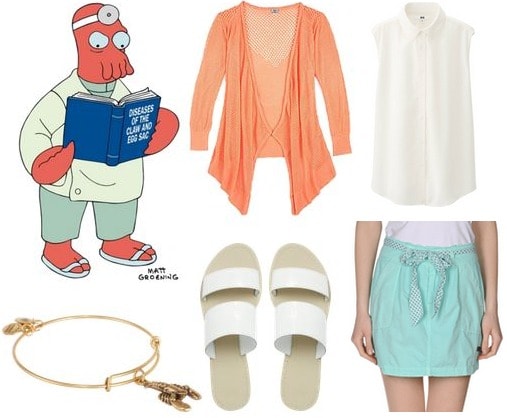 Products: Cardigan, Top, Skirt, Shoes, Bangle
Dr. Zoidberg, also voiced by Billy West, is a lobster-like alien who serves as the staff doctor at Planet Express, but is woefully incompetent and seriously misguided when it comes to human anatomy. The other Planet Express members find him repulsive due to his habits of eating trash and dog food, and he's constantly broke due to his medical incompetence. Nevertheless, he's extremely optimistic and refers to the other crew members as his friends, though it's doubtful that they feel the same!
Although a smelly crustacean monster might not seem like a great source of fashion inspiration, Zoidberg's coral hue is totally on trend! Pair a coral cardigan with an aqua skirt for a summery color combination, then slip on some simple white slide sandals. Finally, add a lobster charm bracelet as a reference to this "pathetic but lovable" character.
What did you think?
Would you wear these outfits? Do you watch Futurama? What other geeky inspirations would you like to see? As always, let me know in the comments!