This post may contain affiliate links, which means we may receive a commission if you purchase through our links. Please
read our full disclosure here
.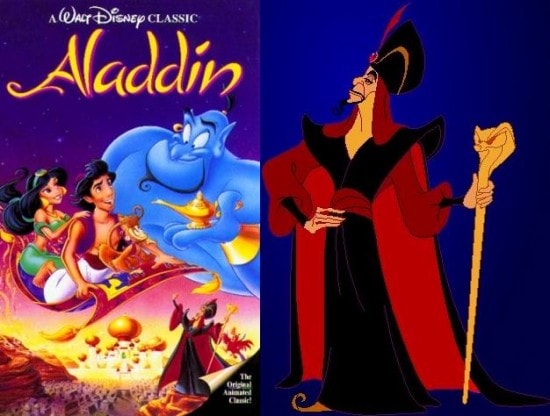 Although Disney Villains aren't exactly role models, they do tend to be inspirational when it comes to fashion. Even the amazing makeup label MAC found them inspiring, releasing a Disney Villains-inspired makeup collection. So as requested by many of you, over the next few weeks, I'll be breaking down fashion inspired by these wicked characters.
Like the previous articles in this series, the purpose of this article is to use childhood icons as inspiration for outfits that you can actually pull off as a college student. All it takes is a little creativity!
For more Disney-inspired looks, check out our past articles on Disney-Inspired fashion! Walt Disney's Snow White, Walt Disney's Sleeping Beauty, Walt Disney's The Little Mermaid, Walt Disney's Cinderella, Walt Disney's Princess Jasmine, Walt Disney's Princess Tiana, Walt Disney's Pocahontas, Belle from Disney's Beauty and the Beast, Jane Porter from Disney's Tarzan, Megara from Disney's Hercules, Emeralda from Disney's The Hunchback of Notre Dame, Walt Disney's Mulan, Walt Disney's The Lion King, Walt Disney's The Nightmare Before Christmas Part 1 and Part 2, and Classic Walt Disney Characters.
For more Disney Villain Fashion, see our posts on The Evil Queen from Disney's Snow White, Cruella De Vil and Ursula.
About Jafar
Jafar is the Grand Vizier of the Sultan of Agrabah. He is an evil man whose ultimate goal is to control the kingdom. When the Sultan's daughter, Princess Jasmine, runs away and falls in love with "street rat" Aladdin, Jafar captures him. Jafar's plan is to have Aladdin enter the Cave of Wonders and retrieve a magic lamp that is home to a genie. Jafar wants the lamp so that the genie can grant him the power to control Agrabah. However, things take a dramatic turn when Jafar's plan fails, leaving Aladdin as the genie's master.
Now that he possesses the genie, Aladdin's first wish is to become a Prince so that he can be with Princess Jasmine. When Jafar realizes what is going on, he does everything he can to stop Aladdin. Eventually, he steals the lamp when Aladdin isn't looking. The genie unwillingly grants Jafar his first wish, to become the sultan, and his second, to become the most powerful sorcerer in the world. Fortunately, Aladdin tricks Jafar into using his third wish to become an all-powerful genie, without realizing that genies are not free beings. The story ends with Jafar the genie being sucked into the tiny confinements of the lamp.
The Cave of Wonders
Jafar is obsessed with getting the magic lamp from the mysterious Cave of Wonders. To make an outfit inspired by this scene, I used a pair of fabulous high-waisted pants with the same flowy texture as Jafar's robes, and a top with wavy details, reminiscent of the desert sand. I also included a tiger necklace, since the entrance to the cave is in the shape of a tiger.
Coat- Oasis, Top- Topshop, Pants- Speigel, Necklace- Hannah Zakari, Shoes- Arden B
Hypnotizing the Sultan
The evil Jafar uses his cobra-shaped staff to hypnotize the sultan to get whatever he wants. This scene is great inspiration for an outfit. I used a sultry red dress with pointy shoes and an angular belt to mimic Jafar's robes. And since Jafar loves snakes, I added snakeskin patterned tights, as well as a cobra ring that looks very similar to his staff.
Ring- Modcloth, Shoes- Lori's Shoes, Dress- Modcloth, Belt- French Connection, Tights- Free People
Jafar the Genie
Before Jafar realizes that being a genie means he will have to cater to his master's three wishes, there is an elaborate scene where he shows off all of his magical powers. To transform this scene into an outfit, I used a beautiful dress with a chaotic mix of colors. To top off this Jafar Genie look, wear your hair in a high ponytail.
Shoes- Forever 21, Dress- BCBGeneration
Thoughts?
Are you inspired by Jafar? Which looks are your favorite? Which Disney villains would you be interested in seeing posts about in the future? I want to know what you think, so be sure to leave your thoughts in a comment!