This post may contain affiliate links, which means we may receive a commission if you purchase through our links. Please
read our full disclosure here
.
What Should I Wear…?! is a biweekly column that is here to answer that very question. If you have an event coming up that has you stumped fashion-wise, this is guaranteed to be your best source for outfit inspiration when you need it the most!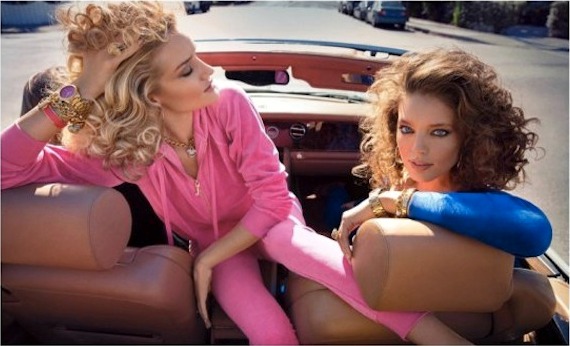 Photo: ELLE
Truly an event in the fashion world, the internet is buzzing over the imminent closing of all Juicy Couture stores by the end of this summer. Along with Limited Too, and so many other once-successful brands, you now know how it feels to be "old" and watch that which you once craved the most become obsolete.
Juicy Couture was a celebrity favorite in the early 2000s and epitomized the era with their "bling, bling", "purse dogs" and, of course, the tracksuits. When I say that they "epitomized the era" though, remember Paris Hilton was probably their best customer.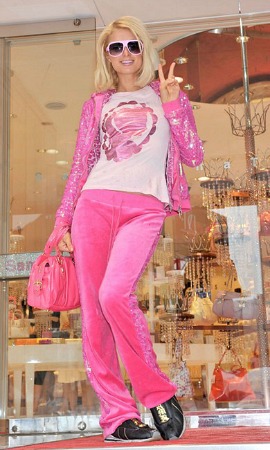 "Peace out, won't forget about you." | ELLE
Those trendy Juicy Couture tracksuits – which used to be "it, " literally "it" for almost everything and everywhere – are the focus of this "What Should I Wear…?! post. I know what you're thinking: "What?! Nobody has worn those in forever!", but the looks below are current (I promise!) and this post is for more than just nostalgia.
Juicy Couture tracksuits became popular because the brand's founders, Pamela Skaist-Levy and Gela Nash-Taylor, answered the pleas all females have about getting dressed. These velour wonders were comfortable, yet cute and flattering, they were oh-so versatile, and were the epitome of easy dressing – all you had to do was put on the matching top and bottom.
While you may not realize just how much they had going for them and maybe didn't even particularly like the brand, at least consider how revolutionary they were. You live – and, more importantly, dress – in a (fashion) world that was forever influenced by the allowances set by Juicy Couture.
And since "nobody has worn them in forever," a replacement was never found… well, a good replacement, at least. To fill the void, here are outfits based on the four places 2000s trendsetters wore Juicy tracksuits the most: while shopping, at the spa, during airplane travel, and to yoga class.
Shopping
"The glamorous U.S.A." does not seem so glam when one goes shopping these days. I don't understand why, but when shopping for fabulous clothing, people wear that which is not. At least when tracksuits were the uniform for shopping trips across the country, there were cohesive ensembles going on that looked intended and practical.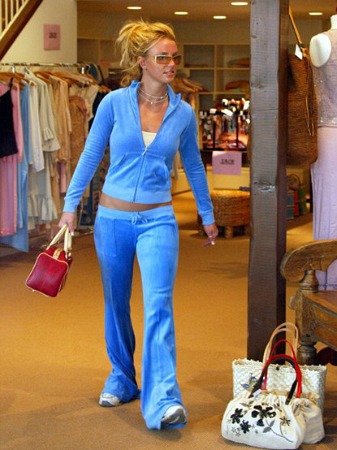 Brit's so "blue" about this… what'll she wear to the stores now? | ELLE
Of course, you can wear whatever you like when you go to the mall (within reason), but if you're looking for a new shopping "uniform," check out this chic getup: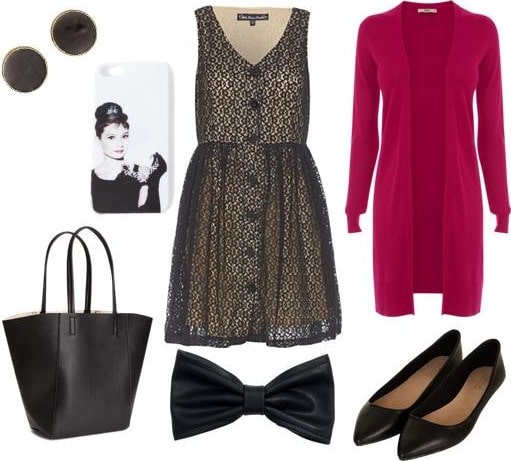 Product Information: Dress, Cardigan, Shoes, Bag, Earrings, Bow, Phone Cover
That dress, look at it! It was just made for shopping. The buttons down the front mean it's easy to get on and off, and your hairstyle won't be sacrificed in the process.
Flats are a godsend when you're going to be on your feet all day and this bag (ironically called a "shopper") is ideal for holding smaller purchases along with your other necessities. Aside from their practically, the shoes and bag both add a polished vibe to the look.
This clip-on hair bow is a feminine way to pull back your hair and keep it away from your face while shopping. This is so beneficial when you're trying a bunch of stuff on in a dressing room!
The earrings mimic the buttons on the dress, and a long cardigan adds a pop of color. The cardigan keeps the outfit grounded, but also adds visual interest while keeping you warm in the notoriously cold stores (A/C all year long, it seems).
We love Audrey Hepburn here at CF, so we went with a Holly Golightly-inspired phone case to finish the look. After all, the stylish Miss Hepburn is the perfect gal to guide you on your shopping expedition.
Spa
Whether you were just stopping in for a mani/pedi or went in for a full day of rejuvenation, Juicy tracksuits and spa days used to go hand-in-hand. However, if you're planning on pampering yourself sometime soon, this ensemble is what you should be wearing.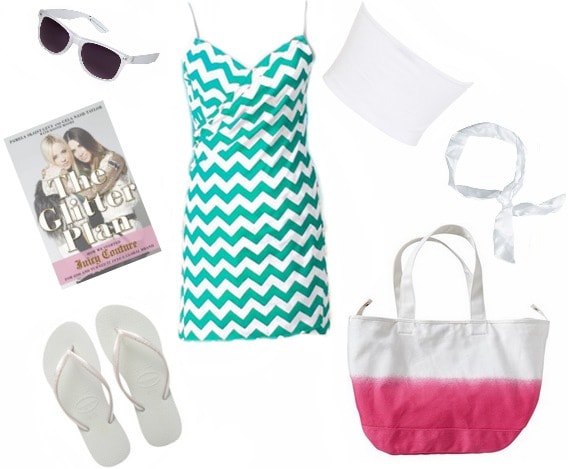 Product Information: Dress, Bandeau, Headband, Bag, Sunglasses, Flip Flops, Book
Versatile pieces are the best, and the "dress" in this outfit fits that mold – it's actually intended to be a swim cover-up! I found it on Etsy, and it's based off the popular Victoria's Secret Wrap Cover-Up, which is as easy to put on as: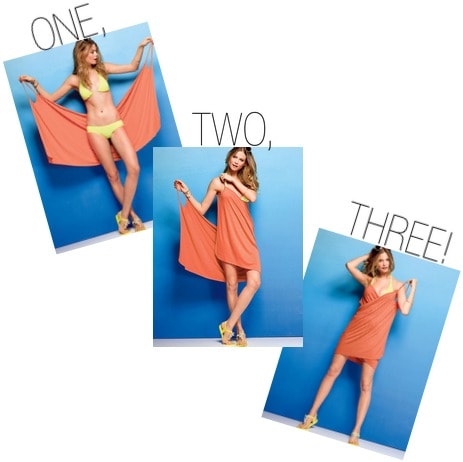 This is the perfect thing to wear when you go for a massage or are just going to undress and model one of those soft-as-a-cloud bathrobes the rest of the day. Also, if you're into DIY projects, keep an eye out: our resident DIY genius, Gloria, will be showing you how to create your own version of this cover-up very soon!
Until then, plan on wearing yours with a bandeau underneath for more coverage. Keep your hair pushed back with a headband and slip on a pair of Havaianas… because is there really any other choice for footwear here? (Hello, pedicure!)
I chose this tote because the pink contrasted so nicely with the color of the dress, plus tote bags are easy to reach into for tipping and grabbing a good book. Please, do not just reach for any old tabloid the spa leaves around, but instead plan to bring your own book – it will be much more satisfying.
My suggestion: The Glitter Plan by the founders of Juicy Couture (I know, it is like I planned it….), which came out in May and is a great summer read of all of you aspiring entrepreneurs!
Airplane Travel
Juicy Couture tracksuits and airplane travel used to be synonymous, but that was also back before the "Kardashian Klan" had their own television show(s) and Kim was just Nicole Richie's replacement as Paris Hilton's best friend.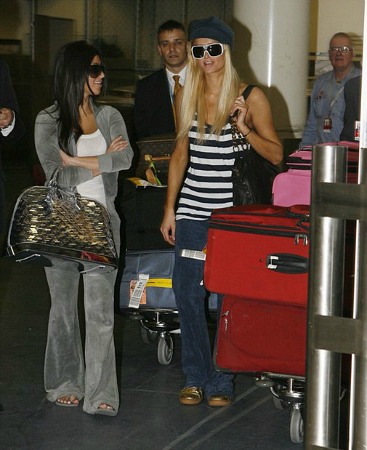 Going on vacation to somewhere "that's so hot." | ELLE
The flyer friendliness of this look is as over as their friendship. In fact, Kim has probably gotten rid of this tracksuit (anything to forget the days before she graced the cover of Vogue) and that Louis Vuitton bag. It was a "best friend bag" with Paris (see the second picture on this Buzzfeed list).
Ah, I digress. Anyway, when it comes to traveling, deciding on what to wear to the airport can be harder than figuring out every outfit in your suitcase combined. No fear though, I'm here with the perfect pieces to take that flight!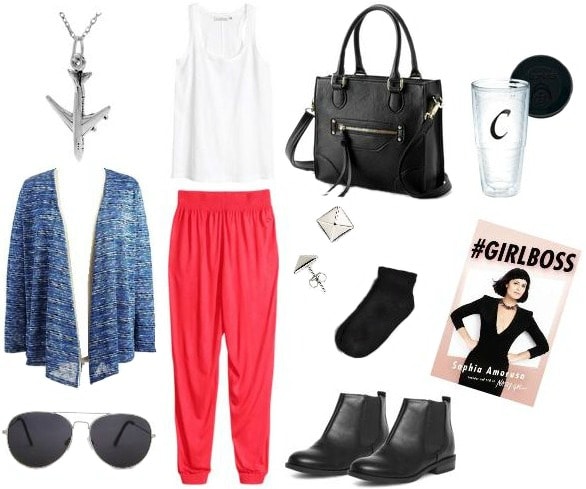 Product Information: Tank, Pants, Cardigan, Bag, Shoes, Socks, Sunglasses, Earrings, Necklace, Book, Drink Tumbler
The loose-fitting bottoms and tank are comfortable, breathable, and look stylish – the perfect start. Now, you'll need to wear socks (two words: airport security), and that means finding shoes that will allow this. I love wearing boots at the airport because they are sturdy, comfy, and good for walking.
The black hue of the boots looks sleek, as does this roomy bag. These pieces also add a bit of professionalism to an otherwise fun and relaxed outfit. The cardigan is a must because the airplane will be cold (you'll also appreciate those socks!) and the airport probably will be, too. Style-wise, this cardigan adds dimension with the different threading: some matches the black pieces, but the blue and gray play against the pants – it even sort of resembles the sky.
Back at security, you won't have to remove stud earrings, and these are fabulous anyways, so wear them. You will have to remove necklaces though, but long chain styles can just be slid off the top of your head and back on after you are "all clear." The little details make an outfit, and this airplane necklace looks chic but also adds a touch of whimsy to your look. Don't forget a pair of aviators because, again, they make such a statement, plus you'll need them anyway to look out the airplane windows during daytime flights.
As someone who travels a lot, I have an important tip to share: bring an empty drink tumbler. You can take it through security – make it a large one – and then fill it up on the other side. Airplanes are very low in humidity and that dryness can destroy your body, so you need all the water you can get!
My other piece of advice? Make real use of the time in-flight and read a book. My suggestion this time: #GIRLBOSS by the founder and CEO of Nasty Gal, Sophia Amoruso – you'll appreciate the advice and edge.
Yoga
When it comes to intensive yoga classes or those designed to make you break a sweat (think Bikram – oh, so hot in there – or others that are deviations of this style), there is plenty of cute yet practical workout gear out there.
For restorative or relaxation yoga, though, Juicy Couture tracksuits would have been more suited to keeping your body feeling soft and warm. But since those are no longer an option, the look below is ideal for an upcoming yoga class.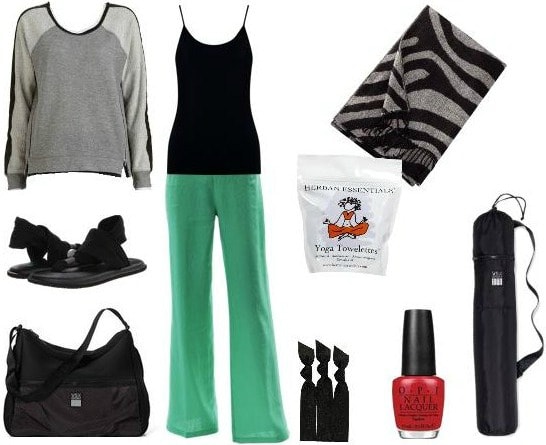 Product Information: Cami, Pants, Sweatshirt, Gym Bag, Mat Carrier, Shoes, Hair Ties, Nail Polish, Towelettes, Blanket
Most diehard yogis love black yoga pants because they hide sweat during vigorous sessions. However, for a more low-key yoga class, we say expand your horizons by opting for colored bottoms. (Psychologically, shades of green promote relaxation.) The sweatshirt is French terry cloth – can't get much more comfortable than that – with embellished zipper detailing, and is also 50% off! Of course, put an athletic cami underneath and bring hair ties.
Even though you do not wear shoes to practice yoga, still consider the pair you come and go in. Sport sandals are in, and the pair pictured here are actually made from – get this – yoga mat material, which will get you in that yoga mindset before you start.
Don't forget your bag either! Catwalk into the yoga studio with a sleek mat carrier and a matching gym bag. In the bag, always have a blanket (it is really recommended for restorative yoga and, also, shavasana) and yoga towelettes – I can't live without these, they are great for relaxing during mediation.
Never forget the details, and since yoga puts you in some awkward positions where you will be forced to catch sight of your hands at weirder angles, make sure you are not distracted by them in the wrong way. Always, have your nails manicured. I really like this fun nail polish color from OPI's Brazil collection called "Red Hot Rio!"
Tell me what you think:
How did you react to the news about Juicy Couture? What did you think were some positives of the brand in its heyday? Did you own one – or, maybe many – of the tracksuits? What did you think of these outfits? Would you wear any of these looks?
Are there any special events or occasions you would like to see covered in "What Should I Wear…?!"?Let me know in the comments!