This post may contain affiliate links, which means we may receive a commission if you purchase through our links. Please
read our full disclosure here
.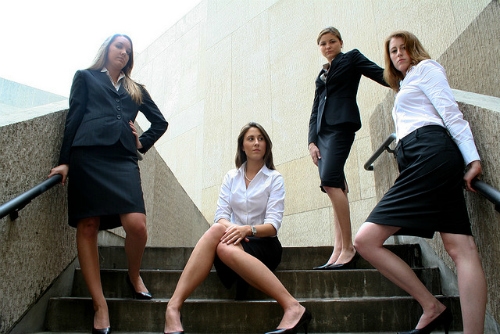 Whether you landed the internship of your dreams or just scored your first "Big Girl" job, chances are you'll need to put on some work-appropriate clothes this summer.
However, depending on where you live, the idea of putting on stuffy clothes when the weather is sweltering seems pretty unbearable. That's why it's important to learn how to balance dressing professionally with wearing warm-weather ready clothes.
Not sure how to do that? Read on to learn some tips and tricks to dressing for summer jobs and internships as well as some outfits for inspiration:
Work Apparel Basics: General Rules to Follow
It's always better to play it safe and be overdressed than be grossly under-dressed for work.
That being said, don't be afraid to ask someone in the workplace if there's a dress code that needs to be followed.
Also, look around and see how other people at the office dress in order to get a general idea of the type of outfits you're expected to wear.
If you have to question whether or not something is appropriate to wear at work, then, most likely, it's not.
For more on the subject of professional wear, check out How to Dress for a Job Interview, How to Dress Professionally: Business Dress Code Basics and What to Wear to Work (or an Internship).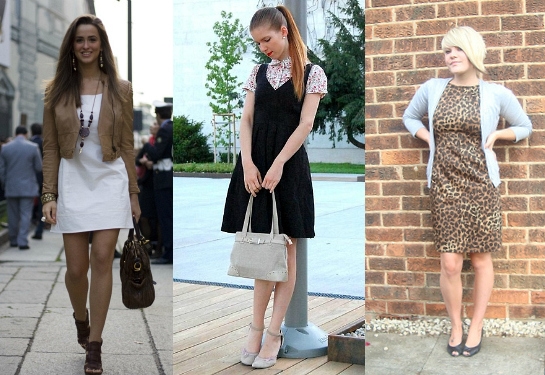 5 Tips for Choosing Summer Work Attire
Try and look for lightweight clothes made of breathable fabrics. That way, you can stay cool without having to show a ton of skin.
Don't be afraid to play with colors or patterns! If you're working in a more conservative office, try muted colors or subtle patterns, but at a casual workplace, wear something bolder.
You can wear trendy pieces as long as they aren't too over-the-top. For example, try out some statement jewelry, but save the sheer polka dots for when you're not in the office.
Most workplaces don't allow bare arms, so if you opt to wear something sleeveless, make sure to cover up with a lightweight cardigan or blazer.
Depending on specific dress codes, you may be able to wear peep-toe shoes or even dressy sandals. Just remember, flip-flops are definitely a no-go!
Outfit Ideas
Need some outfit inspiration? Whether you're at interning at an ultra conservative office or work someplace a little more lax, here are four summer-appropriate outfits that are both professional and stylish:
Look #1
Product Info: Jacket- The Limited, Pencil Skirt- The Limited, Blouse- H&M, Shoes- Steve Madden, Brooch- Dorothy Perkins, Watch- Oasis
This is a great outfit if you're working in a field where a suit is required. Instead of the typical black suit, I opted for one in a light tan color and paired it with a sleeveless white blouse. That way, you can look professional, but are also able to take the jacket off in order to stay cool during breaks or on the commute home. Wear the suit with some comfy pumps and a unique brooch that shows off your personal style. Finally, add a little color with a sleek and practical wristwatch.
Look #2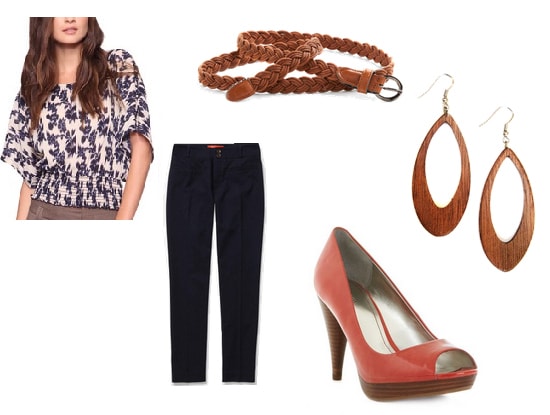 Product Info: Blouse- Forever 21, Trousers- Anthropologie, Belt- ModCloth, Earrings- Econscious Market, Shoes- Macy's
If you love wearing stylish trousers, choose a cropped pair (like the Anthropologie ones above) during the summer, which will be cooler than traditional pants. Wear them with a breezy patterned blouse, then add a braided belt. Accessorize with some eco-friendly wooden earrings and a pair of coral-colored shoes for a pretty summertime work outfit.
Look #3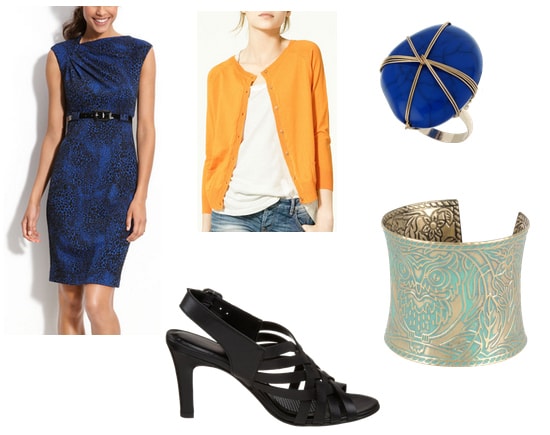 Product Info: Dress- Nordstrom, Cardigan- Zara, Shoes- Endless, Ring- Dorothy Perkins, Bracelet- Forever 21
Work in a creative industry? Try an outfit like this, which mixes bright colors and patterns. A shift dress is always a good choice to wear at an office and the pretty color and interesting print make it a stylish choice, too. Pair it with a yellow cardigan for a bold look. Add some strappy sandals — if your workplace doesn't allow them, swap 'em out for some closed-toed heels or flats — then wear some funky jewelry like this stone ring and cuff bracelet.
Look #4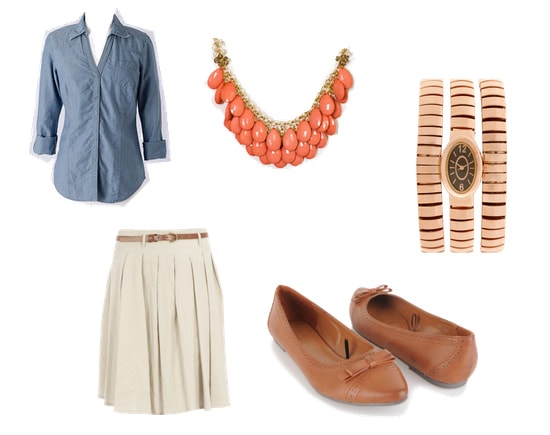 Product Info: Shirt- Delia's, Skirt- Dorothy Perkins, Necklace- Francesca's, Watch- ASOS, Flats- Forever 21
If your job or internship allows you to dress casually, but still expects you to look professional, check out the ensemble above. Pair a trendy chambray shirt with a mid-length linen skirt for a stylish, breezy look. Add some color with a pretty statement necklace and stay punctual with an interesting wraparound watch. Finally, add some comfortable and cute brown flats — perfect for staying on your feet all day!
What do you think?
Are you interning or working where a professional dress code needs to be followed? What do you wear there? Which outfit is your favorite? Be sure to leave a comment and let me know your thoughts!