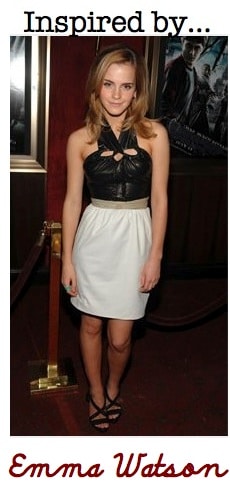 Photo Credit: 1
All About Em
Emma Watson made her professional acting debut as Hermione Granger in the film "Harry Potter and the Sorcerer's Stone". Emma's fame quickly skyrocketed and according to IMDB, at the age of fifteen, she became the youngest person to appear on the cover of Teen Vogue magazine.
I'll admit, I'm a Harry Potter buff, so when the first Harry Potter movie came out I was very skeptical of how the characters were going to be portrayed. I thought Emma did an exceptional job of capturing Hermione's persona! However, since I only knew Emma Watson from the films, it was tough for me to mentally separate her persona from her role as Hermione Granger.
Then, I started seeing Emma in magazines, and I noticed her style was super classy and cute. I know it's silly, but I finally realized that Emma is not Hermione…she's actually her own person with her own style and life outside of Harry Potter. I think a great in-print appearance that demonstrates this is Emma as the face of Burberry's Fall 2009 campaign (see more below!)
Inspired by Hermione Granger
So maybe wearing wizardry robes isn't an option in real-life schools. However, there are several times where Emma's character Hermione actually wears "normal" clothes throughout the movies! As Hermione, Emma frequently wears casual basics such as khaki slacks, striped long sleeves, and simple jewelry.
If you like Hermione's hair, try putting some curling mousse in your hair while it's still wet. Then either air dry your hair or flip your head over and blow dry your hair. If you use a flat or round brush to blow dry your hair, it might be more resistant to retaining curls, so try to refrain! Side part your hair and use a 1 inch curling iron on 1 inch sections of hair to get great ringlets! Lightly spray with hairspray and go! Also, Hermione frequently pins her bangs to the side with a bobby pin!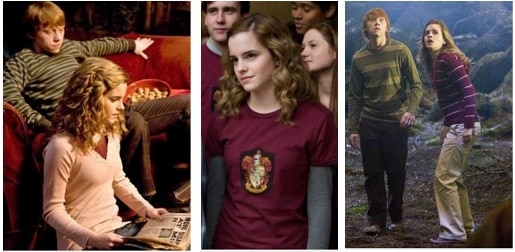 -Photos from IMDB-
If you like the casual, relaxed look of Hermione Granger, here's an affordable outfit I think you'll like!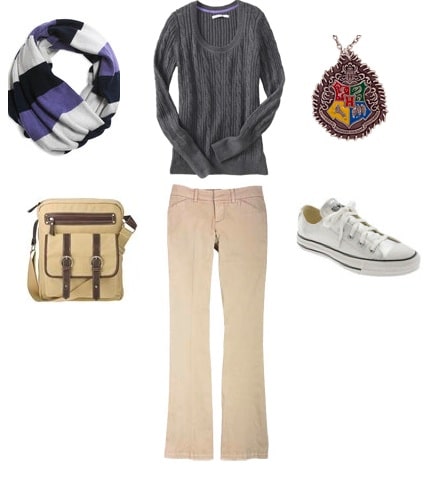 Product Information: Rugby Scarf- American Eagle, Charleston Khaki Trouser- Alloy, Cable Knit Sweater- Old Navy, White Converse Sneakers- Nordstrom, Harry Potter Necklace- WB Shop, Khaki Messenger Bag- Target
Inspired by Emma Watson for Burberry
For Burberry's Fall 2009 campaign, Emma turned up the volume with blonde highlights, smokey eye shadow, and straight-yet-wind-blown locks. Emma wore Burberry's classic heavy trench coats and appeared to be carrying oversized Burberry totes.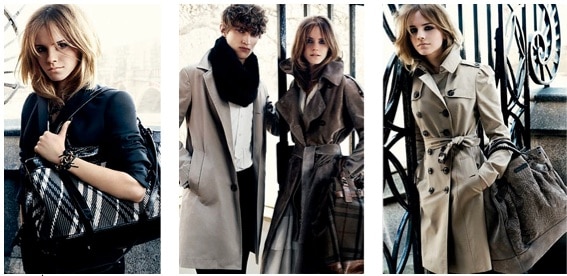 -Photos belong to Burberry, found through The Cut-
Since we can't all afford Burberry, here's a London-chic outfit inspired by the campaign!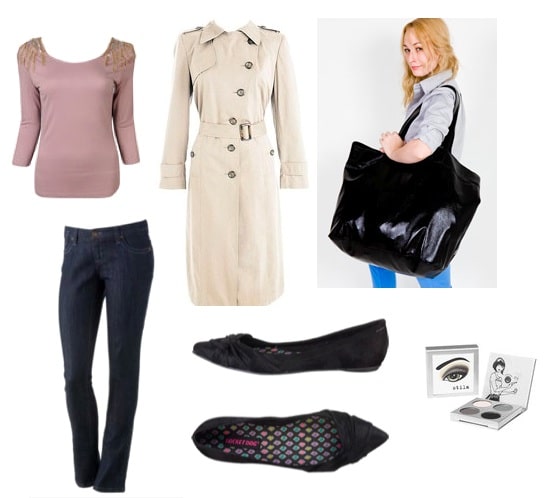 Product Information: Belted Trench Coat- Debenhams, Large Black Tote- American Apparel, Skinny Jeans- Kohl's, Rocket Dog Black Flats- Delias, 3/4 Sleeve Top- Forever 21, Smokey Eye Kit- Ulta
Want More?
For more on Emma Watson, check out her website! She has a collection of different magazine covers she has appeared on, some biographical information, and an online journal where she discusses life at Brown University, as well as some aspects of her acting career!
Feelin' Inspired?
Do you like Emma Watson's style? Are their any magazine appearances of hers that you really liked? Let us know what you think!