This post may contain affiliate links, which means we may receive a commission if you purchase through our links. Please
read our full disclosure here
.
Here at CF, we get tons of messages every day from our readers asking for fashion and beauty advice. In the past, we never had an appropriate outlet to answer all of these varied (and often specific) questions. But this is now. And today we are excited to officially launch our new column, Ask CF.
Every two weeks, we'll select a reader fashion question and answer it here on the site. Do you have a specific fashion question for us? Scroll to the bottom of this post to learn how to send it our way!
Ask CF Question
Dear CF,

I always find myself wearing denim shorts and a tee every day during the summer. I keep looking for denim short alternatives, but I can never seem to figure out how to style them and always end up reverting back to my favorite cutoffs. Do you have any suggestions that can help me get away from wearing denim all summer long?

Sincerely, Tired of Denim Shorts
Our Response
Dear Tired of Denim,
Well let me start off by saying that I can totally relate. Denim shorts are definitely a wardrobe staple for most closets, and there are countless ways to wear them. Because of this, it is easy to find yourself wearing these basics day after day. In fact, this dilemma is so common that we have challenged our readers twice before to ditch the denim. (Check out 5 Style Challenges You Should Try in 2011 and How to NOT Wear Jeans.)
Of course, we aren't trying to suggest that denim is bad, but sometimes it is helpful to challenge ourselves so that we can be more creative with our clothing. In your case, experimenting with different short styles – sans-denim – is the way to do that. To help get you started, I have created a few outfit options that will hopefully provide some inspiration to help switch up your summer wardrobe. I hope you find these outfits inspirational and I wish you great fun as you experiment with your own!
Sincerely, Jessica
Outfit #1: Casual Cool
Product Information: Tank, Shirt, Top Ring, Middle Ring, Bottom Ring, Necklace, Shorts, Shoes
I started this outfit with these floral culotte shorts. Because of their light and flouncy design, shorts like these will be a nice break from stiff denim. A light chambray shirt worn over a simple white tank is a perfect way to get the denim look you love in a whole new way. Accessorize the look with a jeweled necklace, a set of rings that complements the pattern in the shorts, and some espadrille sneakers.
Outfit #2: Retro Glam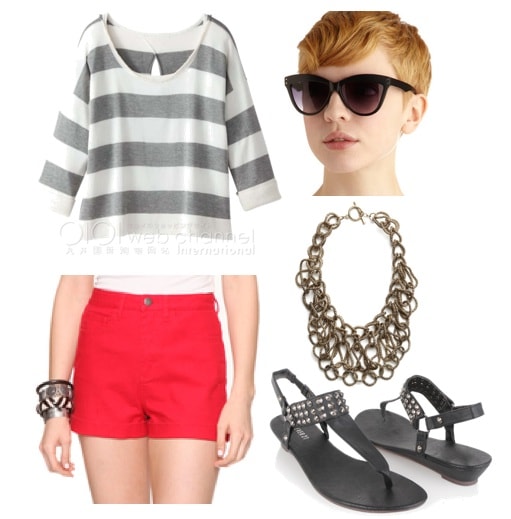 Product Information: Sweater, Sunglasses, Necklace, Sandals, Shorts
For this next look, I thought it would be fun to use these fire-engine red, high-waisted shorts – they make such a fabulous statement. I paired them with a gray and white striped summer sweater, which by the way is a super hot trend for the season! I know for some of us the thought of a summer sweater is crazy, however a light one like this could be worn when it cools down at night. Layer on this cool knotted necklace to really make a statement. Retro black sunglasses and black sliver wedge, studded flats finish off the look.
Outfit #3: Fun & Flirty
Product Information: Top, Sunglasses, Shorts, Bag, Earrings, Sandals
As we've mentioned before, lace is huge this season and many shorts styles have channeled the trend, too. These white lace shorts are perfect for a hot summer day. A floral tank like the one above captures the dainty spirit of the shorts as well as the fun of summer. Bright yellow sunglasses, a turquoise cross-body bag, pink sandals, and bow earrings add the finishing touches to the ensemble.
Do you have a fashion question? Send it our way!
Is there something in your closet that you can't seem to figure out how to wear? Do you have an event coming up and need an outfit idea? Do you have a specific fashion conundrum you need help with?
If you have a question you want to see answered in this column, just send it on over via email to askcf @ collegefashion.net and one day you might see your question answered right here on the site!
Please note: We get A LOT of email and unfortunately we will not be able to respond to every single question. However, we will read through each question and then decide which ones will be most helpful to the most readers. Thank you for your understanding.
What do you think?
Do you like the new series, Ask CF? Have you found yourself in a denim shorts rut recently? Was this post helpful? Which outfit was your favorite? Please let us know what you think by leaving a comment below!