This post may contain affiliate links, which means we may receive a commission if you purchase through our links. Please
read our full disclosure here
.
It's a constant struggle: before each new job, school year, or big move, you spend months on Pinterest and Tumblr, carefully cultivating a gorgeous stock of inspirational photos and tips.
Armed with your magazine clippings and internet bookmarks, you schlep all your things to your new digs… and discover that the roughly 100 square feet of floor space you have in your new dorm or apartment is a lot smaller than you thought it would be. (After four moves, you think I would have realized this by now. Ah, well.)
The principal challenge now is to make every single square foot pull its weight in creating a beautiful, personalized, welcome haven for you to relax in at the end of each trying day. And, with a little bit of elbow grease, ingenuity, and a heaping dose of creativity, making a small living space seem larger is surprisingly easy.
In this article, we'll talk about some quick and simple ways to make the most of a small space, with tips for organization, storage, and function, without losing on style. Let's get started!
Get that laundry off the floor.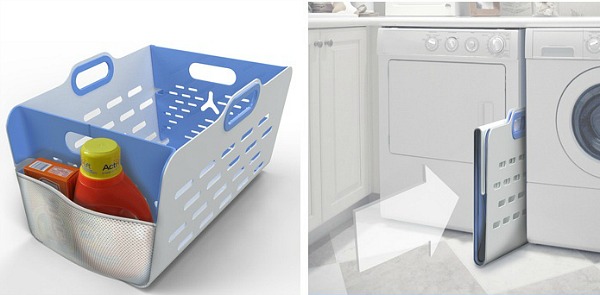 When you haven't got a lot of floor space to work with, minimizing clutter is of the utmost importance.
If you're anything like me, messy clothes tossed on the edge of the bed or the ground (I always swear to myself that I'll pick it up later) soon go from one or two shirts strewn about to an absolute mountain of laundry that terrorizes all who dare to look at it.
Traditional laundry baskets work just fine, and fit nicely under your bed, but if you're really crunched for space, try these space-saving solutions for storing laundry:
Add some form to function and keep your laundry in an embroidery hook laundry bag secured to the back of your closet door. Easy to carry down long flights of stairs, and it looks adorable too!
Consider investing in a fold-up laundry basket (pictured above) that collapses to scarcely anything, which can readily fit in any nook or cranny that you have at hand.
Repurpose everything – and I mean everything.
Before you toss anything that isn't compostable out, quickly run a search through Pinterest or RealSimple to make sure that it can't be reused in some impossibly clever way.
Here are a few of my favorite ideas for repurposing:
Invest in corner real estate.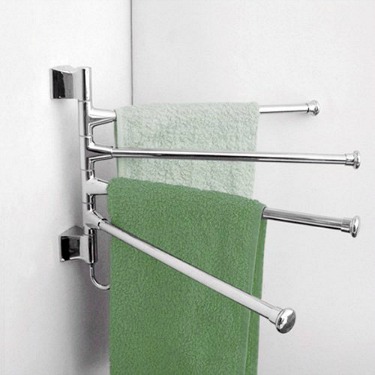 Corners are sadly underutilized spaces that could easily free up more readily accessible countertops. Try one of the tricks below for making unused corners into perfect storage spaces:
Use tension rods or a swinging metal rack to hang towels, belts, scarves, and ties in empty corners, saving you closet space and helping you select the best accessory every morning.
A cornerdish rack saves you valuable space for all of the advanced French cooking you are undoubtedly doing on the daily, like making toast and heating up Lean Pockets.
Try a sideways magazine holder as an impromptu table for souvenirs or photo frames, or as an easy catch-all for your keys and ID when you come home.
What do you think?
How do you make the most of a small dorm room or apartment? Any tips or tricks you found useful? Anything we missed? Let us know with a comment!