This post may contain affiliate links, which means we may receive a commission if you purchase through our links. Please
read our full disclosure here
.
As the weather heats up and with so many cute sandals out there, it's time to debut your feet for the summer! If you've been hiding your feet for months, the task can seem daunting at first, but with these easy steps, getting your feet ready for some public exposure is simple and even relaxing.
How to Prep Your Feet for Sandal Season:
Prep with a Pedicure
To get your toes in tip-top shape, start with a relaxing pedicure using these simple steps.
Soak 'Em
Mix a 1/2 cup of Epsom salt with warm water. The salt reduces swelling, neutralizes odor, and helps to heal skin and nails. Sit back and soak your feet for at least 15 minutes. You can soak them for longer for a relaxing treat!
Exfoliate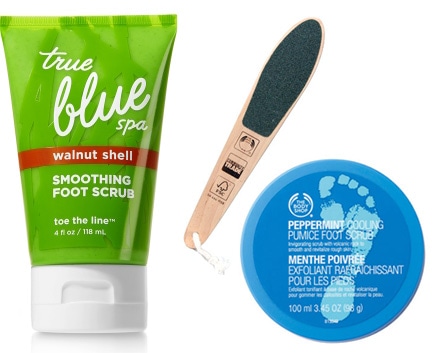 True Blue Spa Foot Scrub at Bath and Body Works, Wooden Foot File at The Body Shop, Peppermint Cooling Foot Scrub at The Body Shop.
After soaking your feet, dry them off and empty the water. Using a foot scrub and foot file (or pumice stone), scrub the heels, sides, and pads of your feet to slough off that dead skin. I really like Sally Hansen's Sole Control Foot File. But remember that where your skin is thickest on your feet, it's also protecting those areas from extra wear, so don't scrub at those parts too much!
You can also take some of the scrub and use it on your calves and legs for glowing skin.
Moisturize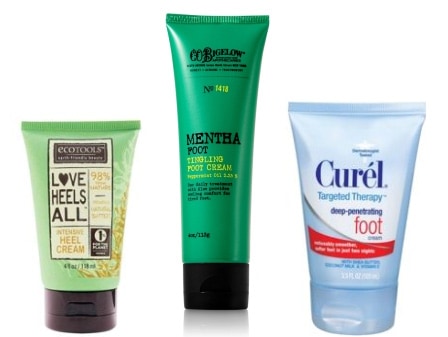 Eco Tools "Love Heels All" at Ulta, C.O. Bigelow Mentha Foot Cream from Bath and Body Works, Curel Foot Cream at Ulta.
Take some cuticle oil and rub it into the cuticles on your toes. Gently push back your cuticles and massage the skin around them. Take a moisturizer and apply it to the tops of your feet and the recently scrubbed skin.
Nails
Clip and file your toenails, creating straight lines and avoiding a raggedy shape. To battle "ridges" on the nails, buff them out with a toenail buffer (I like Ulta's Six-Way Nail Buffer). Using a nail polish color of your choice, paint your toenails for a finishing touch! To avoid yellowing toenails, make sure to apply a base coat before your nail polish.
Tips for Foot Health
Apply sunscreen to your feet when they're exposed in the sun. It's easy to forget that the skin on your feet is vulnerable to sunburn!
Avoid nail products with formaldehyde (or the other two nasty nail polish ingredients). Always check the ingredients list.
Ditch the flimsy flip-flops every once in a while (or completely!). They're hard on your feet because of the lack of support and straps that secure your feet in. According to Newsweek, you end up scrunching your toes to keep them on, which can cause throbbing or tenderness to your toes. Check out this post for more tips on stylish flip flop alternatives.
Your Thoughts?
What do you do to prep your feet for summer? What has been your favorite nail polish color lately? Do you avoid flip flops during the summer? Let us know in a comment!