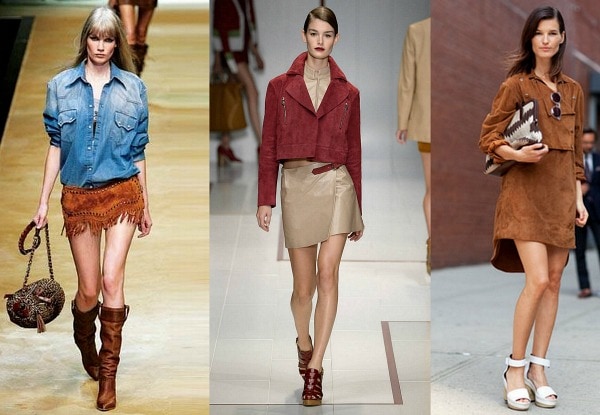 Photos Courtesy of ELLE: 1, 2, 3
Welcome to CF's series, Trend Watch. From high fashion to street style, we're covering all the latest trends, then showing you affordable ways to rock each look. This column is all about making super-trendy pieces work for the average college girl, so if you have a trend you would like to see featured here, leave a comment and let us know!
Fall, my favorite season, is already coming to an end, which means I'm getting ready for colder weather and the Christmas fever that comes along with the season The cold weather means pulling out the heavy winter gear and shifting towards thicker fabrics and materials, like suede.
In case you're unfamiliar with suede, it is a leather with a velvety finish, although there are also many faux suede pieces out there to choose from. This material has been increasingly popular this season, and in this post, I'll be showing you three ways to style suede:
Bow and Arrow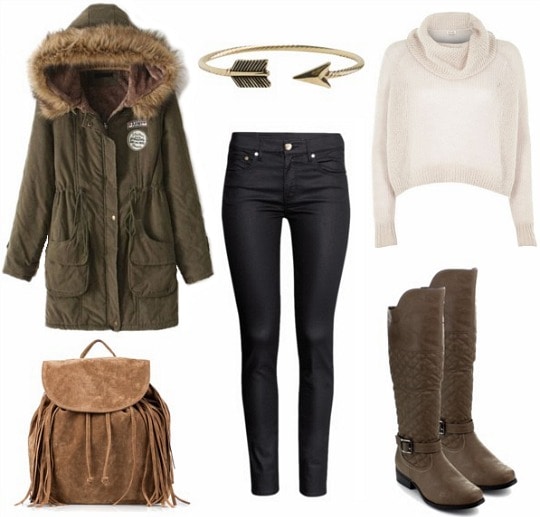 Jacket, Bag, Bracelet, Jeans, Sweater, Boots
This is a pretty typical fall/winter look, but it is styled in updated way. Wardrobe basics, like an olive-colored parka, black jeans, and riding boots, are paired with trendy extras: a bow-and-arrow bracelet and a suede fringed backpack. Complete the outfit with a loose-fitting yet warm turtleneck sweater, which will help you fight off the cold this winter.
Holding on Tights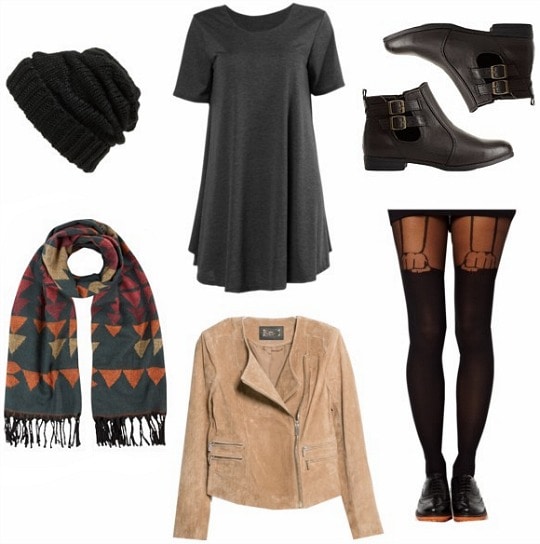 Beanie, Scarf, Dress, Jacket, Shoes, Tights
This look is my absolute favorite. It combines a simple gray tunic dress with accessories that give the outfit plenty of character. The beanie and scarf will keep you warm and comfy, and these tights are bound to be a conversation starter. Unique add-ons like these are such an easy and fun way to show off personal style.
The suede piece is the ensemble is a beautiful beige-colored moto jacket. I love that it is elegant, but can also be paired with a more sporty look.
Suede Holiday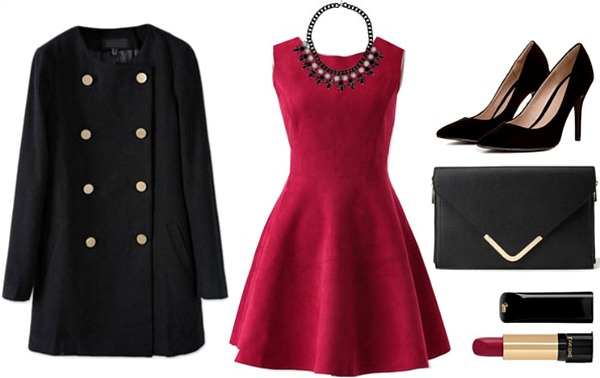 Coat, Dress, Necklace, Shoes, Clutch, Lipstick
The last look I created is a pretty ensemble that is perfect for the holiday season. Whether you are attending a family dinner or going to a Christmas-themed party, this outfit would make a stylish impact.
The red suede dress is the centerpiece of the outfit and sets a clear statement. Add a statement necklace, as well as a pair of sleek black heels. To keep you warm for all occasions, wear a classic double-breasted black coat on top. A clutch is essential, while this gorgeous berry-colored lipstick matches the dress perfectly.
Tell Me What You Think:
Which of these three outfits is your favorite? Do you like suede as a fabric? Would you buy real suede or rather go for a faux version? Remember to tell us your thoughts by leaving a comment below!