Summer is almost here, and with it comes the return of the dress. Last year was nicknamed "the summer of the dress" by the fashion industry, but this year is shaping up to earn the same title.
This year's version of the dress trend has taken on a fun new twist with the return of the long dress – it's a comfortable, fun, throwback to 60's bohemian fashion.
In the fashion industry, the long dress is known as the "maxi dress", but I'm not a fan of that term. It's a little too reminiscent of a feminine hygiene product, if you know what I'm saying. Anyway, maxi dress means long dress, so it doesn't really matter what term you use.
I know most college girls these days are all about the mini-dresses, and showing as much leg as possible, but sometimes less really is more. It can be so much sexier to make your outfit focus on one body part at a time, and long dresses are a great way to show off your upper body.
These dresses are hot for summer and I know you're going to love them as much as I do!
Runway Inspiration
Long dresses were all over the Spring 2008 Ready-To-Wear runways, and everyone from Marc Jacobs to Alexander McQueen created their own version of this hot trend. There were many different incarnations of long dresses, and here are a few of the most popular styles. (Photos courtesy of Style.com.)
Floral Prints & Sheer Long Dresses: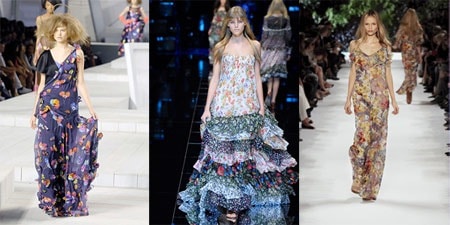 From Left: Marc Jacobs, D&G, Stella McCartney
Solid & Color Block Long Dresses: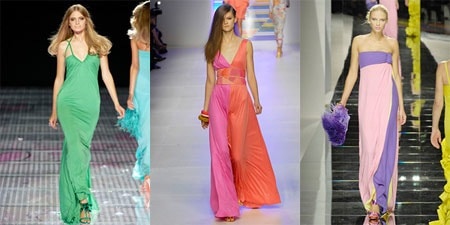 From Left: Versace, Emilio Pucci, Valentino
Long Dresses With Large Floral Prints: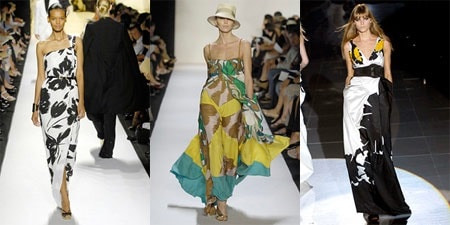 From Left: Michael Kors, DVF, Gucci
Long Dresses With Geometric Prints: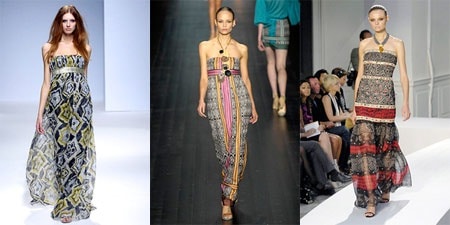 From Left: Derercuny, Missoni, Oscar De La Renta
How To Wear A Long Dress
While these dresses are easy to wear, they are also easy to wear the wrong way! Here are some guidelines to rocking the trend right this summer.
Accessorize, but not too much. If you're wearing a long dress, accept that it's going to be the focus of your entire outfit. You want to accessorize to make things more interesting, but also want to keep it simple so that your look doesn't become over-the-top. A few bangles or a long necklace should do the trick. Also, if a dress is too voluminous, you could add a cute belt at your waist.
Consider your shoes. I like these dresses best when worn with flat sandals: flip flops or gladiators, because long dresses are so easy and comfortable to wear. What goes better with a comfortable dress than a comfortable shoe? If you want a little extra height, though, wedges or gladiator heels also work well under a long dress.
If you're short, make sure the dress is in proportion with your body – don't think about getting one that's way too long, unless you plan to get it hemmed or can alter it yourself! A too-long dress will make you look even shorter, and may add some extra pounds as well. Also, remember to look for a dress that's fitted up top and doesn't have an extremely voluminous skirt. Less fabric is a better choice for you.
If you're tall, this look was made for you! Maxi dresses look amazing on tall girls, and this is one trend you should definitely try out if you get a chance. Kate Moss was recently spotted rocking a long dress identical to one at ASOS, and it looked amazing on her. Like Kate, you can pretty much get away with any style of maxi dress, so long as it isn't too short!
Long Dresses Under $100
Just because long dresses have a lot of extra fabric doesn't mean that they're any more expensive than a regular mid-length dress. In fact, there are tons of long dresses out there for under one hundred dollars! Here are some of my picks from around the web: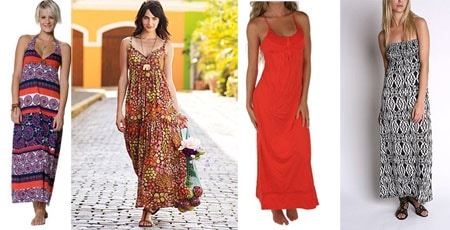 From Left: O'Neill Saffron Dress – $50, Gabriella Dress – $49.50, VOLCOM Senorita Dress – $44, Silence & Noise Printed Maxi Dress – $68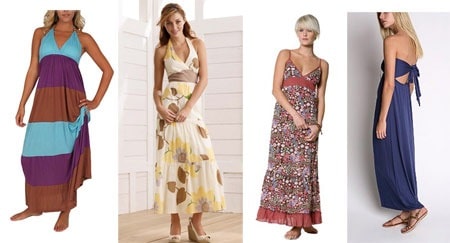 From Left:Color Block Halter Maxi Dress – $68, Emily Maxi Dress – $29.99, O'Neill Dove Dress – $50, Kimchi & Blue Maxi Dress – $68
Your Thoughts?
What do you think of long dresses? Are you going to be wearing them this summer, or are you sticking to the minis? Let me know what you think by taking the poll below or leaving a comment!
[poll id="18″]