This post may contain affiliate links, which means we may receive a commission if you purchase through our links. Please
read our full disclosure here
.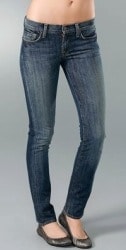 I've been getting a bunch of emails lately from readers asking about skinny jeans and whether they're in or out for fall and winter 2008.
With all the talk about fall denim trends and wide leg jeans, boyfriend jeans and high-waisted jeans replacing the popular skinnies, it's definitely a quite a debate. Some people say skinny jeans are over, and some people are still wearing them as often as they did last year…
So what's the deal – are skinny jeans in or out? Here's the real answer for those of you who wanted to know…
Skinny jeans are still in style!
Yup, you read right – skinny jeans are in. While some people are loving new styles like wide leg jeans and even harem pants (not one of my faves), skinnies are still in fashion too. They haven't gone anywhere yet, and I doubt they will any time soon.
If you follow runway shows, you probably already know that designers like Alexander Wang, Derercuny, Burberry Prorsum and John Galliano for Christian Dior featured skinny pants in their runway shows for Spring 2009. While spring designs are usually nothing but dresses, skinny jeans in a spring show means that they will be in for at least another season.
Basically, if it's still showing up on the runways, it's safe to say that it's still in style!
If you haven't tried skinnies, there's still time.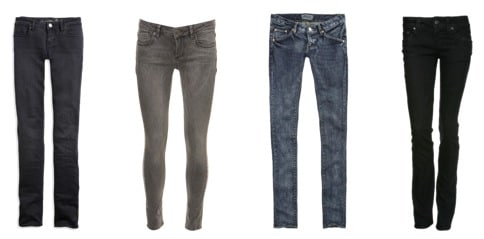 Photo by [nati]
I know a lot of people think they can't wear skinny jeans because they aren't stick-thin, but please believe me that you don't have to be super skinny to wear them!
Skinny jeans are called that because they don't flare out at the bottom – they stay "skinny" and close to your leg the whole way down. The ankle opening is skinny but the person wearing them doesn't have to be! It's an easy misconception that turns people off from these jeans.
If you think skinny jeans won't look good on you, please just take my advice and give them a try. Find a good quality dark-wash pair with stretch, and give them a shot. Take advantage of this trend while it's still around – I think you'll be surprised at what you find.
But remember – trends aren't rules.
If you've tried a pair of skinny jeans and they don't look good on you, or you just personally don't like them, fear not. Just because they're "in" doesn't mean you have to wear them!
This season, there are tons of styles of pants that are popular, and there are so many varieties in stores right now! Don't feel like you have to stick to what's trendy if you don't want to. At the end of the day, it's more important to have your own sense of style and wear things that appeal visually to you.
If you want to channel the 70's and rock a pair of bellbottoms, who's to say that you shouldn't? So long as you're wearing a pair of jeans for a reason other than "this was all I had", I think you should keep expressing your style however you want! Forget the trends if they just aren't you!
Your Thoughts?
What do you think about skinny jeans?
Do you love them and wish they would never go out of style, or are you still waiting for this trend to be over? If you don't like skinnies, what is your favorite type of jean? Talk, debate, and tell everyone your thoughts by leaving a comment!