(All Photos Courtesy of NYMAG | Above: Peter Jensen, Peter Som, Alexander Wang, Jason Wu, Anna Sui)
New York Fashion Week has come and gone, leaving me in a fantastically fashion-forward tizzy (say that three times fast). With so many amazing looks, it's hard to pick the ones I love the most. But I've sorted through the good (and not so good) from the Fall/Winter 2010 collections and categorized them in some of this season's most prominent styles. Whether you're a cardigan wearing prep, rock n' roll goth, or peace loving flower-child, there's a look for everyone this Fashion Week.
Interested? Read on to check out some of the best looks this Fashion Week, as well as a breakdown of how to get similar looks.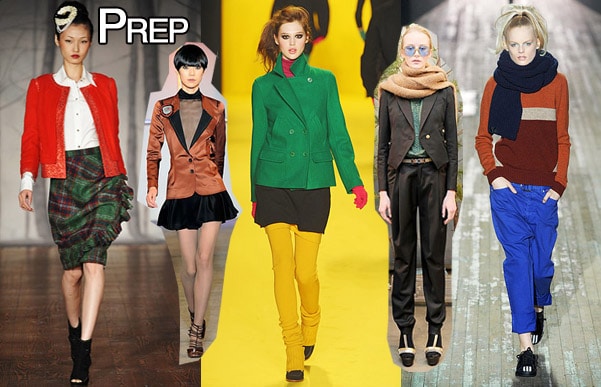 (Above: Bensoni, Zac Posen, Lacoste, BOY by Band of Outsiders, Y-3)
When you think "preppy", collared shirts, black blazers, and black knee skirts probably come to mind. But put that bland, boring look out of your mind my friends. Just 'cause they button up their collar doesn't mean the preppy don't like to spice things up. Next season's Prep puts that librarian look up in the attic with Grandpa's stamp collection. Instead of basic blacks and whites, pops of color litter outfits like little bursts of sunshine.
Preppy Trend Essentials
While many of the essential aesthetics of the Prep look are classic (cardigans, blazers, trousers), that doesn't mean they are boring. Here is a list of wardrobe essentials that every studious prep should have in their arsenal.
Mini Skirts– A basic black one is a classic, but don't be afraid to experiment with colors like green, red, or next season's biggest colors-electric blue, and purple. If you stay neutral with the rest of your outfit, these colors will make you stand out, in a good way.
Cardigans– If you want the preppy look, it's good to own a cardigan in any and every color in the rainbow. A prep is never complete without a cute cardigan layered on top of a well-ironed blouse.
Oxford Flats– These shoes will be big again next season, and they're already available in stores everywhere. Why not pick up a pair? They're cute, classy and comfortable.
Blazer– The blazer will still be a wardrobe must-have next season. And like the cardigan, blazers come in an array of fun colors, so instead of sticking to that basic black or blue, why not try experimenting with a nice red one- or like the brown one pictured above? You'll feel daring and still look proper.
Trousers– Trousers aren't just for work anymore-I've been longing for a pair of black ones myself ever since I saw Michael Kor's Pre-Fall collection, but I digress. Trousers will be big next fall, so if you want to buy a pair now, look for slim cuts that are skinny but not skintight.
Get the Look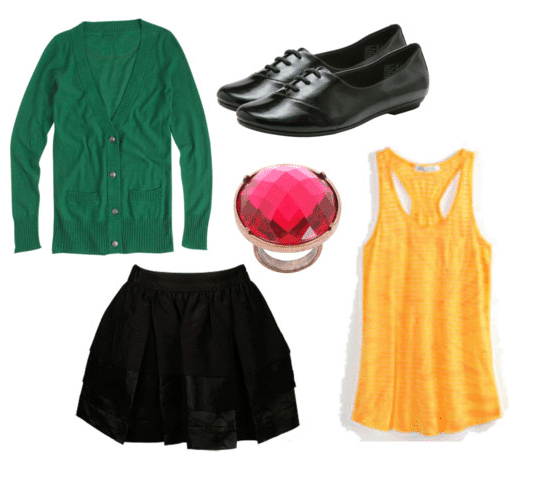 (Cardigan, Skirt, Ring, Shoes, Tank)
To get a "Prep" look, I stuck to the basics, while incorporating lots of color into the outfit. First I chose a cute racerback tank in a happy yellow color. Tuck that into a cute mini skirt like the one I chose from Forever 21, and then throw on a colorful cardigan like the green one above. After that, slip on a pair of cute oxfords. Finally, put the icing on the cake with a sparkly ring- it will add that last hint of color while not getting too crazy.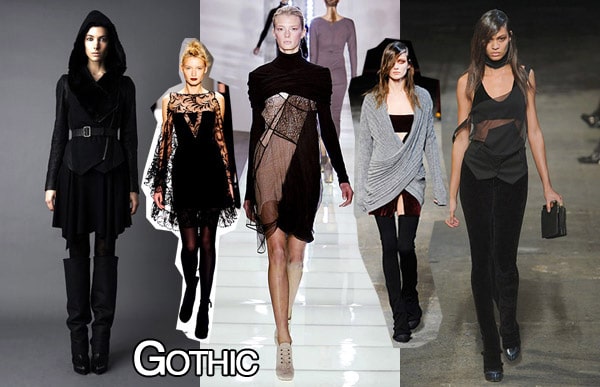 (Above: Helmut, Georges Chakra, Preen, Alexander Wang, Alexander Wang)
Do a complete 180 from the Prep look and you have "Goth". This black-on-black trend is going to be hot again next fall. Whether it showed up on the runways at Alexander Wang, Preen, or- my personal favorite, threeasfour, black was a prominent and statement making color this season.
Gothic Trend Essentials
Black Shoes– Whether they are flats, boots, or lace ups, if you want to get the dark look, you're gonna need some black kicks to keep your look looking cool. Look for shoes that have an equestrian vibe or lace-up details.
Lace– Lace items in black and white are going to be hot for fall so stock up on anything lace. Just make sure it's tasteful- meaning your mom wont have a coronary if you walk outside in it.
Sheer– Sheer and flowy garments in colors like black or nude are important to maintaining your edgy look. They're great because you can layer them up to keep warm while still looking sexy and cutting edge. Just stay away from bright colors and florals if you want the goth look!
Bold Lips– Wearing all black head-to-toe makes a statement, but you know what puts a topper on it? A bold red lip. Look for lipstick in dark shades to vamp up your outfit; it's an instant look upgrade as soon as you put it on.
Get the Look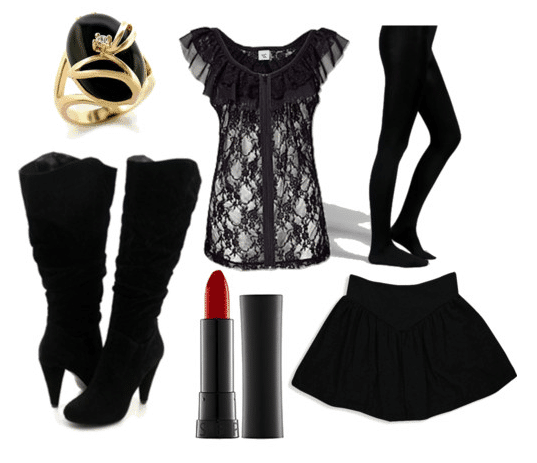 (Ring, Boots, Top, Lipstick, Tights, Skirt)
A "Goth/Vamp" look is pretty simple to achieve – all you have to do is wear an outfit that is- surprise, surprise: all black.
I dressed up the look by choosing a cute lace top with ruffles, which keep the top from looking trashy. I also chose a cute black mini skirt that should be tucked over the blouse. Because the top is lace, I also chose some black stockings to pair with the look; you want to make sure you don't show too much skin when you are wearing lace, and the tights make the look less risque. After you pull on your tights, tuck them into some cute boots, slip on a statement-making ring, and then swipe some red lipstick. Sexy, bad-girl chic was never so easy.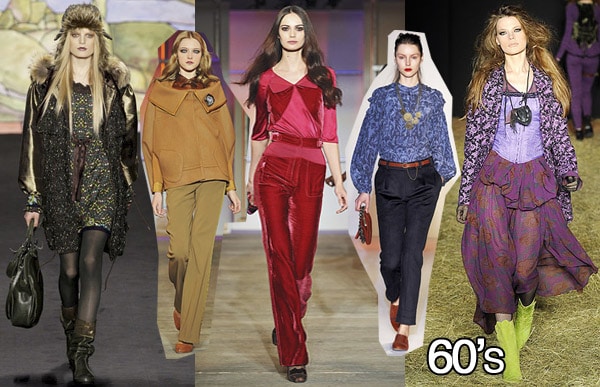 (Above: Anna Sui, Zac Posen, Zac Posen, Zac Posen, Karen Walker, Betsey Johnson)
Oh 60's boho, you're so cute and easygoing. Lucky for us, so is obtaining the look. With ethereal, floaty garments and pops of color, the always-popular 60's vibe is still going strong in fashion. My aura is vibrating at the mere thought.
60's Trend Essentials
Floral– As always, floral is a prominent part of hippie-chic style. When choosing a floral look, go for things that breathe. The hippie look is always floaty and free. When choosing a print, make sure it is detailed but not too out-there. Stick to earthy, natural colors for best results.
Color– Greens, browns, purples, blues, and reds are all big colors in the boho-chic family. But it is important to stick to one similar color family, so if you choose blue, stick to mostly blue and then chose other statement pieces to make that blue pop (see Karen Walker above).
Statement Jewelry– For the boho look, the jewelry you wear is almost- if not more important than the clothes you wear. Boho style is known for its layering of trinkets and extravagance: so pile it on.
Headgear– Whether it's a furry cap or a slouchy knit beanie, a boho 60's look is always enhanced by a cute topper. Throw one on over your gorgeous floaty hair and you'll look straight out of Woodstock.
Get the Look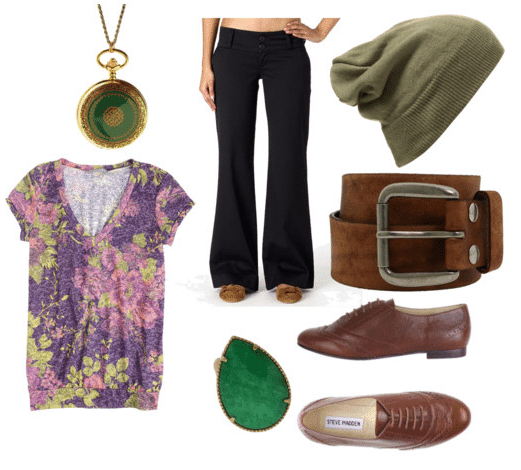 (Necklace, Shirt, Pants, Ring, Beanie, Belt, Shoes)
To get a 60's style look, all you have to do is find the right garments. First slip on a breezy floral top and then tuck it into a pair of black trousers. Belt that with a brown belt and then add a pair of flat shoes like sandals, ballet flats, or oxfords. Then put on some jewelry – I'm loving the gold chain necklace and the stone ring I chose above, but wear what you love. Lastly, if you feel like looking extra boho, throw on a cute knitted cap. This look is very simple to do when you have the right accessories, so don't stress, it's bad for your chi.
Thoughts?
What were your thoughts on New York Fashion Week? Did you have a favorite line? What kind of style do you usually gravitate to, and what did you think of the looks I put together? Let me know your thoughts in the comments!