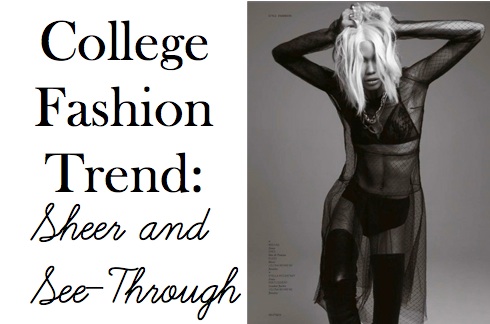 During my previous report on 2010 college fashion trends, I talked about embellishments. This week, we are going in the opposite direction by talking about fundamental/basic garments. There has definitely been a noticeable (and perhaps, under-appreciated) fashion motif around my campus: a return to basics.
Now, some of you might say that basics are not a "trend", and that a classic t-shirt for example never goes out of style. And I would definitely agree with you. However, a trendy way to wear these "forever" pieces is by creating a single outfit from almost nothing but basics. Now, that is a trend.
Curious as to what I'm talking about? Read on!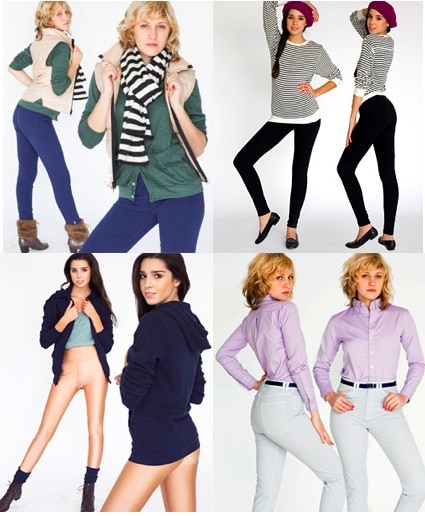 Where to Start:
If you like the idea of piecing together an outfit from basics, but aren't quite sure how to do it, I would recommend checking out American Apparel's website. AA is a good source of inspiration because they are ALL about basics, and most of their items are showcased with other "basic" pieces they sell. In fact, all the pictures above are from American Apparel!
I know for a college student it can seem kind of silly to spend 30 or so dollars on a basic t-shirt from American Apparel, so if that's out of your budget, check out Forever 21's selection of basics. I'm notorious for sporting loose, white, v-neck t's from F21 that only cost me about 4 dollars each!
How to Wear It:
One of the aspects of this trend that I like best is that you really don't have to go out and buy anything (unless you don't own any basics at all – and I doubt that!).
I really think this trend is all about being smart, using your imagination, and getting the most out of what you wear. I definitely believe that the "back to basics" trend is a manifestation of recession chic… and I'm all for it!
Here are some basic pieces, followed by some outfit ideas to show you how to mix-and-match them to create different looks: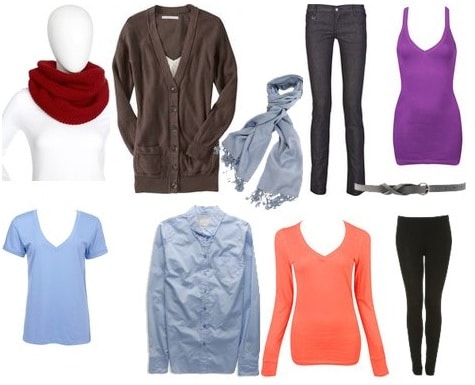 Product Information: Infinity Scarf– The Limited, Brown Cardigan– Old Navy, Gray Scarf– Forever 21, Jeans– The Outnet, Tank– Forever 21, V-neck T– Charlotte Russe, Collar Shirt– Forever 21, Long Sleeve T– Forever 21, Leggings– Top Shop, Belt– Forever 21
Outfit 1
This outfit has a pretty subtle color palette, but I like the mixture of browns with blue and red. I see this outfit being worn on a somewhat chilly day, where the red scarf becomes the focal point. I see this as kind of a model-off-duty look, or a great "thrown together" look for a trip to the farmer's market.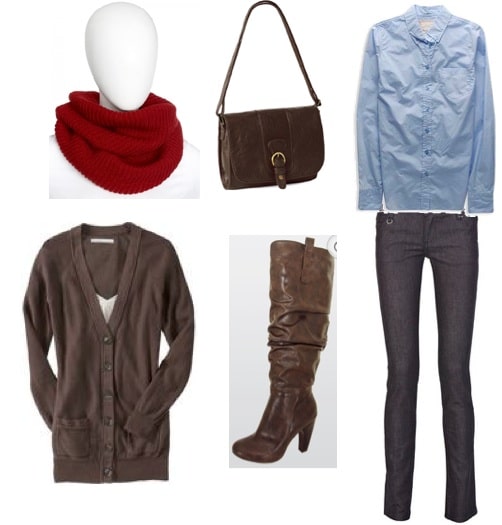 Product Information (in addition to the basics listed above):Boots, Bag
Outfit 2
This outfit is all about having a bright color as the focal point. You could also replace the tank with the long sleeve t-shirt, or the v-neck t-shirt above. This is definitely an example of one of the more common ways I've seen basics being worn around my campus.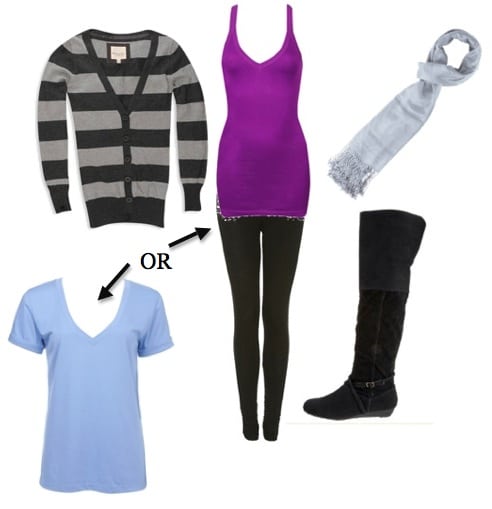 Product Information (in addition to the basics listed above): Striped Cardigan, Over-the-Knee Boots
Outfit 3
This outfit showcases how small details can complement basics, while still sticking with the theme of today's post. The belt around the cardigan and the small embellishments on the flats add a little something extra to this outfit, but it is still very much an ensemble of basics.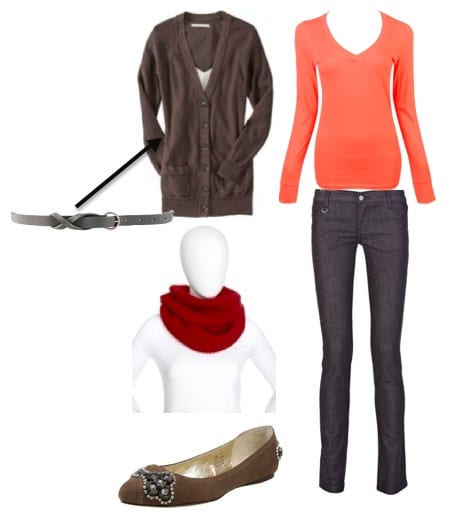 Product Information (in addition to the basics listed above):Ballet Flats
On a final note: It's interesting how students around my campus have turned what seems like "nothing" into a very stylish "something." Appreciate your basics!
A penny for your thoughts…
What do you think? Do you have a renewed appreciation for basics like I do? How do you spice up your basics? Do you ever wear 100% basics outfits? Let me know!