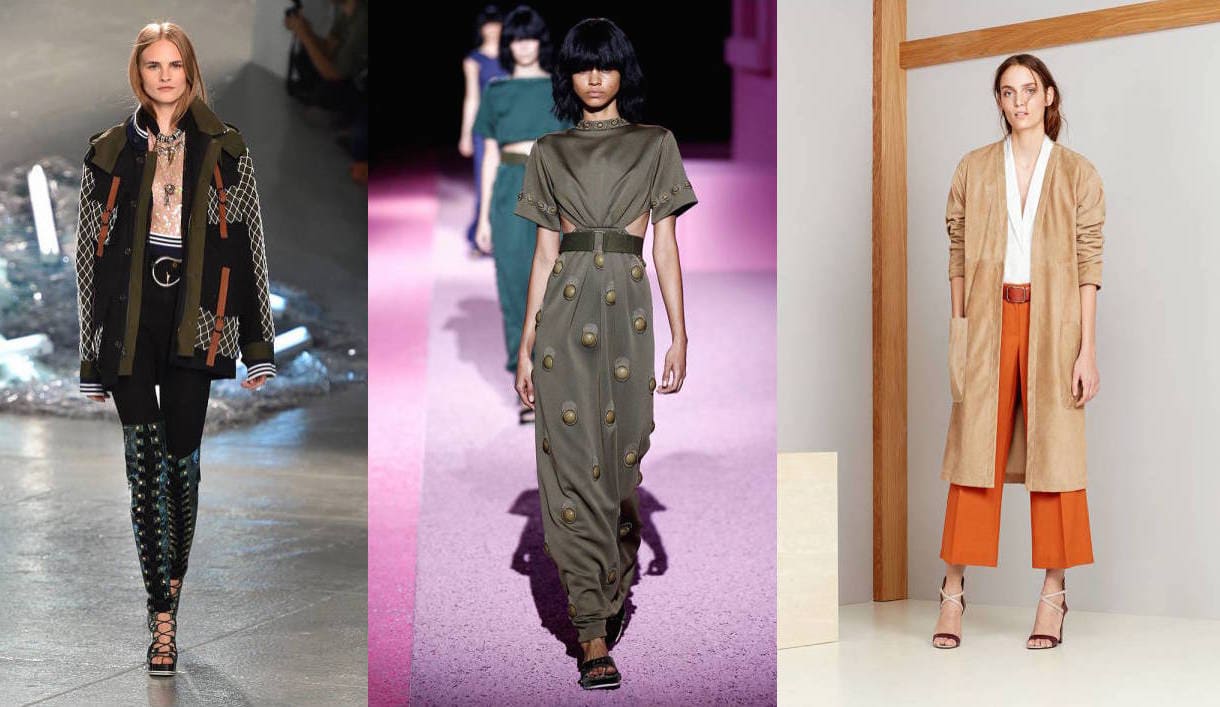 Photos Courtesy of ELLE: 1. Rodarte S/S '15 2. Marc Jacobs S/S '15 3. Theory S/S '15
If you've been stalking style blogs and following Fashion Week shows closely, you'd know that the 1970s are back for Spring/Summer 2015. And judging by the pre-fall shows, it also looks like the '70s are here to stay for a few more seasons.
The 1970s are largely characterized by loud prints, lots of metallic, and a bohemian aesthetic, so I've come up with five ways to incorporate key '70s-inspired pieces into your look – even if your personal style more closely resembles Taylor Swift than Stevie Nicks.
1. Flared Jeans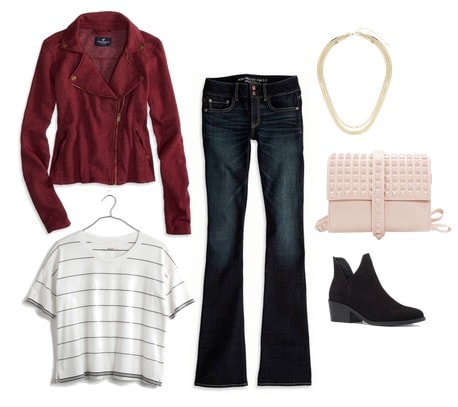 Product Information: Jacket – American Eagle, Shirt – Madewell, Jeans – American Eagle, Necklace – WallisFashion, Clutch – Black Five, Boots – Forever 21
If you usually wear skinny or straight-cut jeans, try flares. They're a step up from the ubiquitous boyfriend and mom jeans, and are super on-trend this season.
One of the best-known style combos for lazy days is a moto jacket paired with breton stripes. For a fashion-forward spin, try a colorful suede moto jacket and flared jeans, which effortlessly evoke the early days of hippie culture.
2. All-Weather Leather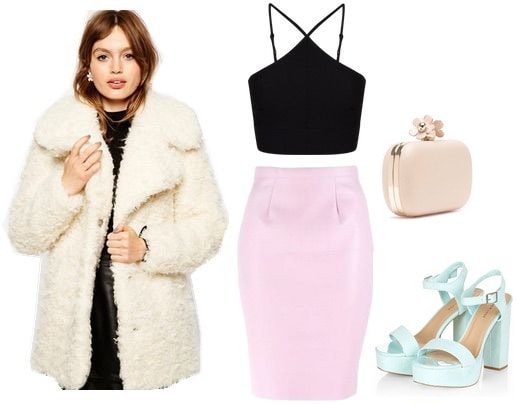 Product Information: Coat – ASOS, Top – Miss Selfridge, Skirt – GetTheLooks, Clutch – GoJane, Heels – New Look
Don't banish your leather pieces to the back of your closet with your other winter essentials just yet! Perhaps as a nod to the persistent snow in some parts of the Northeast, leather was all over the runways this spring.
If the pre-fall shows are any indication, shearling is also set to be a popular texture for Fall/Winter 2015. Instead of the all-out leather ensembles seen on the runways, I went with a pleather skirt in a quintessential springtime hue that adds edge to this luxe faux fur coat.
3. Utilitarian Appeal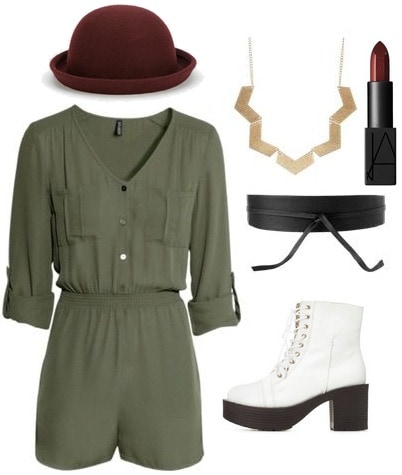 Product Information: Hat – Urban Outfitters, Romper – H&M, Necklace – Charlotte Russe, Lipstick – NARS, Belt – Mango, Boots – Charlotte Russe
Military surplus clothing is another huge part of 1970s style, and utilitarian elements were popular on the runways this season. For a similar vibe, try structured silhouettes in olive green, caramel, and navy.
I chose an olive green romper that takes inspiration from military uniforms without resembling one. Belts instantly define the waistline, so I added a leather sash. Continue the military-inspired look with lace-up boots.
4. Don't Forget the Footwear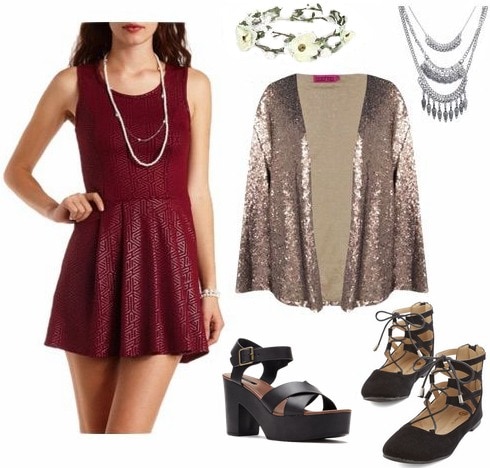 Product Information: Dress – Charlotte Russe, Flower Crown – 2020Ave, Necklace – Wet Seal, Jacket – Boohoo, Flats – ModCloth, Heels – Forever 21
This season also revived two kinds of footwear, both of which are featured in this look. If you usually wear flats, try lace-up ballet flats. For those who need the polish and height of a high heel, platforms are definitely the way to go.
This look also incorporates two more seasonal trends – a fringe necklace is on-trend without veering into bohemian territory, while the sequined jacket invokes another signature facet of '70s style.
5. Suede All Over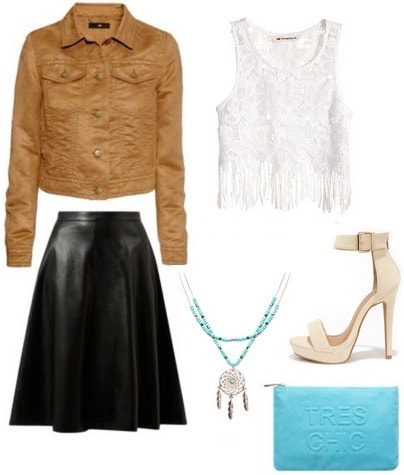 Product Information: Jacket – H&M, Skirt – New Look, Top – H&M, Heels – Lulu's, Clutch – Miss Selfridge, Necklace – Wet Seal
While denim is another hot texture this season, suede is a quintessential part of '70s style that captures the essence of the era without launching into a full-scale throwback. Substituting your denim jacket for a suede one is an easy way to experiment with a texture that was last on the fashion radar forty years ago.
This outfit mixes three of this season's most popular fabrics – suede, leather and lace. I personally like the way it looks with turquoise jewelry, but suede is really just as versatile as denim.
What do you think?
What are your favorite trends this season? Do you think '70s-inspired style is here to stay for a while? Would you wear suede, lace-up ballet flats, and flared jeans? Let me know in the comments!