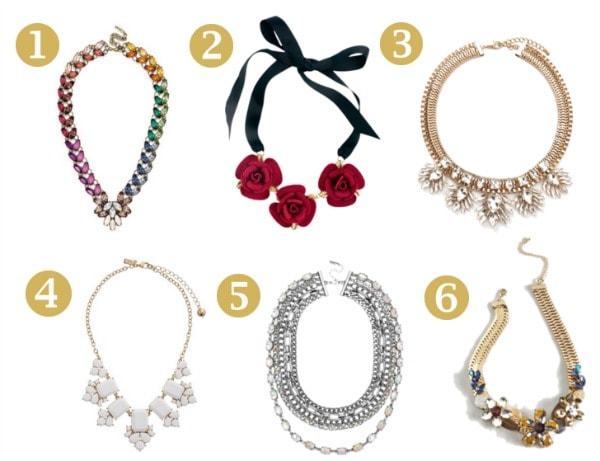 The holidays are upon us! And I can't think of any piece more perfect for the season than a fantastic statement necklace. They're great for starting convos at parties or dressing up a sweater-and-jeans holiday shopping look, and they turn any outfit festive, instantly.
I've rounded up my six favorite statement necklaces of the season. Put 'em on your holiday wishlist, or snag one as a present to yourself and wear it everywhere over winter break. You totally deserve some sparkle after surviving finals.
1. Rainbow Bright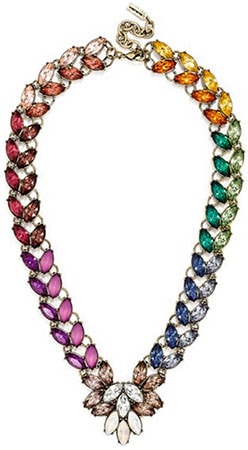 I'm totally lusting after this Baublebar stunner. With its rainbow jewels, it will go with absolutely everything in your closet and catch the light differently every way you turn. Plus, it includes the colors of any and all the holidays your family celebrates. Happy December!
2. Holiday Blooms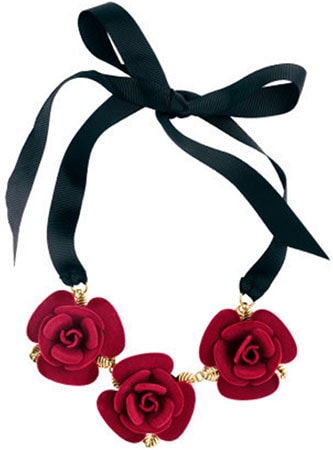 This merry H&M necklace is a perfect example of fabulous winter florals. The combo of ribbon, fabric, and metal is so fresh and high-fashion. This baby turns your LBD int0 a scene-stealing holiday party look, but would also look amazing layered over a cozy turtleneck for everyday.
3. Crystal Clear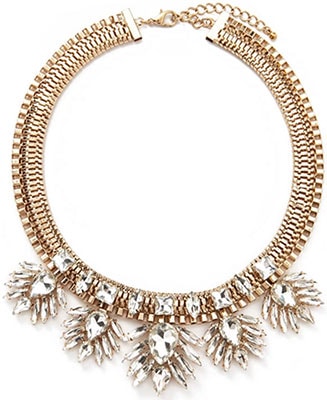 In my book a gold-and-crystal statement necklace is a wardrobe staple, because it will complete (and elevate) any look year round. I love sparkle 365 days a year, but now's the time for major bling, like this Forever 21 piece. The best part? It's only $20.
4. Pretty Stones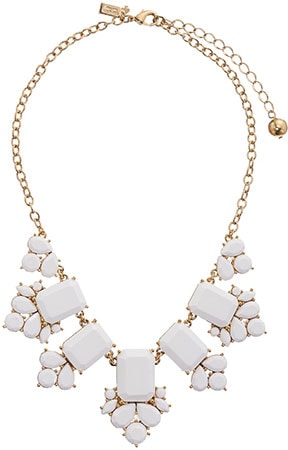 This white Kate Spade necklace is perfect for girls who want to make a statement but aren't into really blingy jewelry. It comes in several colors, but this white is the most versatile and classic — plus, it screams, "let it snow!"
5. Charming Chains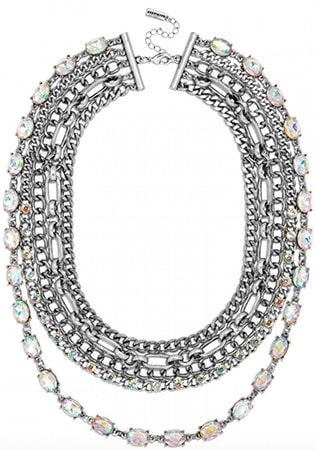 This layered chain-and-rhinestone necklace is so sophisticated, and the mixed textures are awesomely eye-catching. I'd love to see it paired with a sleek jumpsuit or a chunky knit. The neckline on that new dress just a little too low? This covers you up in the most stylish way.
6. Festive Flowers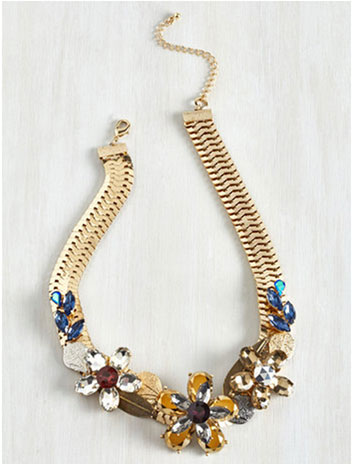 This Modcloth necklace is quirky and elegant at the same time, and the colorful buds bring a touch of spring to frigid days. These beautiful blooms would look fantastic peeking out from under the collar of your favorite button down for a holiday dinner with the fam, and will be just as cute to pull out again in a couple months to rock at Spring Formal.
What do you think?
What do you think of these statement necklaces? What's your favorite way to dress up a holiday look? How would you style these? Let me know in the comments!