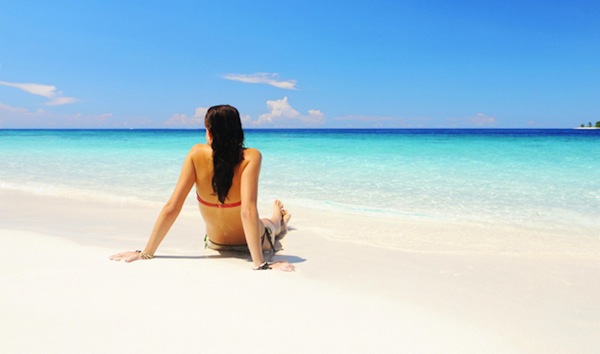 Photo Credit: ELLE
I have a love-hate relationship with swimsuit shopping. I love the fact that there are so many cute styles to try on, but I find that it's easy to get frustrated when searching for the perfect bathing suit.
Fortunately, this season there are tons of swimsuit options that are more universally flattering than the ubiquitous string bikini. Here are three of summer 2014's most trendy and flattering swimsuit types:
1. Long-Line Bikini Tops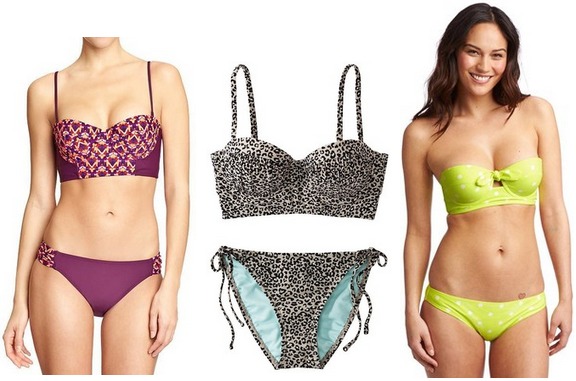 Product Information: Old Navy, Target, Aerie
Long-line bikini tops, also called midkinis, give you adequate support up top while highlighting your waist. These tops also provide a similar effect to a push-up bra without it well, looking like you left the house in your bra.
I especially love this trendy purple suit with the artsy print and the sassy leopard versions above. In addition, this neon yellow suit is part of a BOGO sale at Aerie right now, which is such a great deal!
2. High-waisted Swimsuit Bottoms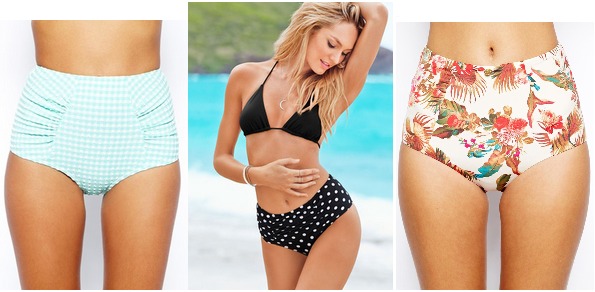 Product Information: ASOS, Victoria's Secret, ASOS
The retro look is so trendy right now and high-waisted swimsuit bottoms are ideal if you're looking for a bathing suit that provides a little more coverage. These suits look cute when paired with an equally retro top, but we also like the idea of creating contrast by opting for a more modern bikini top.
The ruching found on the gingham suit on the left and the all-over tropical print of the suit on the right are both right on-trend for summer. If you're looking for a deal, look no further than the black-and-white polka dot bottoms in the middle – they're on sale for just $13 at Victoria's Secret!
3. Trendy One-Pieces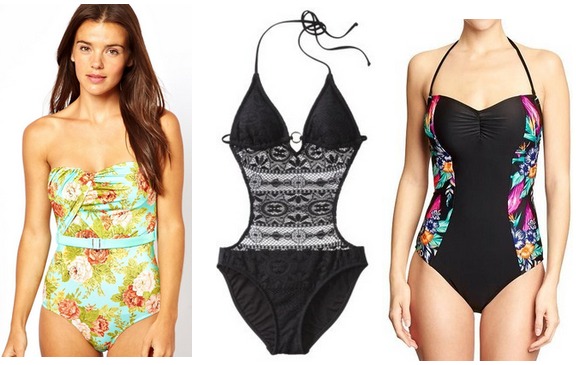 Product Information: ASOS, Target, Old Navy
I completely believe that one-piece swimsuits can be just as stylish as the ever-popular bikini. It seems like every retailer has been rolling out chic one-pieces this summer, and whether you prefer a traditional look or a trendy monokini, there's a suit out there for every style.
I think the floral print suit on the left is so pretty, and the mint waistband is such a unique touch that adds tons of visual interest. The monokini in the middle stands out in black crochet lace, while the suit on the right features eye-catching printed panels.
Tell me what you think!
What swimsuit trends are you excited about this summer? Would you wear any of these swimsuits? Where are your favorite places to shop for swimwear? Let me know by leaving a comment.