It's easy to fall in love with a designer's latest products. Affording those products is the hard part. Searching for budget-friendly options can be daunting, exhausting, and can even take the fun out of shopping. CF wants you to look and feel your best, no matter your budget, so we've done all the hard work for you. Check out the looks below and decide if you want to Save, Spend, or Splurge.
As many of you know, I've been living in London for the past month. And while in London, a fashionista must attend London Fashion Week. I've been looking forward to this event ever since I booked my flight back in February. My favorite part of LFW? Street style! The shows are great, but being immersed in all of the culture and unique ensemble choices on the streets was an adrenaline high like no other.
After poring over my 400+ photos from the weekend, I chose three of my favorite looks and put together some Save, Spend, Splurge content for our readers! I hope you enjoy reading and shopping as much as I had fun putting together the looks. Scroll down to see more:
Casual Daytime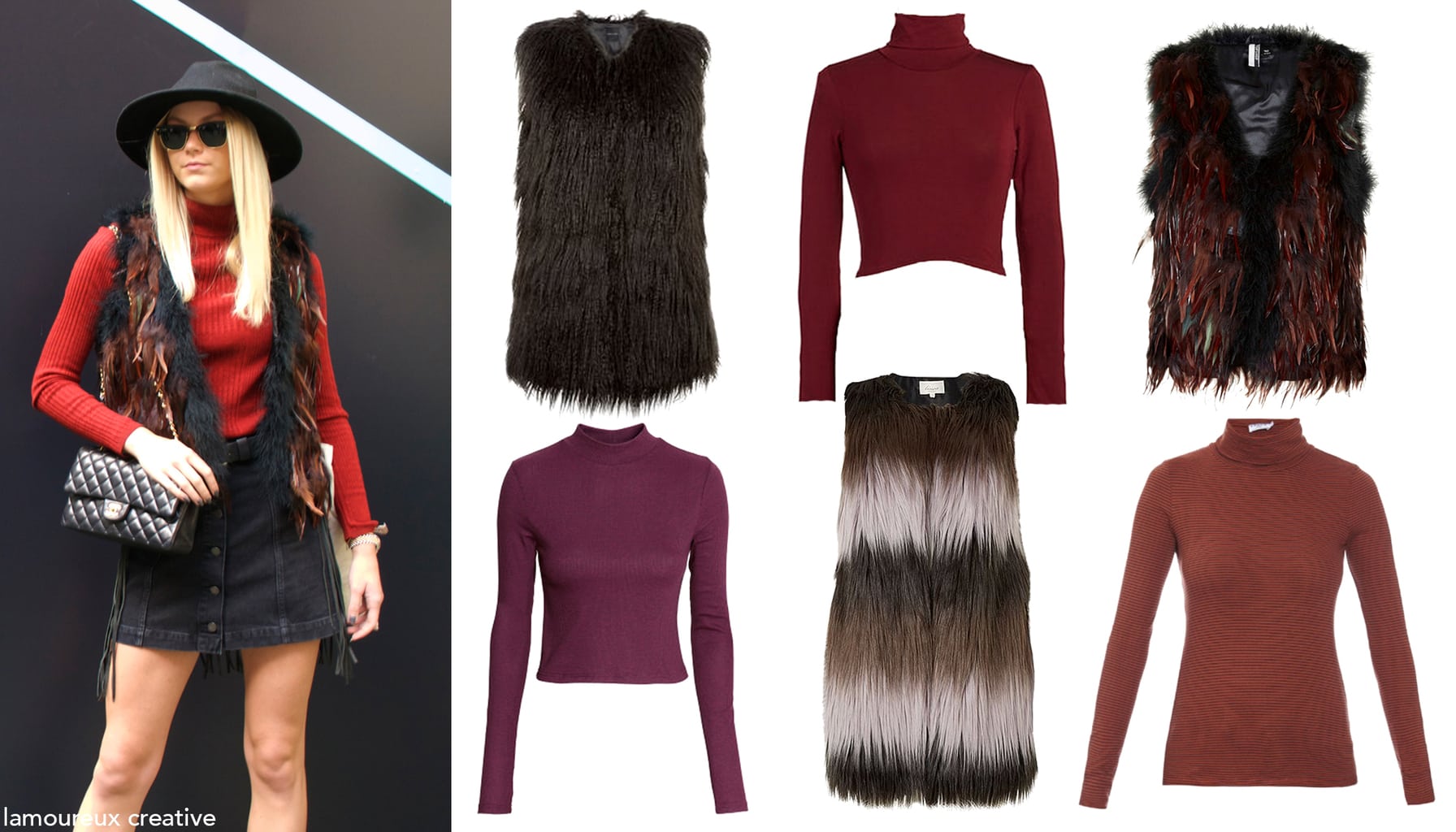 Turtlenecks (L-R): Save, Spend, Splurge | Gilets (L-R): Save, Spend, Splurge
I waited in a herd of paparazzi for 15 minutes to successfully snap this look, but it was totally worth it.
Unless you've been living under a rock, you know that the 1970s trend has been huge this year. Take the decade up a notch by adding a statement feather gilet, or vest.
The turtleneck/vest combo is great for high-low dressing, so you can buy a more budget-friendly turtleneck from somewhere like H&M, and then invest in the higher quality feather vest from Topshop. Add your favorite shoulder bag to pull the outfit together for a million dollar look (even if your turtleneck only cost $12.99!)
Out and About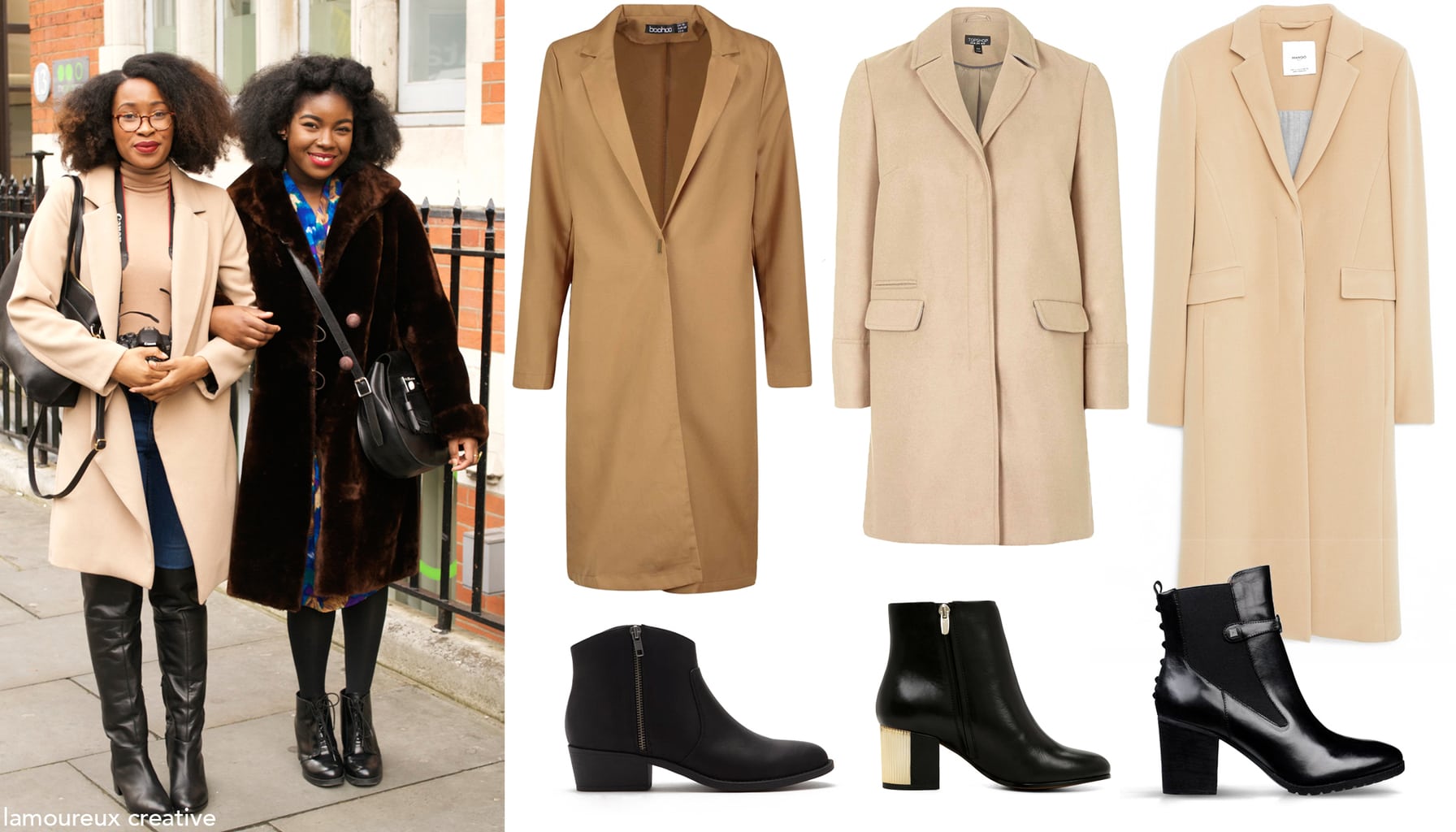 Shift coats (L-R): Save, Spend, Splurge | Booties (L-R): Save, Spend, Splurge
These lovely ladies were spotted in Golden Square early in the morning before the LFW festivities had even started. A shift coat is a very classy and clean look. Match this sophisticated piece with an edgy bootie, and you have the super-cool-and-casual look down.
Color Tip: Want to look taller? Match your top or dress with your coat. By wearing all of one color (to correctly fit your body type), you can elongate your frame!
Blushing from Head to Toe
Tops (L-R): Save, Spend, Splurge | Bags (L-R): Save, Spend, Splurge
I know marsala was Pantone's 2015 color of the year, but blush has definitely been having its time in the spotlight as well. As I mentioned above, by wearing one color from head to toe, you can appear taller and leaner.
This look works specifically because our street style model matched a fitted top with a wide-leg trouser, which creates an awesome shape! By adding a trendy bag, this look is truly a stand-out.
What do you think?
Have you seen any looks you particularly like from New York, London, or Milan Fashion Weeks so far? Would you wear any of these looks, or splurge on any of these pieces? Don't forget to leave comments and questions below. We love to hear from our readers!