This post may contain affiliate links, which means we may receive a commission if you purchase through our links. Please
read our full disclosure here
.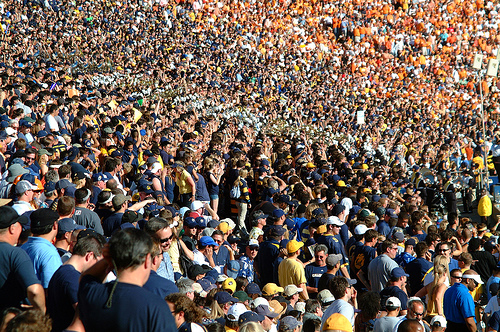 Even if you've never seen a single football game, its pretty safe to say that the Super Bowl is one of the most anticipated events of the year. It's an American tradition to watch the Sunday night game every year, and Super Bowl parties are a great way to gather friends and just have a great time, even if you don't follow football.
Whether you're cheering for the Patriots or the Giants (or neither), make sure you attend this year's party looking cute and stylish! Don't let the unflattering cuts of men's team gear stop you from showing your best at this week's Super Bowl parties.
With this week's edition of Outfits Under $100, I've created two outfits that will help you show off your team spirit, but still bring out your great taste in fashion. Even if you don't intend on going to a Super Bowl party, you can easily substitute pieces or change your color set to match your school colors. With a few adjustments, each of these outfits can easily be transformed into outfits to wear to any game, not just the football variety.
Tips for Getting Great Sports Gear
Buy apparel during the off-season: When the season is over, most stores tend to put sports apparel on sale in order to make room for other sports. Shop during the off-season of your favorite sport to get the best deals.
Don't feel obligated to just buy apparel with the team's logo: Especially if you're on a budget, buying apparel with team logos can be expensive. Branded merchandise tends to cost more than normal apparel, so instead of buying a jersey, wear a shirt that you already have in that color. Or buy a dress or tunic in your team colors. That way, you can wear it not only to football games, but even to dinners and other occasions.
Accessorize: A great way to show your team spirit without having to buy a totally new outfit is with accessories. Hats, scarves, rings, and necklaces are all great accessories that you can buy for pretty decent prices that will show off your team spirit without breaking the bank.
Outfit 1: Patriots (Total: $94.24)
Jeans, Tank, Cardigan, Shoes, Bangle, Beaded Bracelet, Nail Polish, Earrings
This outfit shows that you really can display your team spirit without being branded in team logos from head to toe. First, I chose a blue striped tank in the colors of the Patriots. This cardigan from Abercrombie and Fitch is a perfect piece to throw over your team shirt – it's feminine but still gives off that old school Ivy League sports vibe. Accessories are a key component of this outfit. Red nail polish, blue shoes, red feather earrings, and assorted bracelets are great accessories that not only show your team spirit but can easily be worn with other outfits.
Outfit 2: Giants (Total: $96.34)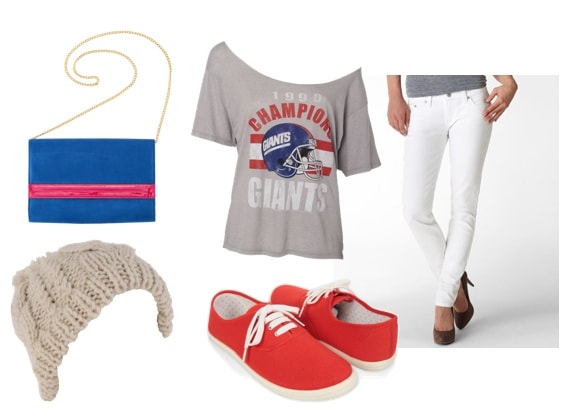 Sometimes our boyfriend's shirts just don't flatter us in the right way. If you're die-hard-sports fan, sometimes investing in women's sports apparel is worth it. I love this vintage-looking Giants shirt from Alloy: The off-the-shoulder detail is super sexy while still maintaining the sporty look at the same time. If you're as much of a sports fan as I am, then you definitely need comfy shoes to jump up and down in. These red shoes from Forever 21 are the perfect accent to a mostly neutral outfit. Plus, red is the accent color of the Giants' white jersey. Finally, the blue bag is the perfect shade for a Giants fan.
What do you think?
What are some of your favorite ways to show your team spirit? Which team will you be supporting this weekend? Have any great ideas on ways to dress for sports events? Share your ideas here!