Winter is here and as much as we may love it or hate it, it is time to bring out those winter coats (if you haven't already)! Sure, coats are meant to keep us warm, but who says they can't make a fashion statement at the same time?
Your winter coat can be more than just a functional piece; it can add style to every single winter ensemble. But as we all know, coats can be expensive, making it hard to find a stylish one that still fits your budget. It's not impossible, though – it just takes a little extra work!
Here are some tips on scoring stylish winter jackets at a discount:
Shop at the end of the season: Jackets tend to go on sale once stores begin bringing out their spring collections. Luckily, stores tend to showcase their spring lines in the middle of winter to prepare for the upcoming season. With good timing, you can grab a great jacket for a fantastic price and still have time to wear it that season! If you do end up buying a jacket in the spring for the next winter, make sure it is a timeless style, something that will still be wearable next winter.
Make sure it is functional: Making a fashion statement is important, but your coat still has to do its job of keeping you warm! Don't sacrifice warmth and comfort for a pretty coat that will only leave you shivering.
Dress according to your climate. If you are one of the lucky few who live or attend university where it is warmer in the winter, you can probably opt for a lighter jacket (like the one in Outfit #2). On the other hand, if snowstorms and blizzards are a weekly occurrence where you live, make sure you find a jacket that will make a statement and keep you toasty (like the one in Outfit #3).
Here are 3 statement coats that will make you and your wallet happy – the best part? Each ENTIRE outfit, including the coat, costs less than $100 total!
Outfit #1: The Flirty Coat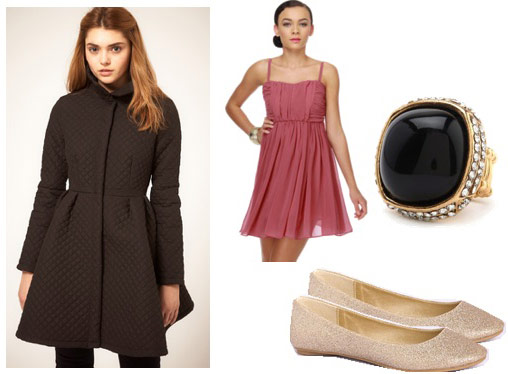 Coat – ASOS, Flats – Delia's, Ring – Charlotte Russe, Dress – LuLus
This fit and flare coat is the perfect addition to any winter closet; the cinched waist adds shape while the flare skirt makes it super fun. Pair it with a cute dress and some flats and you have the perfect going-out outfit. And for about $94 total, this outfit will not only turn heads but keep your wallet fat!
Outfit #2: The Sophisticated Cape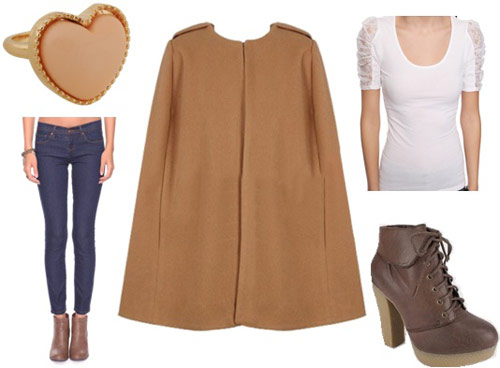 Cape – Romwe, Jeans – Forever21, Shirt – Forever21, Shoes – GoJane, Ring – Forever21
The cape coat is a trendy style that's very in this season. This coat from Romwe ($53.99) gives the old cape a new, sophisticated look. Add jeans and some edgy boots and this outfit is perfect for class or even a casual night out.
Outfit #3: The Casual Parka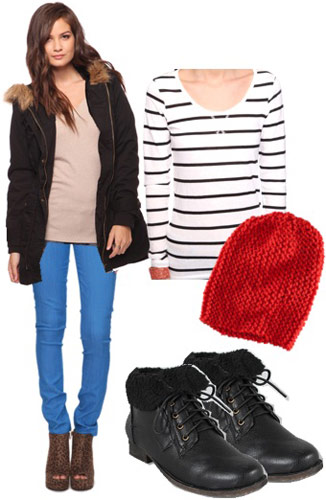 Coat – Forever21, Jeans – Forever21, Shoes – Urbanog, Shirt – Forever21, Hat – H&M
This outfit is for those of us who have to battle blizzards to get to class. Big, oversized parkas are perpetually trendy in icy areas and have been seen on celebs and runways alike this season. Parkas are not only extremely warm, but they give off a fun, boho-chic vibe that works with most ensembles.
This casual look is great for going to class or even playing in the snow. Pair this functional coat with a few bright statement pieces, like a red hat and/or some bright blue jeans to add flavor to your outfit. Finally, rejoice at the savings: This outfit totals out at about $93!
What do you think?
What do you think about these outfits? Do you typically spend a lot on a winter coat? What are some of your favorite winter coat styles? Do you have any tips on getting great deals on coats? Share your ideas in the comments!