This post may contain affiliate links, which means we may receive a commission if you purchase through our links. Please
read our full disclosure here
.
With Halloween just days away, we're going to do something a little different with this week's Fabulous Find and show you how a basic tee can be transformed into an amazing costume.
Not only is a black-and-white striped top an excellent wardrobe staple that can be worn year-round, but this same tee can be used to create a multitude of DIY costumes. Plus, this Forever 21 top costs less than $8, making it an extremely versatile and budget-friendly find.
Scroll on down to check it out as well as three ways to incorporate this top into a fantastic Halloween costume:
The Top: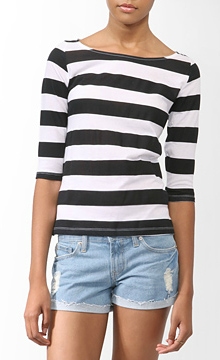 Basic Striped Top in White/Black — $7.80 at Forever 21
Outfit Inspiration
Like the top? Then you're going to love how we styled it for Halloween! Read on to find out three costume ideas using this week's Fabulous Find:
Outfit #1: Ahoy, Matey!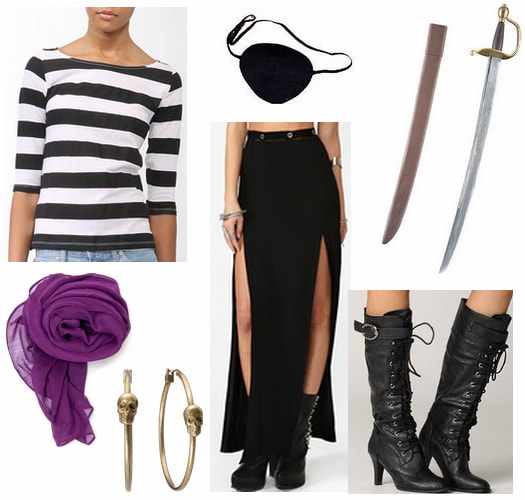 Product Info: Top- Forever 21, Eyepatch- amazon.com, Sword- amazon.com, Scarf- Mango, Earrings- Kohl's, Skirt- Nasty Gal, Boots- YesStyle
Dressing up as a pirate for Halloween is a oldie, but a goodie — plus, it's so much fun getting into character for this one! Start by pairing our Fab Find with a double-slit maxi skirt and a pair of lace-up boots to create a pirate-y look. Fashion a sheer scarf into a stylish headwrap, then accessorize with a pair of skull-adorned hoop earrings. For the finishing touch, head to your local party supply store to pick up a few necessary accessories — such as a sword and eyepatch — then brush up on your pirate lingo and you'll be good to go.
Outfit #2: The Hamburglar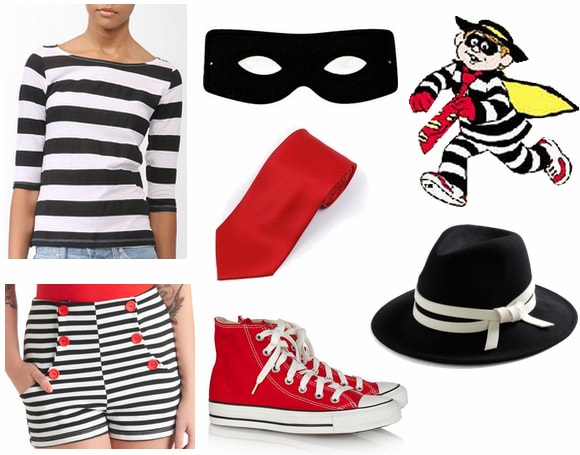 Product Info: Top- Forever 21, Mask- eBay, Tie- amazon.com, Shorts- ModCloth, Sneakers- net-a-porter, Hat- ModCloth
For an adorable and unique Halloween costume, why not try dressing up as fast food's number one burger thief? Just take the striped top and pair it with some similar horizontal striped shorts. Borrow a red necktie from your dad or favorite guy, then add a pair of matching red Converse sneakers. Accessorize with the Hamburglar's signature black mask and wide brimmed hat to complete this look. Bonus points if you hit up your local McDonald's to pick up bag full of burgers!
Outfit #3: Mime's the Word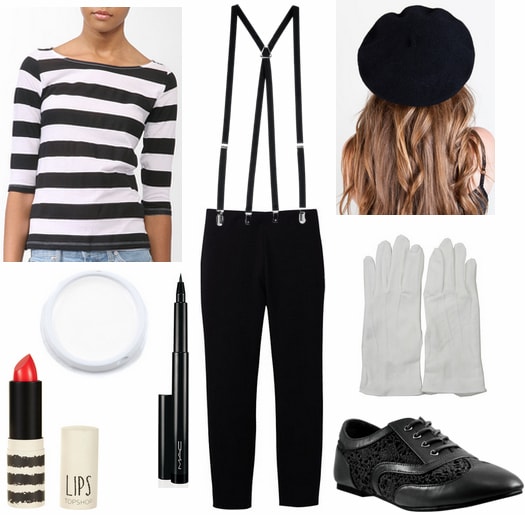 Product Info: Top- Forever 21, Suspenders- American Apparel, Beret- American Apparel, Lipstick- Topshop, Face Makeup- Spirit Halloween, Eyeliner- MAC, Pants- Uniqlo, Gloves- amazon.com, Oxfords- Baker's Shoes
Being a mime for Halloween is one of those costumes that can be cute or creepy, depending on how you feel about these silent artists. Recreate a mime's signature ensemble by pairing our Fab Find with basic black trousers and matching suspenders. Next, lacy black oxfords add a fashion-forward touch, while white gloves and a beret are essential for creating an authentic costume. However, the most important aspect of this costume is the face makeup and while there are hundreds of tutorials out there, you'll definitely need white face paint, red lipstick and liquid eyeliner to create a mime-worthy look.
Your thoughts?
What do you think of this week's Fabulous Find? Would you wear any of these costumes? Which one is your favorite? Can you think of any other Halloween costumes that use a striped shirt? What are you dressing up as for Halloween? I'd love to know, so remember to leave a comment and tell me what you think!