I don't know about you, but I like my workwear to have a little pizzazz. Sure, I want to look polished and professional, but I also want my style to stand out a bit. That's why I love finding work-appropriate pieces that still have a bit of fun color, print, or detail.
If you feel the same way, this week's Fabulous Find is for you. This find from JCPenney is a polished and feminine bow blouse in a polka-dot print, and on sale for under $20! (It even comes in several other colors and prints if you want to stock up.)
This blouse is endlessly versatile — not only would it make a great piece for your professional wardrobe, but you could easily wear it with a black mini for a night out or casual jeans for class. Plus, its lightweight material makes it great for those warm spring and summer days. Here's a closer look:
The Blouse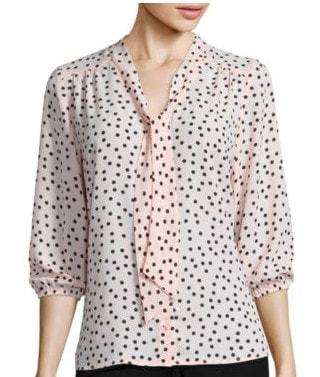 Heart & Soul 3/4-Sleeve Polka Dot Bow Blouse in Blushblack – $19.99 at JCPenney
Outfit Inspiration
Here are a few ideas on how to wear this blouse for work:
Outfit #1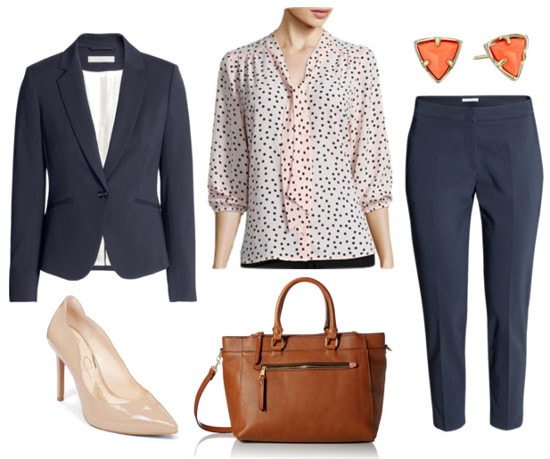 Products: Blouse, Blazer, Pants, Heels, Earrings, Bag
If you work in a very professional setting, a suit is the best way to go. But if you find yourself getting tired of the same black-suit-white-shirt combo, here's a way to spice up your look while still following the dress code. Pair this polka-dot blouse with a navy suit, and to spring-ify the look, swap out your black pumps for nude ones. Accessories are important, too, so don't forget your go-to satchel, and for a little pop of color, add a bright pair of stud earrings.
Outfit #2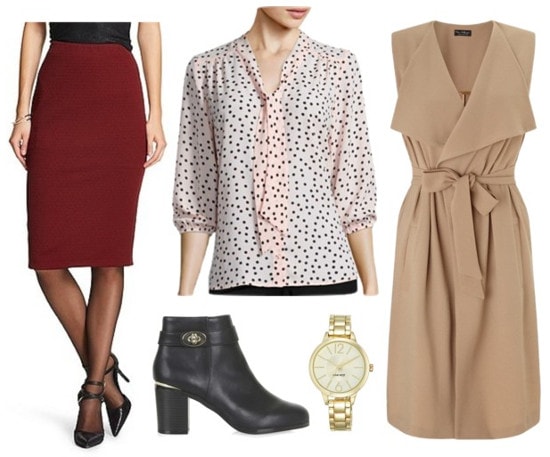 Products: Blouse, Skirt, Vest, Boots, Watch
This look is great if you work in a creative yet still business-casual environment. Start the outfit with this polished blouse and a classic knee-length burgundy pencil skirt. To add some trendy touches, throw on a sleeveless camel coat and black booties. Lastly, don't go overboard on the accessories — try a classic gold watch for just a hint of sparkle.
Outfit #3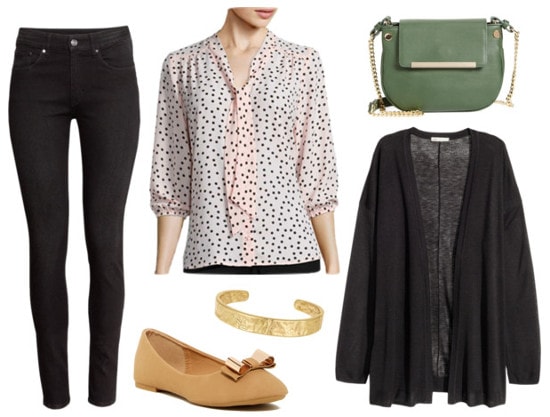 Products: Blouse, Jeans, Cardigan, Flats, Bag, Bracelet
If you work in a casual setting, this look is a great polished-yet-informal alternative to a black suit — stylish, yet still comfy and practical in case you need to make a coffee run or haul some boxes. Pair the blouse with a black cardigan and black jeans instead of the usual black pants and black blazer. To give the outfit a few dressy touches, have fun with accessories–try a pair of tan bow flats, a green crossbody bag, and a sleek gold bracelet.
Thoughts?
What do you think of this Find? Are you working on building your professional wardrobe? What's your work style? Let us know in the comments!