This post may contain affiliate links, which means we may receive a commission if you purchase through our links. Please
read our full disclosure here
.
Previously in this column, I covered professional outfits for the end of the semester. This week, it's all about what to wear behind the scenes: For studying, endless paper-writing, and putting together major projects before you pack up for winter break.
When you're in the throes of cramming for finals and dreaming about reaching that sweet, sweet finish line, you need your outfits to work a bit harder. They not only need to be comfortable, but also keep you warm through finicky weather and marathon library sessions. Of course, having them be stylish doesn't hurt as a pick-me-up — the last thing you need is to feel self-conscious about how you look.
I'm a writer who does the most of her work in mismatched pajamas (if we're being honest here), so I truly appreciate soft, cute layers for when I have a pile of work to do but no time to make myself any less of a stressed-out greaseball otherwise. Moral of the story: This is the time to wear what makes you feel good, and avoid depending on takeout for sustenance.
I've put together four quick outfit ideas for when you barely have time to think about getting dressed. And don't worry if you're on a budget, because each of these looks rings in at under $100 (#4 features plus size items).
Look 1 – $95.89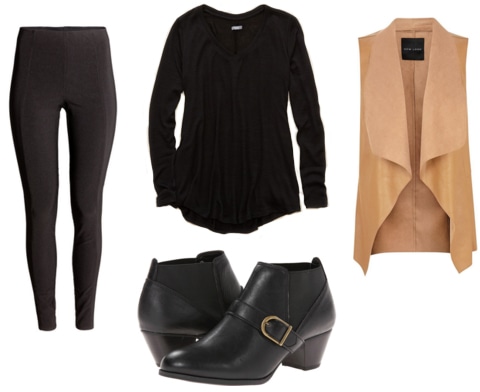 Products: Long sleeve tee, Leggings, Boots, Vest
Have a miles-long to-do list but not willing to succumb to pajama chic just yet? A simple way to look stylish is layering a statement vest over a soft black tee and keeping the rest of the outfit monochromatic. A draped camel vest and some buckled ankle boots will have you looking polished, but comfortable.
Look 2 – $96.97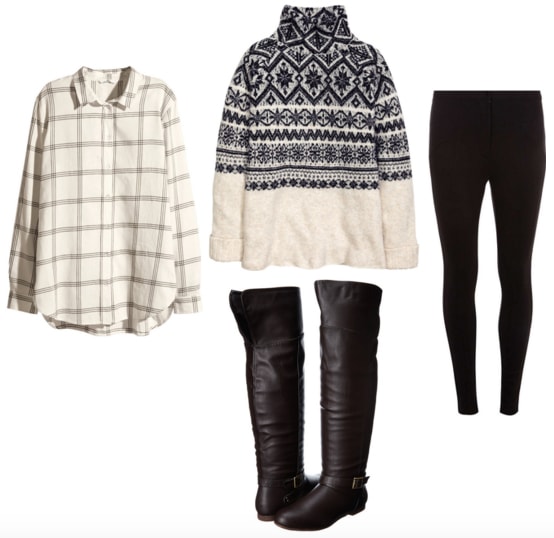 Products: Turtleneck, Trousers, Boots, Flannel Shirt
Maybe my friend's "old man in a cabin" style is rubbing off on me, but I love the coziness of oversized sweaters in a fair isle print. A turtleneck version, layered over a soft flannel blouse for extra warmth, is ideal for getting you out of bed when the weather is grim and soggy. Contrast the rugged sweater with sleek black leggings and slouchy chocolate brown boots.
Look 3 – $96.88
Products: Tank, Cardigan, Pants, Oxfords
The beauty of finals week is that no one cares what you're wearing since they're all wrapped up in their own exhaustion. Which means, if you're in a style rut, you should feel free to have fun with your outfit. Start with a soft jersey tank, then add an oversized cardigan. Try out a pair of patterned trousers, like this one with a cat eye print, and finish with tan oxfords for when you're rushing back and forth across campus.
Look 4 – $95.97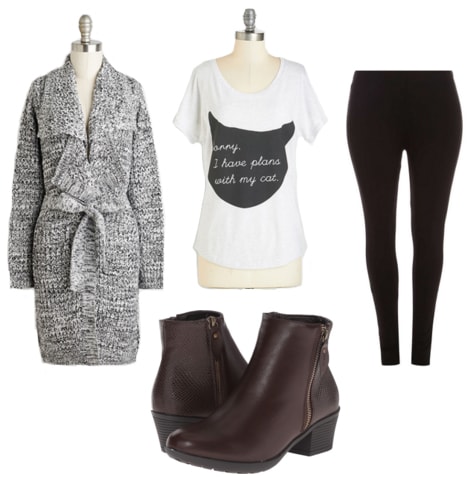 Products: Tee, Cardigan, Leggings, Boots
If you want to indulge in a tiny bit of retail therapy, pick up a cozy wrap cardigan. The draped lapel and oversized shape add a touch of chic to your look while being easy to wear. Throw it on over this adorable cat tee (the thought of seeing my cat is what's getting me through this week), a warm pair of leggings, and ankle boots in a rich brown color. Step 2: Head off to success.
What do you think?
What did you think of these outfits? What do you normally wear during finals week? Tell me a little bit about what you're working on in the comments below!