This post may contain affiliate links, which means we may receive a commission if you purchase through our links. Please
read our full disclosure here
.
Editor's note: Here at CF, we've written a lot about the famous designers behind our favorite high-end brands. But what about the less famous designers whose pieces we wear on a daily basis? Who designs the clothes we buy at our favorite mall stores? Our new series, "Who's That Designer?" aims to answer those questions, profiling the often forgotten fashion minds behind our favorite stores.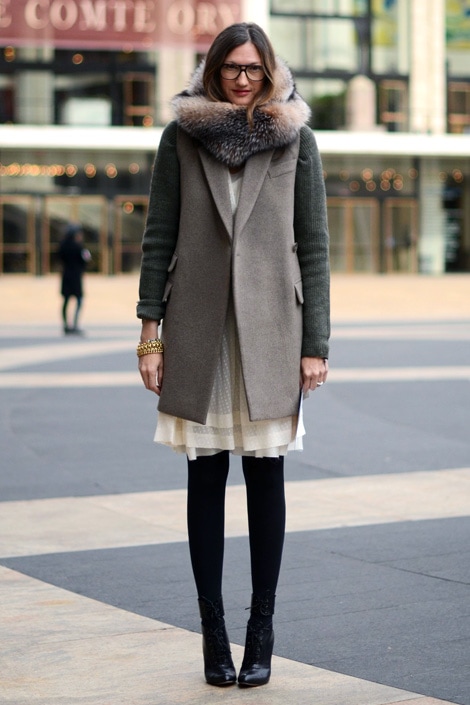 J.Crew President and Creative Director Jenna Lyons
J.Crew is known for its whimsical, fun, yet tailored designs. While most people associate the brand with pure preppiness, trendy items (like these pink silk pants – yes, please!) mixed with classic favorites have elevated J.Crew to fashionista status.
But while you may love J.Crew, have you ever wondered who's designing all of those fabulous clothes? Meet Jenna Lyons, J.Crew's president and executive creative director. After more than a decade at the company, Jenna has become the epitome of J.Crew style – and is practically the brain behind the whole operation.
Want to know more? Here are ten fun facts about Jenna, and an outfit inspired by J.Crew's classic, cool style.
10 Fun Facts about J.Crew's Jenna Lyons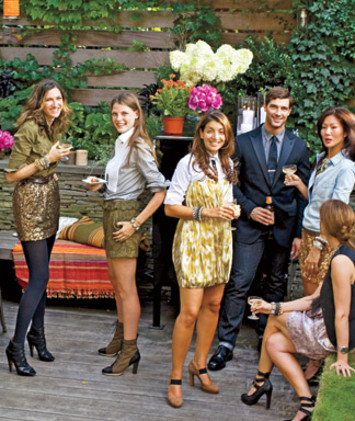 Lyons at a party (far left) with J.Crew design staff and friends
Jenna was born in Boston and moved to Rancho Palos Verdes, California when she was four.
Jenna started at J.Crew when she was 21, as the "assistant to someone's assistant," after graduating from Parsons School of Design in 1990.
She grew to be six foot tall by age 12, and used her lofty height to enhance J.Crew's designs: When Jenna realized the average J.Crew inseam fit her not-so-average height, she designed different inseams to fit all shapes and sizes.
She has been collecting Vogue for over 25 years – her first issue is the August 1984 issue, featuring Isabella Rossellini on the cover.
Jenna lives in a loft in Brooklyn with her husband, artist Vincent Mazeau, and her son, Beckett.
Even though she's six feet tall, she will only wear high heels – one of the reasons she fell in love with New York City is because tall women aren't afraid to enhance their height with a pair of heels!
As she told Rachel Strugatz, Jenna's style mixes something "a little too sweet and sugary" with "something more tailored," and there's always something "borrowed from the boys and borrowed from grandma."
She made the decision to carry non-J.Crew items in J.Crew stores, justifying her choice to Style.com: "The Red Wing boot—they do it well, they do it in America. Why try and re-create it? Some things are amazing the way they are. Alden shoes, Sperry Top-Siders."
Jenna's son helps with her quirky mix and match style – he picks out her shoes every morning!
Speaking of little Beckett, Jenna recently stirred up some controversy after a J.Crew ad titled "Saturday with Jenna" featured a picture of her painting Beckett's toenails – bright pink! Whatever your feelings on the topic, it's hard to deny how amazing that Essie color is!
Outfit Inspired by J.Crew and Jenna Lyons: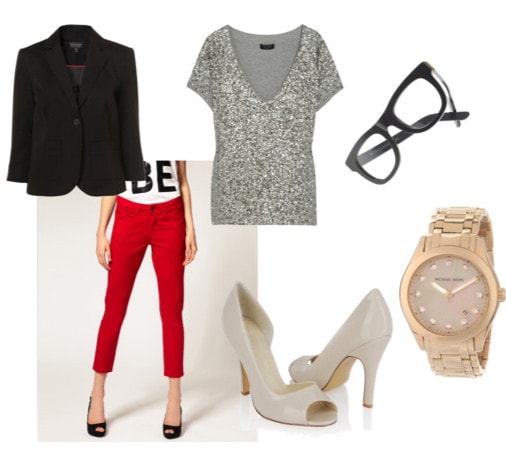 Product Information: Blazer – Topshop, Pants – Asos, Top – J.Crew, Shoes – Forever 21, Watch – Michael Kors, Glasses – Madewell
Jenna is known for her ability to mix many different aesthetics in one outfit. To get her look, pair unexpected colors and textures together, like these fire-engine red pants and sequined t-shirt. A shrunken black blazer and nude-colored heels add polish to your ensemble, while oversized black-rimmed glasses and a rose-gold watch add funky flair.
What Do You Think of J.Crew?
Are you lusting for the day a J.Crew catalog arrives in the mail? Do you adore the way Jenna Lyons throws together an outfit? Leave us a comment and let us know! Have you ever wondered who designs a brand you love? Let us know who you would like to read about next!