This post may contain affiliate links, which means we may receive a commission if you purchase through our links. Please
read our full disclosure here
.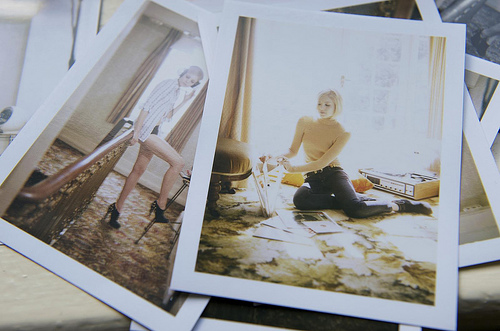 With the flood of Spring/Summer 2011 ad campaigns coming in, just as interesting as the items being displayed, the theme of the campaigns, and how the clothes are styled, are the bodies and faces chosen to show them off. It's always exciting to see which top models have made it into the campaigns, and which new girls are sure to rise to the top of the modeling world after appearing in the ads.
For the next installment of our Models 101 column, I'm going to break down who's starring in which ad campaigns this season, and what these choices mean for the fashion world. Read on to find out!
The Pros
These are the women that took the fashion world by storm and never stopped to look back. They represent the epitome of career longevity, and exemplify the idea of ageless beauty. Amongst the endless slew of new faces arriving at modeling agencies every day, The Pros don't even wince. Here are some of the Pros starring in Spring/Summer 2011 ad campaigns:
Chanel S/S 2011 – Stella Tennant & Ines de la Fressange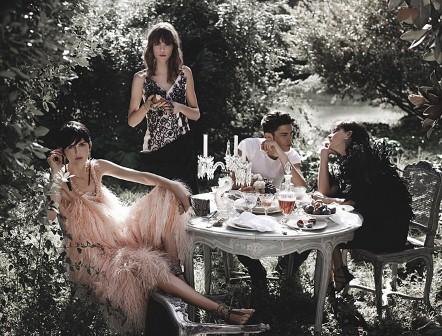 Chanel's newest campaign, seen above, utilizes the iconic faces of Stella Tennant and Ines de la Fressange. Tennant, at 31 years old, has been modeling since the early '90s and has had an enviably consistent career since then. Tennant was recently featured with her two daughters for H&M's holiday campaign, and for Fall/Winter 2011, she appeared in Balenciaga and Salvatore Ferragamo ads, along with numerous prestigious editorials.
Fressange, on the other hand, was the first girl to sign an exclusive contract with Chanel back in the 1980s and had been lying low in the modeling world until appearing on the Chanel S/S 11 runway a few months ago. In the time between, the 51-year-old Fressange stayed relevant by dabbling in designing, and by consulting for major fashion players like Jean-Paul Gaultier.
In the ad above, for Chanel Spring/Summer 2011, these two legends teamed up with Freja Beha Erichson and Baptiste Giabicone for a Chanel-laden whimsical tea party. Who wouldn't die to be on that guest list?
Louis Vuitton S/S 2011 – Kristen McMenamy, Freja Beha Erichson & Raquel Zimmerman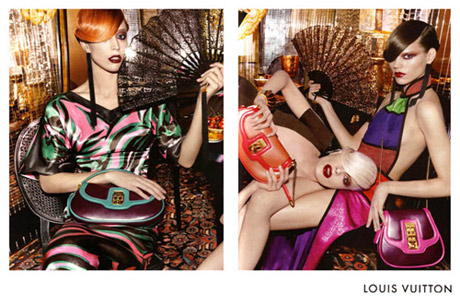 Louis Vuitton also chose to feature a blast from the past in its latest ads. Above, Kristen McMenamy is shown with Freja Beha Erichson and Raquel Zimmerman for these seductive and glossy Asian-inspired shots. McMenamy's appealing androgynous look first put her in the spotlight in the '80s, and at 46, she's showing the world that time has only enhanced her beauty.
Modern Supers
Household names who got their start after the definitive Big Six (Kate, Naomi, Claudia, Christy, Linda, Cindy) made their mark as the supermodels of the '90s are what I like to call Modern Supers. These are generally the most well-paid models, and they tend to have more athletic bodies than traditional runway models.
Although the Modern Supers are definitely part of the high-fashion world, many got their starts thanks to commercial jobs that eventually launched them into more versatile careers. For many, this commercial start involved working for big brand names like Victoria's Secret. Below are a few Spring/Summer 2011 ad campaigns featuring Modern Supers.
Balenciaga S/S 2011 – Gisele Bundchen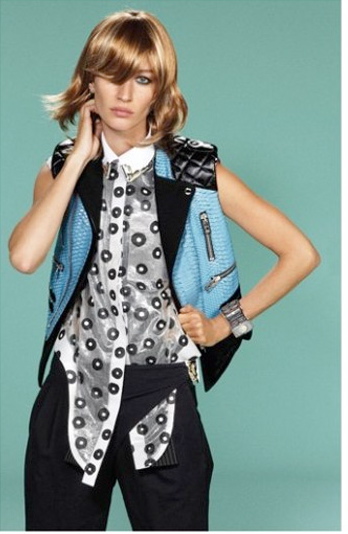 Balenciaga made a statement this season by casting stunner Gisele Bundchen in their S/S 11 campaign. With Bundchen, everyone feels compelled to stop and look, and her Balenciaga ads are no exception – they're totally attention-grabbing. With a basic backdrop and no-fuss posing or styling, Gisele, and the Balenciaga wares, are able to shine through.
Bottega Veneta S/S 2011 – Karolina Kurkova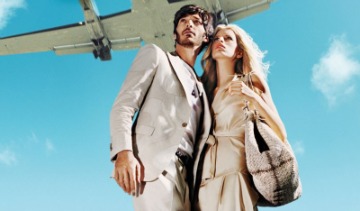 Bottega Veneta also cast an extremely familiar face this season when they chose Karolina Kurkova to star in their latest campaign. The leggy blond is another girl whose career is always being observed and commented on, so any house that chooses to feature her will not only undoubtedly end up with breathtaking photos, but a major publicity boost as well. In this campaign, Kurkova takes center stage matching either a black bird or an airplane that flies above her, capturing her full attention.
Latest Girls
While these may be common names to anyone observant of the fashion world, the Latest Girls are definitely at the top of their game but have yet to reach household-name status. These models have only been on the scene for a few seasons, making them some of the youngest of the bunch appearing in campaigns for the next season. Here are two ad campaigns where some of the Latest Girls are being featured for spring.
Dior S/S 2011 – Karlie Kloss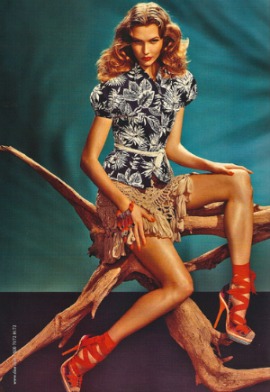 Dior has chosen Karlie Kloss for a third time to showcase their latest collection in ad campaigns. Kloss is an unstoppable force in the modeling industry, keeping a spot in Models.com's Top 50 models list month after month (generally falling in the top 5). For Dior, she appears as a beach-babe-meets-pinup-girl this season. Like Balenciaga's ads with Gisele, Kloss' ads need no background or styling embellishments. Kloss' fierce stare and flawless skin alone are enough to force onlookers to stop and check this ad out.
Mulberry S/S 2011 – Lindsey Wixon & Nimue Smit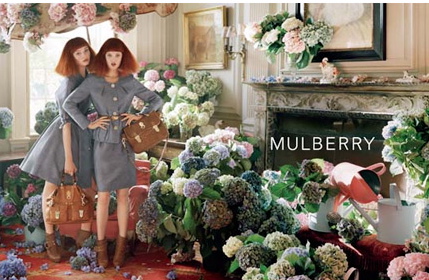 Mulberry's S/S 11 campaign stars Lindsey Wixon, a girl whose career only began a little over a year ago, but is already a regular in major editorials and ads. Wixson caught everyone's attention with her doll-like look and demeanor in Miu Miu's S/S '10 ads, and her career has been hot ever since. In the Mulberry ads, Wixson appears with Nimue Smit, and the pair, looking like fiery-haired twins, are hard to peel your eyes away from.
Thoughts?
What are your favorite ads of the season so far? Even with all the standard faces being used, there are plenty of new girls out there – have any of their campaigns caught your eye? Let me know!