This post may contain affiliate links, which means we may receive a commission if you purchase through our links. Please
read our full disclosure here
.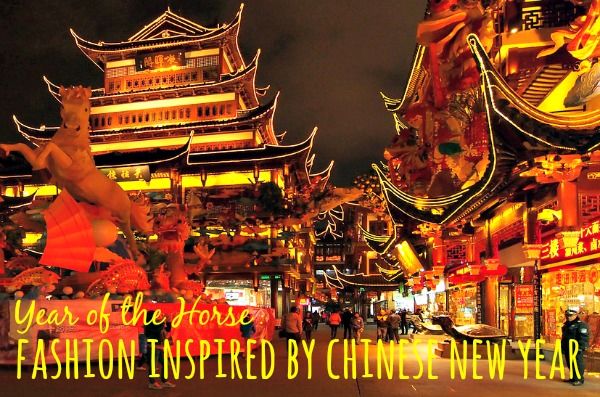 After my last Style Abroad post featuring Taipei, I thought it would be fun to talk about Chinese New Year and introduce some of the traditions surrounding the festival for those who've never celebrated it. And perhaps we should call it the Year of the Clothes Horse, since I'll also be sharing some outfits inspired by Chinese New Year traditions!
About Chinese New Year
Chinese New Year, also called the Lunar New Year, is a major holiday celebrating the first day of the new year according the Chinese lunar calendar.
This year, Chinese New Year's Day falls on Friday, January 31st. The festivities traditionally last from Chinese New Year's Eve until the 15th day of the new year.
It's celebrated in countries with significant Chinese influence, including China, Taiwan, Hong Kong, Singapore, Malaysia, Thailand, Indonesia, Vietnam, and the Philippines, as well as Chinatowns all over the world.
Outfits Inspired by Chinese New Year Traditions
Ready to ring in the new year…again? Try out these festive outfits inspired by Chinese New Year traditions:
Out With The Old, In With The New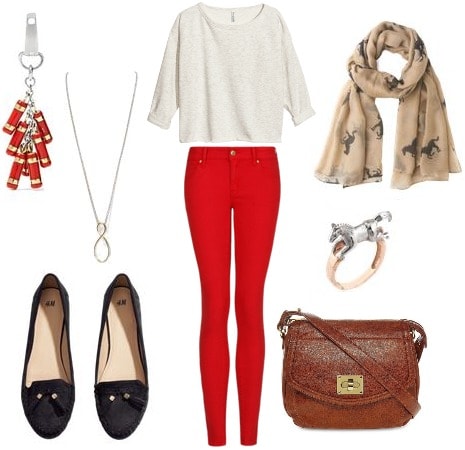 Product Information: Top, Jeans, Flats, Bag, Keychain, Ring, Necklace, Scarf
In the days leading up to the New Year, every household undergoes a thorough cleaning. This symbolizes the clearing out of bad luck from the previous year. However, once the fifteen days of celebration begin, you're not supposed to do any cleaning or sweeping around the house, for fear that you'll sweep away the good luck that's just arrived with the new year! Additionally, many families decorate their windows and doors with red paper cutouts and couplets to invite prosperity into their homes.
Pre-New Year's is also prime shopping time, as you're supposed to wear new clothes on New Year's Day. This casual and comfortable outfit would be perfect for a bit of family bonding time cleaning up the house and then a jaunt off to the mall with friends. Make sure to incorporate the color red, as it's considered very lucky. The number "8" is also auspicious because its Mandarin pronunciation sounds like the word for "prosper." Add a couple of equine touches to commemorate this year's zodiac sign, the Horse.
Family Reunion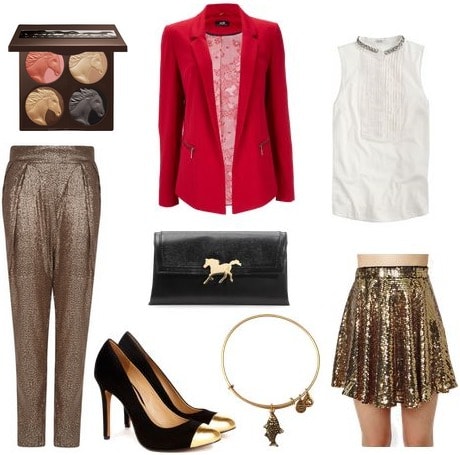 Product Information: Blazer, Top, Trousers, Skirt, Heels, Eyeshadow, Bangle, Clutch
The Chinese New Year's Eve dinner is a major event tantamount to Christmas dinner in the Western world. The entire family gathers to celebrate and feast. This meal always includes at least one fish dish, because the word for fish and the word for abundance sound the same in Chinese (they are both pronounced "yu"); the consumption of fish is supposed to bring prosperity to the family.
If you're celebrating a family reunion anytime soon, why not try out this fun outfit that's festive but not so trendy as to shock some of your more conservative (or just plain disapproving – hey, every family's got one) relatives? A scarlet blazer perfectly complements either a pair of metallic trousers or a skirt, while a gilded cap-toe livens up classic black pumps.
Accessorize with a fish bangle and a horse-emblazoned clutch (this one's a pricey Diane von Furstenberg limited edition piece commemorating Chinese New Year, but any party clutch would work!) Finally, jazz up your makeup look with shimmery copper eyeshadow. Again, this horse-inspired palette is a bit expensive, but any similar eyeshadow would do the trick.
Red Envelopes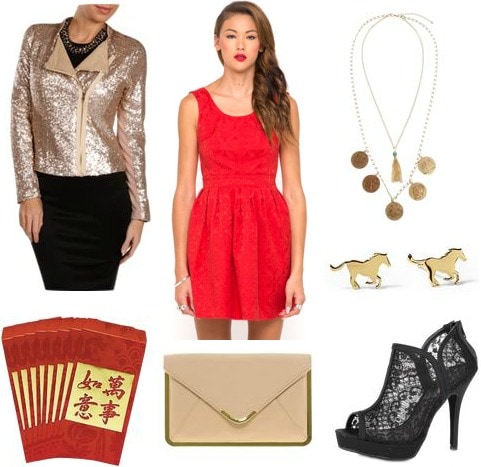 Product Information: Jacket, Dress, Heels, Necklace, Earrings, Clutch, Envelope Photo
Instead of exchanging gifts, elders present children with red envelopes (hong bao), which are stuffed with brand new currency. While this custom isn't limited to Chinese New Year (for example, newlyweds usually receive wedding gifts in the form of red envelopes), this was always my favorite part of the New Year celebrations… can you blame me?
For a party-ready look inspired by this awesome tradition, start off with a flirty frock in the standard envelope hue. A sparkly gold jacket and sultry lace heels are great statement pieces; tone down the drama with delicate jewelry like a coin necklace and tiny horse stud earrings. Finally, tuck an envelope clutch (red envelope…envelope clutch, get it?) under your arm for a million-dollar look!
What did you think?
Would you wear these outfits? Do you celebrate the Lunar New Year? What's your favorite tradition associated with the holiday? Tell me your thoughts by leaving a comment!