This post may contain affiliate links, which means we may receive a commission if you purchase through our links. Please
read our full disclosure here
.
Women in Music features female artists who are either up-and-coming in the music world or are already taking over the industry. Not only is their music hype-worthy, but their personal style is something to admire as well. These successful women are definitely worth watching!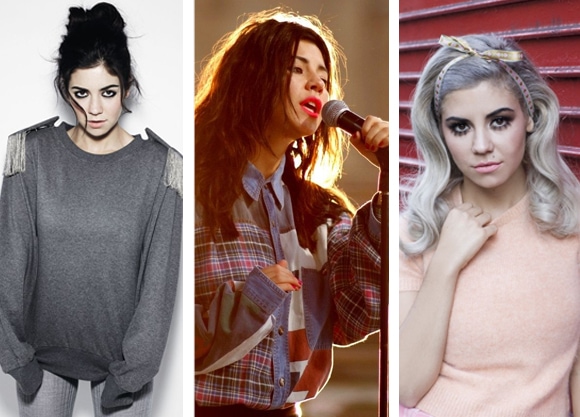 Marina Diamandis, who goes by her stage name "Marina and the Diamonds," is a singer-songwriter from Wales who has been making her mark in the indie-pop world since releasing her debut album, The Family Jewels, in 2010.
Marina describes her musical style as "alternate pop," and she composes and produces many of her songs herself. She has an unconventional flair, and her powerful and airy vocals have been compared to the likes of Florence Welch and Regina Spektor. Although she has no formal music training, her work and musical talents have caught the attention of artists like Katy Perry and Coldplay, both of which she has toured with as the opening act.
Currently, Marina is working on a third unnamed album. No official release date has been set, but a personal tweet reading "End of Summer" and an Instagram post featuring a snippet of a new song hints that something new is coming very soon.
Along with her music, Marina has also gained recognition with her fashion choices. Upon releasing her conceptual studio albumElectra Heart, Marina created an alter ego (named after the album title) whose retro-girly style mirrors the ideas of female identity in the lyrics. When she's not performing as "Electra Heart" Marina's personal style is very quirky and unpredictable, which she has affectionately labeled "vintage cartoon cheerleader."
Want to get into Marina's music? A few songs you should check out to get a feel for her sound are "How To Be A Heartbreaker," "Primadonna," "Oh No!" and "Lies."
Below are two outfits inspired by Marina's personal style as well as her "alter-ego" Electra Heart:
Electra Heart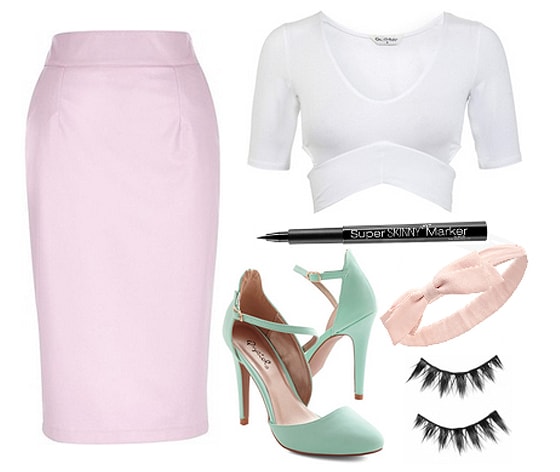 Product Information: Top, Skirt, Heels, Headband, False Eyelashes, Eyeliner
Many of Marina's Electra Heart outfits tend to be form-fitting and in pastel colors. You can get the look with a pink, leather-look pencil skirt and a cropped shirt that has 3/4 length sleeves and side cut-out details. The chic mint heels and pale pink bow headband bring together the retro-inspired ensemble.
If you feel like being a little more adventurous with your makeup, apply some falsies to your lower eyelashes, then use liquid eyeliner to create a classic cat-eye and draw her signature heart on your cheek for the full "Electra Heart" affect.
Teen Idle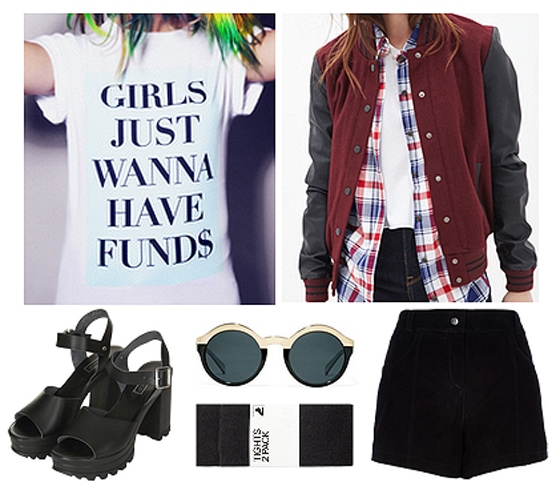 Product Information: Shirt, Jacket, Shorts, Shoes, Tights, Sunglasses
One thing that you may find Marina wearing frequently are graphic t-shirts. Not only are graphic tees fun and easy to wear, but you can even purchase one (like the one pictured above) from her very own small line of t-shirts called 11 Diamonds.
Marina is also a fan of pairing shorts and tights together. You can't go wrong with high-waisted shorts, especially these cool suede ones, and opaque black tights, which you can wear with a pair of chunky platform heels. Some statement sunglasses, which Marina wears often, and a cool varsity jacket (vintage cheerleader anyone?) complete this alternate Marina and the Diamonds look.
What Do You Think?
Are you a fan of Marina and the Diamonds? Would you wear any of these looks? Would you like to see more posts like this in the future? Know of any female artists that you think should be featured in this column? Let me know in the comments!