TV Fashion Recap is a biweekly column featuring the best of TV fashion. Every other week, we recreate our favorite outfits from the most recent episodes of all of the hottest shows. Stay tuned; we may feature your favorite show next!

Every other week, I break down the best of TV fashion, featuring my favorite looks from the last two weeks. This week, I was inspired by2 Broke Girlsand Parks and Recreation. Read on to check out the outfits!
1. 2 Broke Girls (Season 3, Episode 3): Caroline's Peacoat and Oversized Bag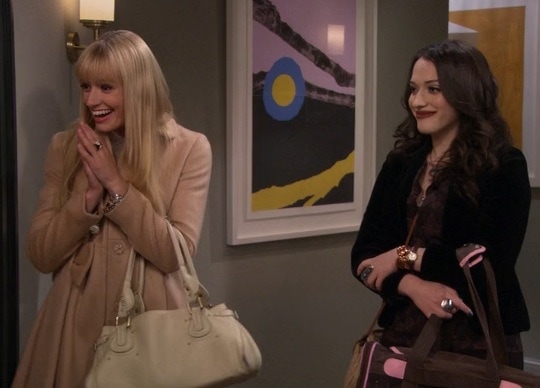 (Photo Credit – Screenshot)
I was flipping through channels trying to avoid my calculus homework (ugh!) when I happened upon CBS's 2 Broke Girls. It's a sitcom about two waitresses trying to save up money to open a cupcake shop together. Although I haven't seen enough of the show to decide if I like it or not, I'm already a huge fan of the fashion!
Caroline, a formerly rich socialite, has a preppy and sophisticated wardrobe. It consists primarily of classic pieces and neutrals, mixed with some bolder accessories. The outfit she wore in the most recent episode serves as some fantastic inspiration for an internship or work.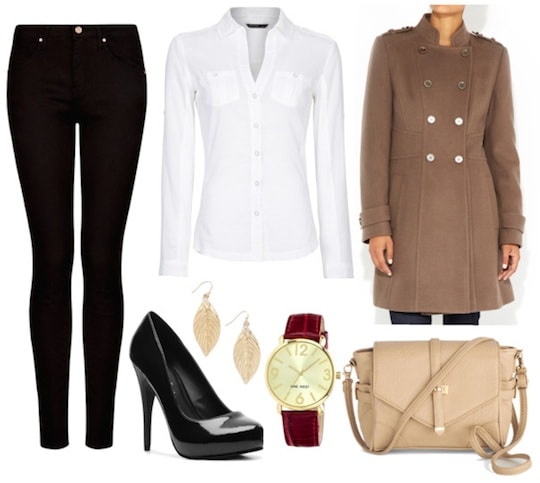 Product Information: Pants, Shirt, Coat, Shoes, Earrings, Watch, Purse
Caroline's look is timeless and very put-together. Plus, because it's primarily made up of wardrobe staples, you can probably reach into your closet instead of heading to the store, which is always a good thing.
To recreate the ensemble, start with a white button-up shirt and black skinny jeans (you can always swap them out for trousers for a more professional look). Soften the color contrast by layering a neutral peacoat over top and slip on a pair of black pumps or flats.
Keep the accessories on the light side with a pair of dangly earrings and an elegant watch. This watch has a burgundy strap that adds an unexpected yet sophisticated pop of color. Finish with an oversized cream bag, which really ties this cute outfit together.
2. Parks and Recreation (Season 6, Episode 3): Ann's White Cardigan and Floral Top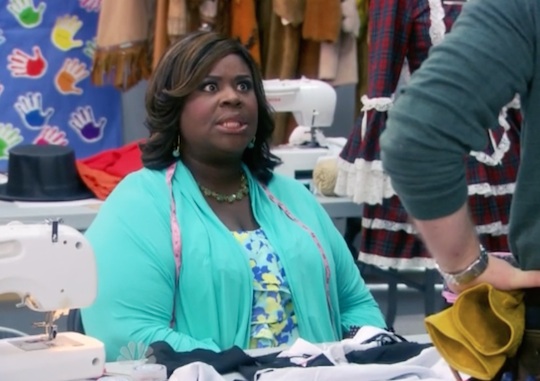 (Photo Credit – Screenshot)
Every Thursday at 8pm, you'll find me parked in front of the TV, watching NBC's Parks and Recreationand giggling hysterically. In case you haven't seen it, the show stars Amy Poehler as Leslie Knope, an enthusiastic city councilwoman and member of the Parks and Recreation department in a troubled small town.
The show is extremely witty and heartwarming, and, to top it off, has a great, star-studded cast, including Chris Pratt, Rashida Jones, Nick Offerman, and Rob Lowe. If you aren't already tuned in, you should check it out ASAP! It's definitely worth your time.
Ann Perkins, Leslie's (beautiful, beautiful) best friend, is a nurse and a part-time government employee. She's sarcastic, funny, and generally unlucky in love. She's absolutely adorable, and I love her style! Although, we've covered Parks and Rec fashion before, I was especially smitten by this outfit she wore in the latest episode.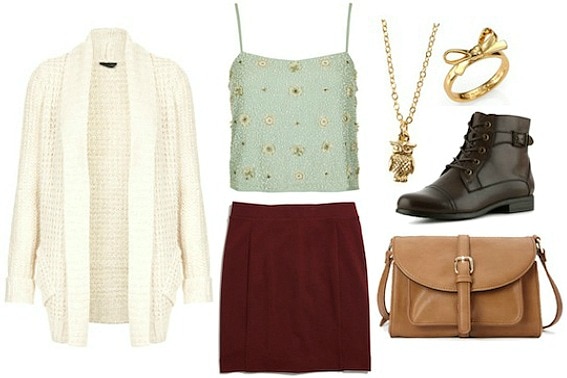 Product Information: Cardigan, Top, Necklace, Ring, Skirt, Boots, Purse
To recreate Ann's casual yet cute outfit, which would be great for class or lunch with friends, start with a floral top. This mint cropped top is a bit summery, but easily becomes perfect for fall when a white, oversized knit cardigan is layered over top. Add a fitted burgundy skirt and, if it's a little cold out, wear a pair of black tights underneath.
Now it's time for extras. Slip on a pair of brown leather boots to make this outfit even comfier. Ann really likes delicate gold jewelry, so add a cute bow-shaped ring, as well as an owl necklace (a stylish nod to the Parks & Rec department!). To finish the look, sling a tan cross-body bag over your shoulder.
Your thoughts?
What do you think of these looks? Did we miss any amazing outfits from the past week of TV? Which shows do you think deserve a spot on the next TV Fashion Recap post? Leave a comment below and tell us what you think!