This post may contain affiliate links, which means we may receive a commission if you purchase through our links. Please
read our full disclosure here
.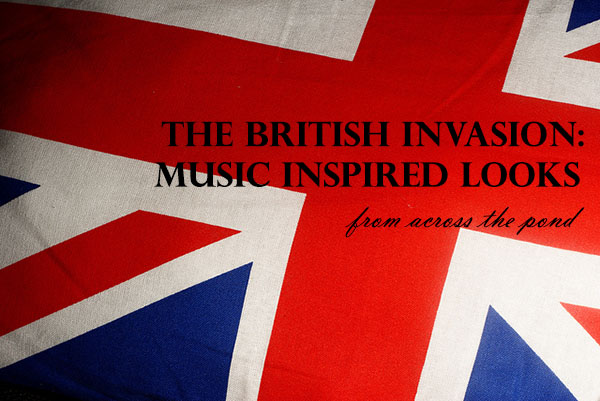 Photo Credit: Flickr (with edits)
When Beatlemania hit, not many knew just how huge The Beatles would become – however, they were not the only artists to emerge from Europe and take the world by storm. There would be more to follow, each with an individualistic flair that left a mark on the fashion trends of the time.
Today, we can look back and be re-inspired by the styles spawned by each of these artists from across the pond. Scroll down to see fashion inspired by some of our favorite British musicians:
The Beatles
Naturally, we need to kick this list off with the band that started it all! The Beatles are a household name even today, despite the fact that their heyday was back in the '60s. The "Fab Four" remain an iconic symbol in music history and their style is not to be glossed over, either.
When they first exploded into popularity, their collarless suits, mop-headed hairstyles, and sharp pointed boots made a splash in the fashion world, and became the new trends to follow. Their style evolved in the late-60s when they adopted a more colorful, hippie style that was especially noticed with the release of their album Sgt. Pepper's Lonely Hearts Club Band.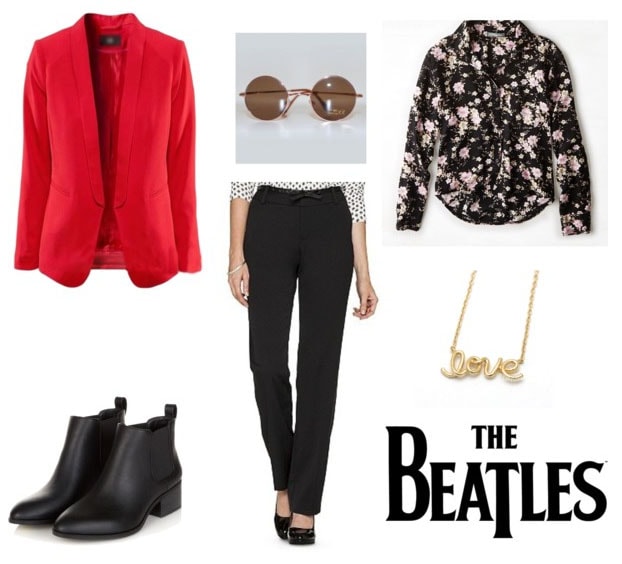 BlazerButton DownSlacksBootsNecklaceSunglasses
For an outfit that meets in the middle, I decided to go with a party on top, business on the bottom inspired look. To merge the iconic Beatles fashion into one cohesive ensemble, I started by channeling their classic style with slim-cut slacks and pointed-toe boots.
The top half becomes noticeably more hippie. A floral button-down paired with a bright blazer will turn heads, and to give off that Beatles vibe, complete the look with a pair of John Lennon sunglasses and a "love" necklace to reference their popular song "Love Is All You Need."
Fleetwood Mac
I may or may not have a soft spot for this British-American band – or more specifically, Stevie Nicks. Girl has style! Fleetwood Mac has gone through several transitions as a band, but experienced their greatest success in the mid-70s.
Today, artists such as Florence Welch and Courtney Love cite Stevie Nicks as a fashion inspiration, and it's easy to see why. Stevie had a witchy, bohemian flair before the term "bohemian" had even caught on! Leather, lace, and chiffon are common textures found in her wardrobe, usually in the form of Stevie's iconic fashion piece: a shawl.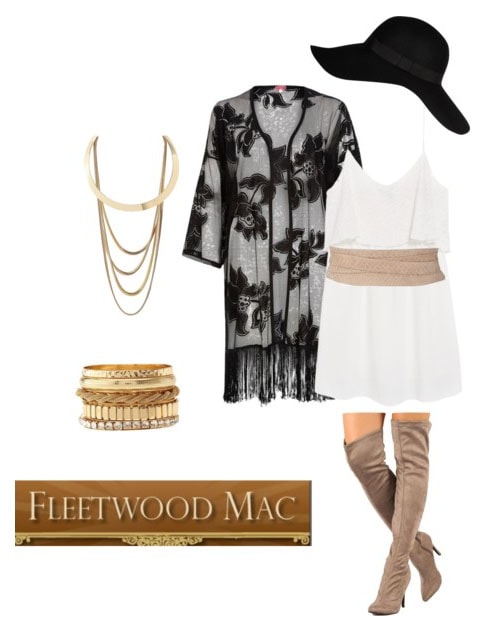 KimonoDressBeltBootsNecklaceBanglesHat
This outfit centers around an intricate kimono. You can throw this fringed beauty on over anything and immediately channel your inner bohemian rockstar. Stevie has a penchant for tall boots, no matter the length of her hemline – be it maxi or mini, a heeled pair of knee-high boots go with anything!
For this look, I went for a light and airy dress to better emulate Stevie's typical carefree style. However, for winter you can replace it with a maxi dress or just add fleece-lined tights. Don't forget to pile on your jewelry! Top it off with a floppy hat and a waist-cinching belt, and you're good to go.
Queen
Who could deny the impact Queen has had on the music world? By 1980, they were one of the biggest stadium rock bands in the world and Freddie Mercury's style was impossible to ignore. He had an incredibly magnetic and engaging stage presence that's recognized even today. Their performance at 1985's Live Aid is regarded as one of the greatest in rock history.
Freddie's energetic performances as the lead singer and flashy style were a great combination for the band, and you can emulate his iconic look with a few choice pieces.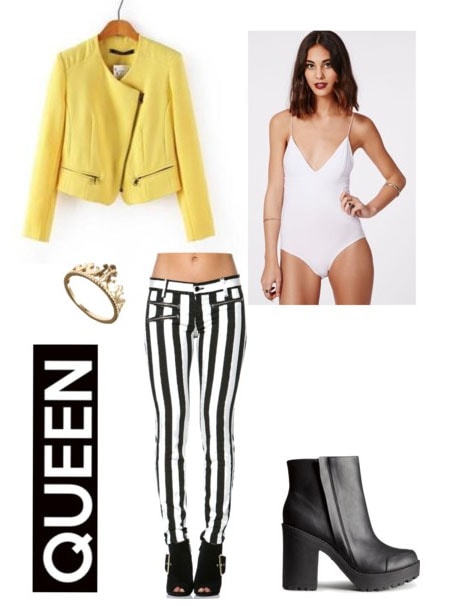 We all know how much Freddie loved his bodysuits, right? Well, he was onto something – because of their slimming qualities, bodysuits are the perfect option for tucking into any of your bottoms. Unlike tank tops, there's no awkward bunching of fabric and it eliminates the necessity of tucking in excess cloth.
Channel his iconic look with a bright yellow jacket, preferably one with structure and extra zippers. Remember, the flashier, the better. Freddie often stuck to a crisp, white palette, so go with bold striped pants to remain in neutral territory but retain that rocker edge. Finish off with killer platform boots and a crown ring to reference your inspiration. Now you're ready to rock!
Spice Girls
What '90s child could possibly forget the Spice Girls!? This British pop group emerged in 1996 with their catchy single "Wannabe", and the rest is history. Made up of five girls, each with an individual style (that inspired matching nicknames), it was all too easy to find fashion inspiration no matter your style preference.
These ladies brought many '90s trends into the fashion realm that we can still see today. Below are five different outfits inspired by one of the girls' favorite trends – the crop top!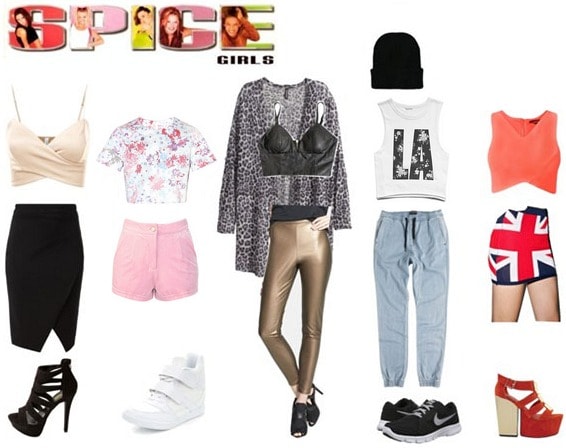 Outfit 1:TopSkirtHeelsOutfit 2: Top ShortsSneakersOutfit 3:CardiBustierPants
Outfit 4: BeanieTopJoggersSneakersOutfit 5:TopSkirtHeels
Can you guess which outfit is for which Spice Girl? Just in case you couldn't tell, the order from left to right goes: Posh Spice, Baby Spice, Scary Spice, Sporty Spice, and Ginger Spice.
The great thing about having five individual styles is that it shows just how versatile crop tops can be in the real world. They come in many shapes and sizes and can be paired with shorts, skirts, or pants. Hopefully these different sets inspire you to experiment.
Don't forget: if you want to transform an outfit for winter weather, just layer up until you're comfortable. Tights, jackets, and scarves are your friend!
What do you think?
Are you inspired by any of these musicians? Any other iconic bands/artists you'd like me to cover next time? Let me know in the comments which set is your favorite or which one you would wear!