This post may contain affiliate links, which means we may receive a commission if you purchase through our links. Please
read our full disclosure here
.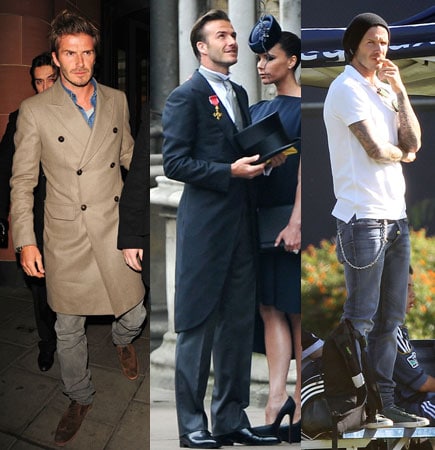 Photos: 1. Pacific Coast News, 2. ELLE, 3. Pacific Coast News
Ladies, brace yourselves. Today, we've got a treat for you, and it comes in the form of a completely non-creepy way to study one of the most handsome men in the world — David Beckham!
David Beckham is one of the most famous soccer players in the world (or football, as they call it everywhere else in the world!). David is known for more than just his moves on the field and heartthrob looks, though. His incredible personal style has made David one of the most sought-after faces when it comes to endorsement deals. Coupled with the fact that he's married to Victoria Beckham, the queen of chic herself, it's no wonder that the two are the stars of Emporio Armani's recent ad campaign!
Without further adieu, here it is: a breakdown of David Beckham's style. Read on!
(For more Stylish Men posts, check out our features on Mick Jagger, Freddie Mercury, Andre 3000, Kurt Cobain, Michael Jackson, Kanye West, Seth Cohen from the OC, Johnny Depp, David Bowie, and Scott Disick.)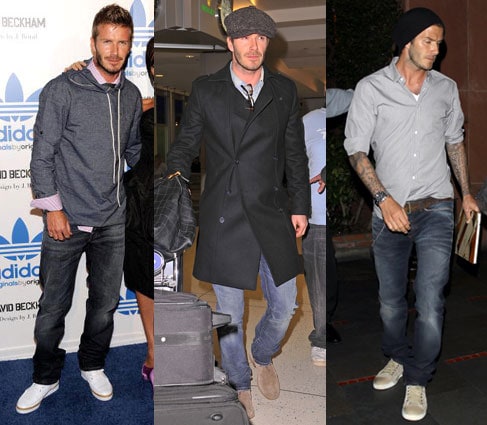 Photos: 1. ELLE, 2 & 3. Pacific Coast News
David Beckham's style combines classic pieces with a trendier European look. Many people actually attribute the whole "metrosexual" crazy to Beckham himself! Beckham is often seen in worn-in jeans paired with a slightly dressier oxford shirt, sometimes layered under a sweater. He's known to dress up a pair of jeans with a tie, and dress down an otherwise trendy outfit with a beanie or baseball cap. Beckham is also a huge fan of zip-up jackets and classic coats.
David Beckham's look is all about the subtle details. He always wears a belt, usually dons sunglasses, and is also known to rock scarves and statement glasses as well. I don't know about you, but there's something so mysterious and sexy about a well-dressed man in a beanie and glasses. Dee-lish!
Beckham also makes a statement with his stylish hair cuts. Lately, his style has been close-cropped, but no one can forget the crazy frenzy started by his famous fauxhawk. He's never afraid to try something new, which is an attitude we can all take away from this study.
Outfit Inspiration
Jacket, Shirt, Jeans, Shoes, Beanie, Glasses
To get David's cool sense of style, let a patterned shirt, like this gingham one, peek out from under a cool leather jacket, similar to the one pictured above. Add a pair of boyfriend jeans and your favorite boat shoes. From here, you can girl up the look by curling your hair or wearing playful make up, or continue the androgynous look by adding a beanie or a fun pair of statement glasses.
Cardigan, Shirt, Jeans, Shoes, Sunglasses, Necklace, Watch
This is a casual look, perfect for a trek across campus or an evening hitting the books in the library. Start with your coziest plaid shirt, and add a loose pair of jeans and casual pair of shoes. Add a cardigan if it's chilly out, and add androgynous accessories like a pair of aviators, a watch, and a tough-looking necklace.
Sweater, Jeans, Converse, Belt, Beanie, Scarf, Glasses
Add style to a basic sweater by adding a scarf and a trendy pair of boyfriend jeans. Complete the look with a belt and classic Converse All Stars. Get a bit of Beckham's style by adding a beanie and a thick-framed pair of glasses.
What Do You Think?
Do you love David Beckham as much as we do? How do you balance out androgynous outfits? What do you think about David Beckham's style? Who else would you like to see CF cover? Leave a comment and let us know what you think!