This post may contain affiliate links, which means we may receive a commission if you purchase through our links. Please
read our full disclosure here
.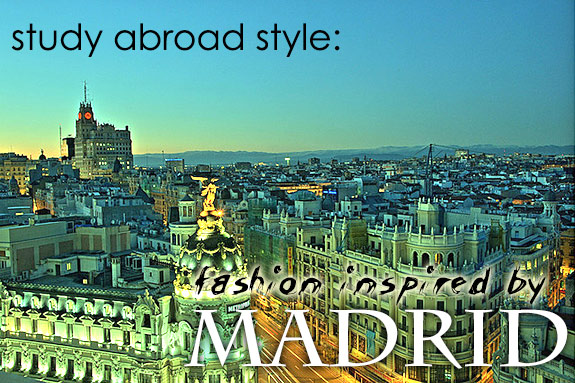 ¡Hola chicas! Although I usually stick to penning the Geek Chic column, I'm taking a break from scheduled programming to talk study abroad. Why? Well, because I'm currently spending my final semester of college in Madrid, the capital city of Spain.
We've already featured several articles about what to wear while studying abroad here on CF, so this mini-series will focus instead on fashion inspired by the monuments and landmarks of various cities in Europe. (Namely, the ones I visit!)
Madrid is my new home city, so that's where we'll begin our tour!
Living La Vida Madrileña: About Madrid
History
In European terms, Madrid is a fairly new capital; King Felipe II made it his capital city in 1561. Today it houses both Parliament and the Royal Palace.
Madrid is the third largest city in the EU and also has the third largest GDP in the EU.
Food
While I've had my fair share of sangria, tapas, and churros con chocolate, the real Spanish culinary obsession is jamón ibérico, cured pork that's similar to prosciutto. My host mom makes me a "bocadillo (sandwich) de jamón" just about every day, and I'm quickly getting addicted to the jamón-flavored Lays chips!
Other Madrid specialties include cocido madrileño, a stew made with garbanzo beans, bacon, sausage, and veggies, and tortilla española, which is essentially a glorified omelette.
Shopping & Fashion
When it comes to the work of retail, the Inditex company, which owns Zara, reigns supreme. The company's other brands are Stradivarius, Pull & Bear, Bershka, Oysho, Massimo Dutti, Uterqüe, and Zara Home. (Call me ungrateful, but sometimes I do pine for those All-American mainstays Gap and J. Crew.)
There's also the ubiquitous department store El Corte Ingles, where you can buy anything from a designer wedding gown to an iPhone to an entire leg of jamon. It's pretty much like a giant high-end Target. There's even a gourmet international food department with a section called "Taste of America," which sells outrageously priced Duncan Hines cake mixes, tubs of Crisco, and Reese's Peanut Butter Cups.
El Parque de Buen Retiro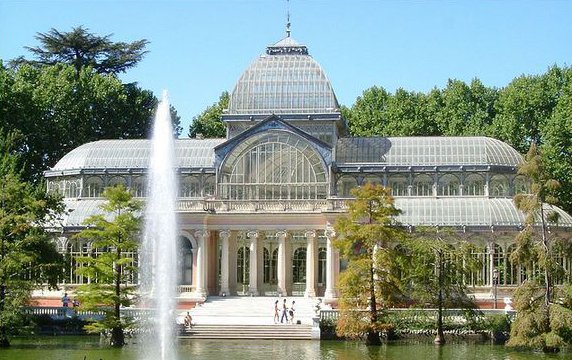 Crystal Palace: Photo credit
El Parque de Buen Retiro, which translates to "The Park of Pleasant Retreat", is a gorgeous garden situated in the center of Madrid. (It gives Central Park a run for its money. ) The park features beautiful rose beds, elaborate fountains, the Estanque (a large artificial pond), and the incredible Crystal Palace pavilion. Originally a resting area for the royal family, the park was bestowed upon the public in 1868. Today, the park is host to a number of attractions, such as outdoor concerts, puppet shows, and boat rides.
It's definitely not warm enough in Madrid right now for this ensemble, but it would be great for a visit to El Retiro in the spring, when all the flowers are in bloom! Channel this historic park with a romantic yet trendy ombre maxi skirt, seafoam top, and green sandals. A glass necklace references the Crystal Palace, while the rose earrings are a homage to the rose gardens of El Retiro.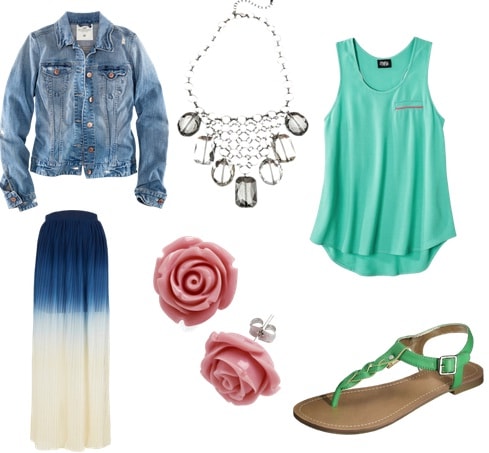 Product Information: Jacket, Top, Skirt, Sandals, Earrings, Necklace
El Museo del Prado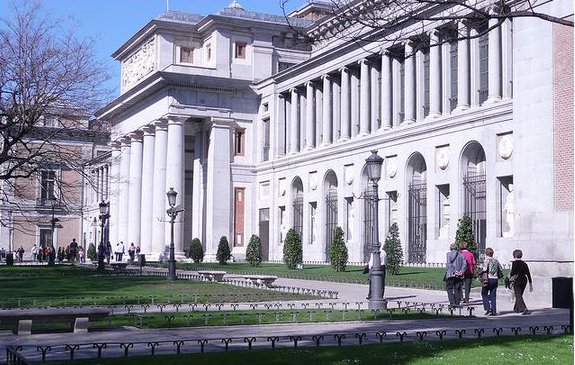 El Museo Nacional del Prado, usually just called "El Prado", is Spain's premier fine arts museum, housing works by esteemed artists like Velasquez, Goya, and Titian. The museum was established in 1819 and today holds approximately 7,600 paintings, 1,000 sculptures, 4,800 prints and 8,200 drawings. Notable works include Velasquez's Las Meninas, Goya's Third of May, and Bosch's Garden of Earthly Delights.
While the exterior of the building is mostly Neoclassical in design, go for baroque in a fancy-pants outfit inspired by the artwork of El Prado. I've noticed that the old ladies in Spain adore their fur coats: while theirs are the real deal, you can get the glam cruelty-free with this opulent faux-fur coat. A luminous brocade dress is reminiscent of the gowns in Las Meninas. A pair of floral tights and ankle-strap heels further jazz up the look. Finally, slip on a red rose ring for a pop of color: you'll be a work of art that Velasquez would be proud of!
P.S. Should you visit the Prado, remember that it's always free for students between 18-25, so make sure to bring a student ID!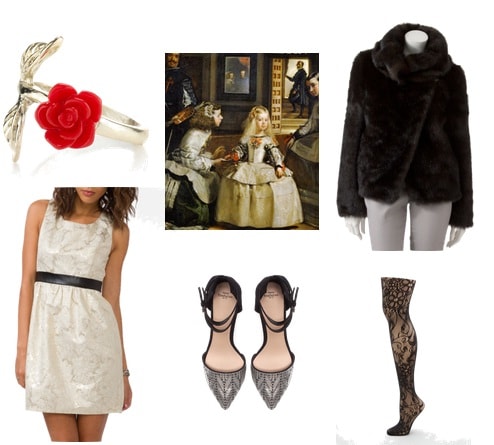 Product Information: Coat, Dress, Tights, Shoes, Ring
Estadio de Santiago Bernabéu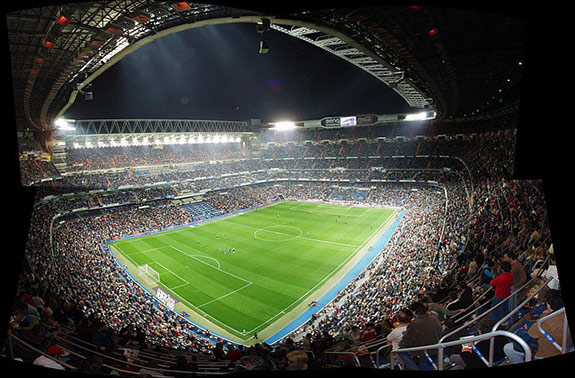 Estadio Santiago Bernabéu, inaugurated in 1947, is the home of the Real Madrid fútbol (stateside: soccer) team. Current star players include Cristiano Ronaldo, Kaká, and Pepe. I've never been a huge soccer fan, but I was informed (under the threat of bodily harm) by the folks at my internship that I must root for Real Madrid. Last month, I was lucky enough to score tickets to the Real Madrid vs FC Barcelona match. Although my friend Nicole had to explain just about every moment of the game to me, I did appreciate the fervor of the crowd. Never before have I heard such creative insults!
Score a few fashion goals yourself with this classic combination of a cobalt blouse and white jeans. Turquoise sneakers jazz up the look, while a yellow cross-body bag adds some color contrast. Finally, crown earrings add the "Real" to your Real Madrid-inspired outfit!
¡¡Goooooooooolllllllll!!!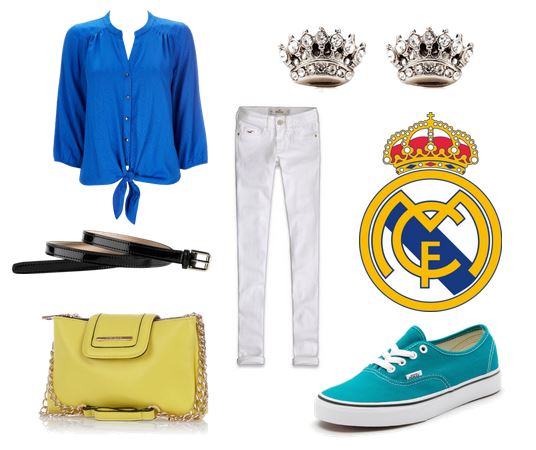 Product information: Top, Jeans, Shoes, Bag, Earrings, Belt
Puerta del Sol
Puerta del Sol (Gate of the Sun) is a bustling plaza smack dab in the center of Madrid. It's surrounded by several other famous landmarks, such as Plaza Mayor, the Palacio Real, El Prado, and Atocha Station. There are always tons of people here: shoppers, tourists, night club promoters, bootleg DVD hawkers, and lots of young couples exhibiting copious amounts of PDA. (Considered quite acceptable here in Madrid!) On a more serious note: in the wake of the current economic crisis, demonstrations and protests are often held here.
Given the massive amount of trendy stores surrounding the area, it's no wonder that you'll spot lots of hyper-stylish ladies in Sol! The sneaker wedge trend has really taken off here, and I have to admit I'm a convert! Just rock them the way you would ankle boots. Cargo jackets are also popular, so layer one over a fun mustache sweater. Cute bear earrings reference both the crest of Madrid (a bear and a tree) and the teddy bear logo of Spanish brand Tous.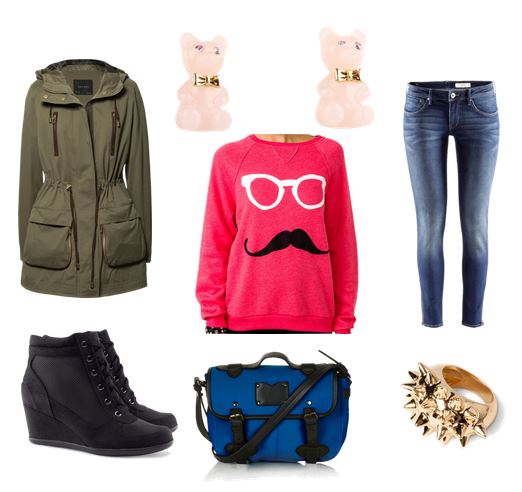 Product information: Jacket, Sweater, Jeans, Sneakers, Bag, Earrings, Ring
Kapital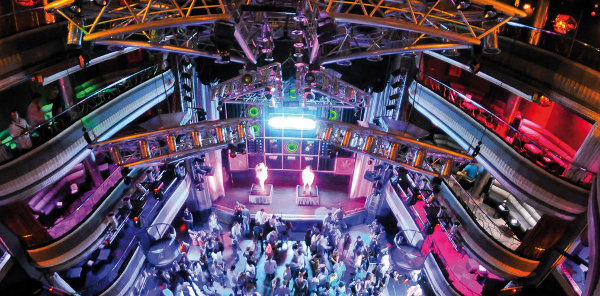 While Teatro Kapital is not likely to be short listed as a UN World Heritage site anytime soon, there are lots of folks (mostly American) who would argue that Kapital is a national treasure. The enormous nightclub has 7 dance floors, each with a different music style.
The Spanish take "salir de marcha" (aka going out) very seriously. The night starts at around 1 am and ends at 6 am, when the metro opens. As I'm a cranky future cat lady in the making, I've yet to stay out so late, but I'm determined to do so at least once before I leave Madrid! Just like its music offerings, Kapital's fashion sense is all over the map: there are just as many super blinged-out girls dressed to the nines as there are girls in flats, jeans, and cute tops. Cater to your own going-out tastes with whatever makes you feel comfortable — and fabulous!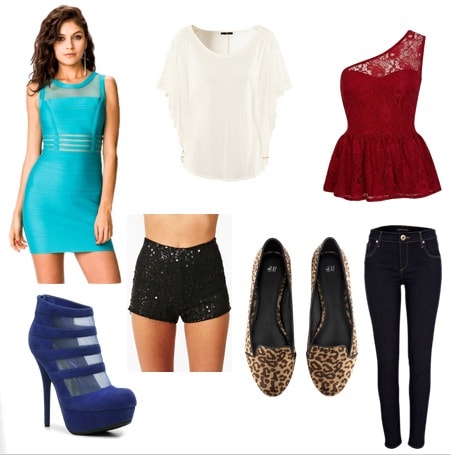 Product Information: Dress, White Top, Shorts, Red Top, Jeans, Blue Shoes, Leopard Shoes
What do you think?
Are you planning to or have you studied abroad in Europe? Did you visit Madrid? Would you like to see more cities featured? (Next stop on my itinerary is the land of of 221 Baker Street, the TARDIS, and Platform 9 3/4!)