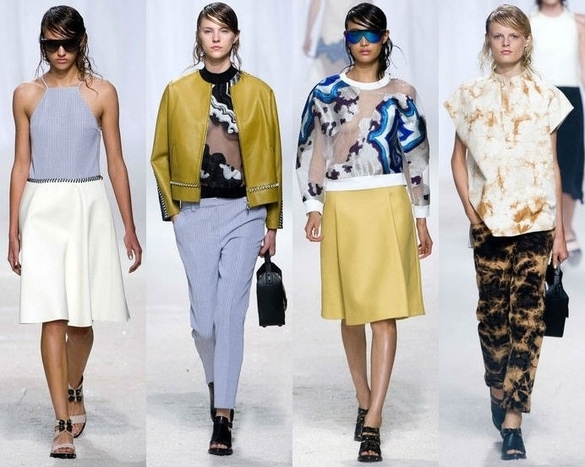 3.1 Phillip Lim Spring 2014 RTW | ELLE
With oversized silhouettes and prints inspired by the swirls and colors of marble and geodes, 3.1 Phillip Lim's Spring 2014 collection is one of my top three favorite collections of the season. Pairing these fabulous clothes with trendy accessories, such as statement sunglasses, structured handbags, and multi-colored shoes, Lim created incredible, fashion-forward looks that are 100% wearable!
Are you feeling inspired by these runway looks, but want to snag a good deal, too? Keep reading for three budget-friendly outfits inspired by looks from Lim's Spring 2014 RTW collection:
1. Trendy Separates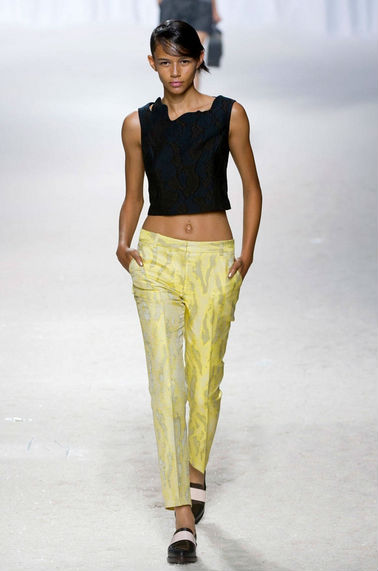 Photo: ELLE
Whether they're matching or not, separates keep popping up everywhere on runways this season. Lim followed this trend, but added his own twist with the outfit above. With a similar print, but in complementary colors, the baggier pants balance the more tailored sleeveless (and ready for spring!) top.
Get the Look: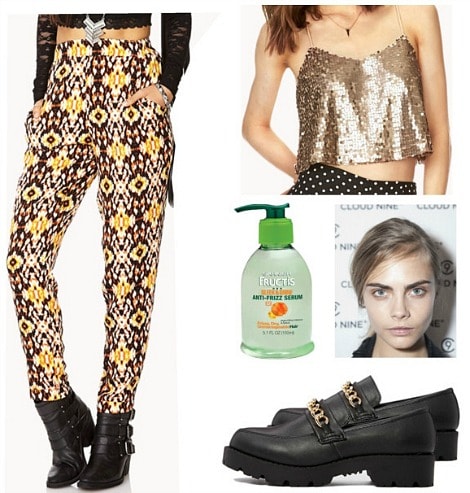 Product Info: Top- Forever 21, Pants- Forever 21, Shoes- ASOS, Hair Product- Target
For the first look, begin with a pair of looser-fit pants in a cool print, then add a cropped top in a similar color family as the pants. Keep the chunky shoes from the original look – a lower-priced version, of course! – to add contrast to an otherwise light look. Part your hair sideways and pull it into a low ponytail, finishing up with some shine serum to recreate that trendy wet hair look the models are rocking.
2. Back to Basics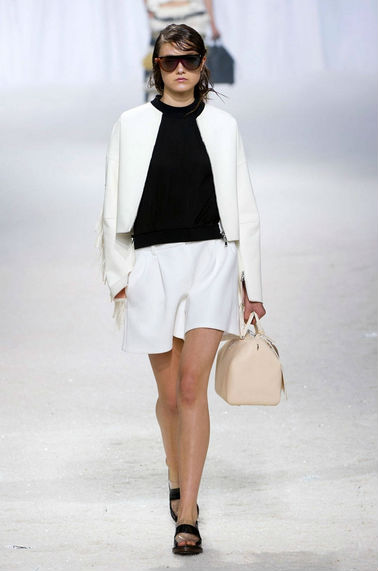 Photo: ELLE
The second look plays with the ever-in-season trend of black and white. (Seriously, is there anything more classic than this color combination?) With a flowy white skirt and structured white jacket, this outfit edges it up with a black top and shoes, but maintains a softness with a pale pink handbag.
Get the Look: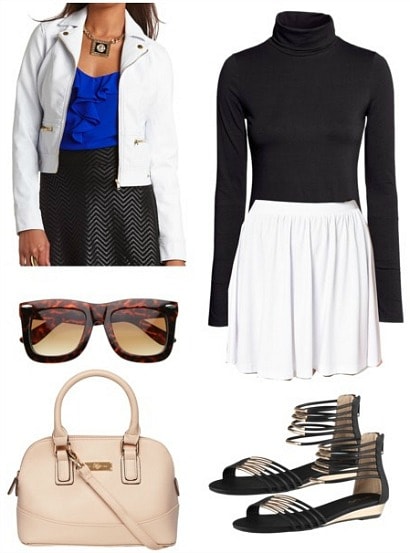 Product Info: Jacket- Charlotte Russe, Top- H&M, Skirt- ASOS, Shoes- Aldo, Sunglasses- ZeroUV, Bag- Dorothy Perkins
This ensemble is one of the easiest to be inspired by, since it consists of basics you probably already have in your closet and can either be dressed up or down. Here, we kept the casualness of the original look, but opted for a turtleneck to add a trendy touch. We also added some strappy sandals with metal detailing to keep with the spring season, then finished the look off with a handbag in a similar blush hue and bold, tortoise sunglasses.
3. A Bit of Print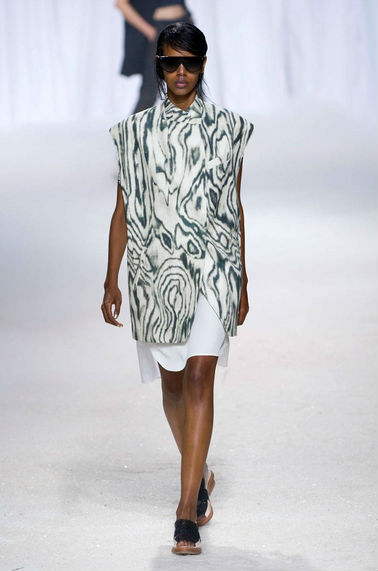 Photo: ELLE
The print featured in this look is repeated throughout the collection, and with good reason: it's gorgeous! This print is equal parts classy and trendy, and when combined with a white skirt and angular sunglasses, it's makes for a crisp and clean getup that's perfect for spring.
Get the Look: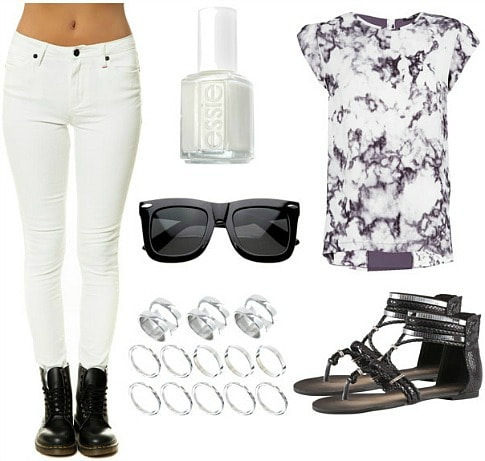 Product Info: Top- Mango, Pants- Karmaloop, Shoes- Aldo, Sunglasses- ZeroUV, Rings- ASOS
This final outfit captures the same vibe as the runway look, but in a more streamlined silhouette. Pair a marble print t-shirt with a pair of skinny white pants. Create contrast with a pair of modern black sunglasses and a white manicure. Slip on some black-and-silver sandals, then accessorize with several silver rings for interest.
Your Thoughts?
What did you think of this collection? Are you feeling incredibly inspired by this collection from 3.1 Phillip Lim? Which of these looks is your favorite? Would you wear any of these outfits? Do you want to see any specific designer featured? Remember to let me know your thoughts in the comments below!