This post may contain affiliate links, which means we may receive a commission if you purchase through our links. Please
read our full disclosure here
.
I'm a total city girl, but I've never had an appetite for the all-black ensembles that seem to flood sidewalks around the colder months. I get that black is slimming, effortlessly chic, and somehow makes the simplest jeans-and-tee-combo look put-together – but I've always been a sucker for color.
In an effort to challenge my sartorial sensibilities, I abandoned my usual candy colors in favor of the bulletproof power of black for the week – here's what I came up with!
1. Hats Off!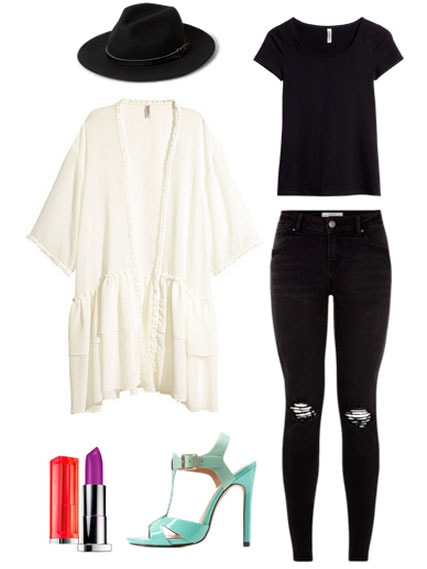 Products: Hat, Tee, Jeans, Heels, Lipstick, Kimono Cardigan
One of my favorite lazy day outfit hacks is to throw on my favorite ripped skinnies and a slightly-oversized t-shirt. It's the easiest way to channel your inner fashion blogger – and it works every time.
For a bit of pizzazz, I went with a black fedora and white kimono cardigan. You could also go with gray, but I like the stark contrast, especially when this particular piece is such a dramatic length. I also can't resist color, so I threw in these fun mint heels and super-edgy purple lipstick for an unusual twist on the classic black-and-white combo.
2. Put A Bow On It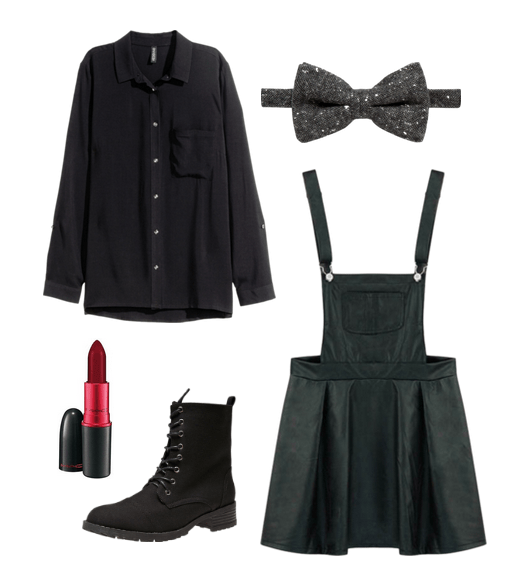 Products: Shirt, Bow Tie, Overalls, Boots, Lipstick
There are about ten million different ways to wear a button-down shirt, and I love all of them. I especially love this overall skirt, because it's the perfect combination of girly and edgy with its skater bottom and pleather finish.
Though the mix of textures already adds interest to the outfit, I wanted to go with unusual accessories – like this adorable striped bow tie. I love the look of a bow tie with a skater skirt – especially when finished off with an edgy pair of combat boots and killer red lipstick.
3. Meow!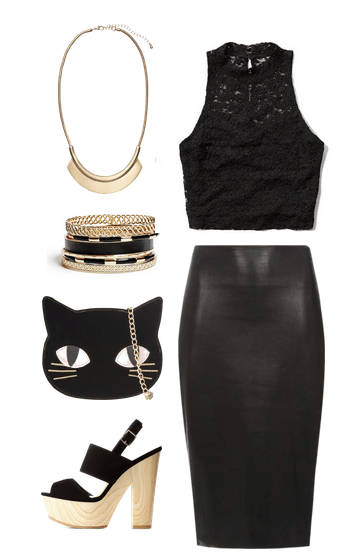 Products: Necklace, Top, Skirt, Heels, Bag, Bracelets
I don't think I will ever write a post without a lace-leather juxtaposition, and for good reason – playing with texture is the easiest way to instantly elevate a monochromatic ensemble! You can totally play around with different combinations – try chiffon and leather, or satin and denim.
Mixing metals is totally trendy, but I think coordinating your jewelry always looks more put-together. I can't resist novelty purses, and I love cats – so this crossbody is perfect! If you're ever stuck and want to make an outfit look more interesting, cute purses like this are a good way to go.
4. Beanie Weather
Products: Beanie, Shorts, Tights, Flats, Sweater, Necklace
I mean, it still is 90 degrees in Massachusetts – but this is totally appropriate for when temperatures begin to cool! Between the polka-dot tights, chunky statement necklace, and ribbed beanie, there's so much going on here!
High-waisted shorts are kind of like Sriracha – they go with everything perfectly! I thought it would be fun to just throw in a super-chunky, heavy necklace since the rest of the look is understated. To play with the girlishness of these polka-dot tights, I went with black Mary Janes – but any style of shoe will go with this look.
5. Summer Loving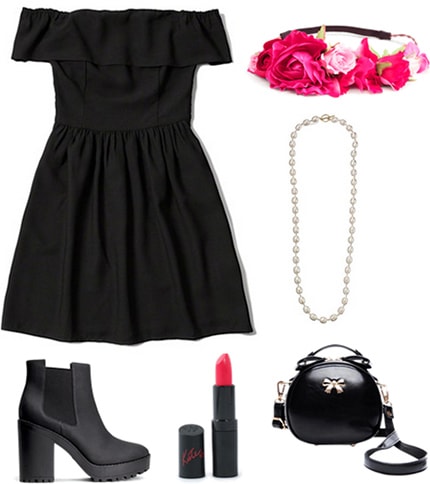 Products: Dress, Flower Crown, Necklace, Bag, Lipstick, Boots
There's nothing I love more than adding something completely unexpected to a cohesive outfit. In this case, I threw these chunky platform boots into this super-girly combo. I'm still obsessed with off-the-shoulder dresses, and I absolutely would wear them with a flower crown and pearls in a heartbeat.
Black is a really good canvas for experimenting with color-blocking and color-mixing, because you can always decide how many accent pieces you'd like to add, and how they look together. If you're just starting out with color, all-black outfits are a surprisingly good diving board!
Your Turn!
How do you add interest to all-black outfits? Are you looking forward to temperatures cooling? What are some of your favorite textures to juxtapose? Let me know in the comments!