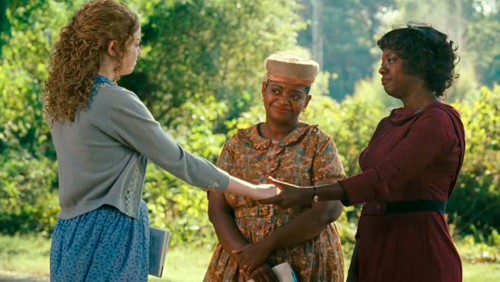 The Help took audiences, critics, and awards shows alike by storm last year, and a post dedicated to the retro fashion from the film is long overdue!
Just in case you lived in seclusion or something last year, The Help centers around a group of black maids who share their stories (at first reluctantly) with a privileged white girl who sets out to write a book about the true nature of the Jim Crow south. The movie depicts an interesting look at the racial issues and role of women in the early 1960s. The film is funny, touching, and will definitely leave a lasting impression on you. If you feel a case of summertime boredom creeping up, this movie is a great one to watch!
As with any period piece, filmmakers paid a great deal of attention to the costumes in the movie. The girly southern dresses, dainty heels, stylish hats, and Southern hospitality had me about ready to throw out my skinny jeans, drink a gallon of sweet tea, and wear my hair exclusively in a beehive! I've picked out a few of my favorite looks below and recreated the looks.
Ready to steal some retro fashion? Keep calm and read on!
Hilly Holbrook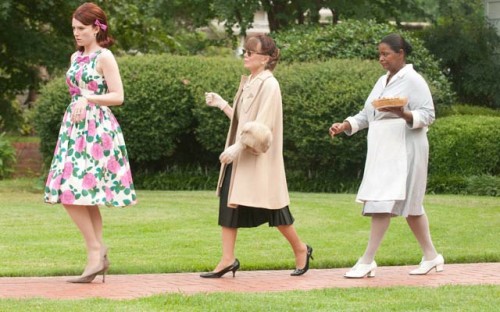 Hilly Holbrook, played by Bryce Dallas Howard, is the villain of the film. She is racist, snooty, and a downright awful character that's so fun to hate. (Don't worry, she gets what's coming to her eventually!) She wears frilly floral dresses in almost every scene, along with prissy heels and perfectly coiffed hair.
To recreate Hilly's look, a floral dress with a simple A-line cut will give you the right aesthetic. Add a taste of the late '50s and early '60s with cat-eye sunglasses, red lipstick, and pearls. Finish with a modern take on the beehive hairdo, and a proper pair of pumps.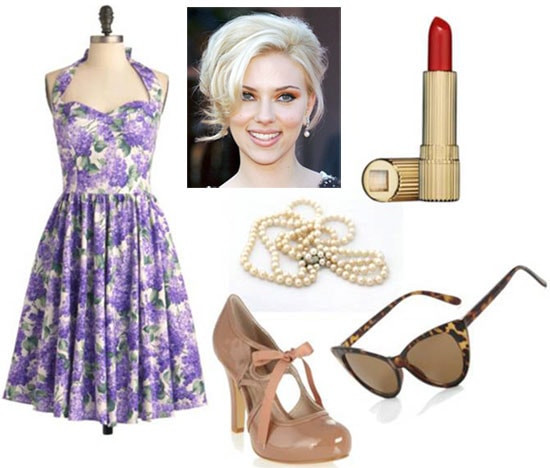 Photo: ELLE | Dress, Heels, Pearls, Sunglasses, Lipstick
Skeeter Phelan
Emma Stone plays Euginia "Skeeter" Phelan, a brave and intelligent college graduate who challenges the norms of Jackson, Mississippi and wants to make a difference in the world. Although she comes from as much privilege as her snooty "friends," Skeeter wears clothes that are a little more subdued, probably in hopes of looking professional at her job. Full skirts and perfect heels comprise her wardrobe staples, of course, but she's also seen wearing cardigans and collared blouses throughout the film.
To recreate Skeeter's look, a subtly patterned brown dress with a conservative neckline and full skirt forms a perfect base. Add a bright cardigan, and a pair of mary jane pumps. Finish the look with a simple necklace, a pearl bracelet, and cat-eye glasses.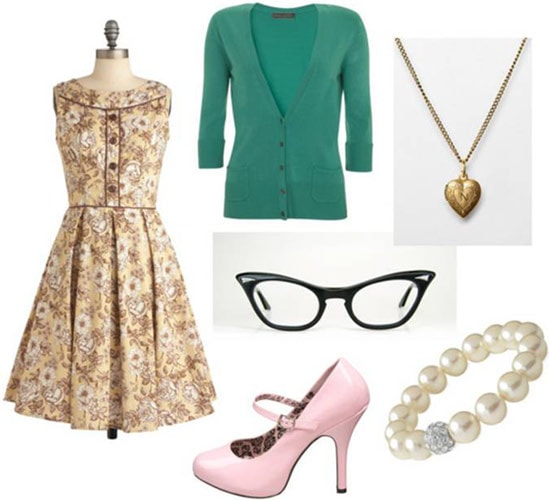 Dress, Cardigan, Glasses, Shoes, Necklace, Bracelet
Minny Jackson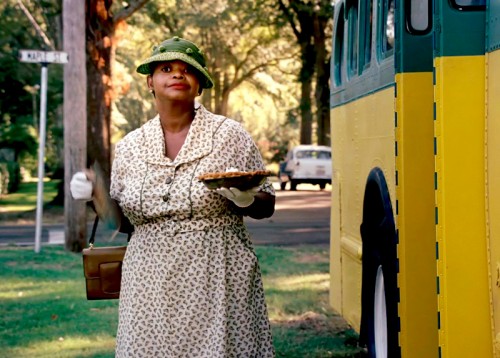 Octavia Spencer won an Oscar this year for her fantastic portrayal of quirky character Minny Jackson. When Minny wasn't in her work uniform, she looked like a perfectly proper Southern belle in conservative dresses, white gloves, and a bevy of interesting hats. She stuck with patterned dresses, but not necessarily floral prints.
To recreate Minny's look, a retro patterned dress like the one below would be perfect. It would take some serious guts to rock a pillbox hat today, but if you're up the the challenge, I salute you! Just tie a scarf around your neck, and finish the look with wedges and a matching clutch.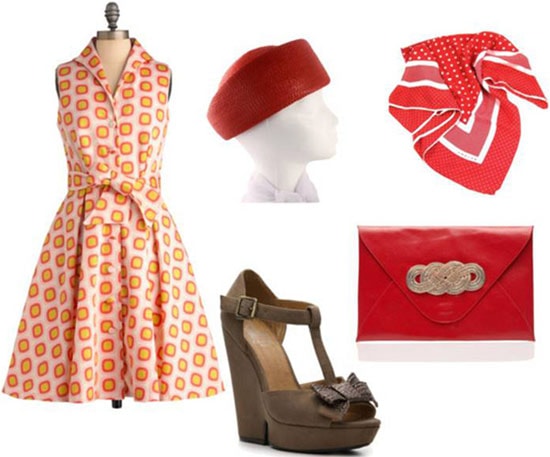 Dress, Hat, Scarf, Wedges, Clutch
Celia Foote
Bubbly and eager Celia, portrayed by the gorgeous Jessica Chastain, welcomes Minny into her home and the two become fast friends. Celia wasn't raised with the same pedigree as Skeeter or Hilly, so the way she dresses is a little sexier.
For Celia's look, a pussy bow blouse tucked into a form-fitting pencil skirt with a waist belt will give you just the right mix of naughty and nice. Add a pair of peep-toe pumps and retro sunglasses for a touch of the '60s. Finish by sweeping on a matte red lipstick, and rolling your hair in curlers for soft waves.
Blouse, Skirt, Belt, Shoes, Lipstick, Sunglasses, Curlers
What Do You Think?
Have you seen the Help? What did you think of it? Have you read the book? What do you think of the costumes? What other movies to you love? What films inspire your style? Leave a comment and tell us what you think!