This post may contain affiliate links, which means we may receive a commission if you purchase through our links. Please
read our full disclosure here
.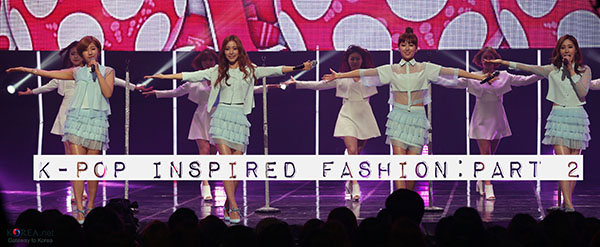 Are you ready for round two of K-Pop fashion? If you're new to this topic, here's a really short and sweet summary of Korean Pop music: amazing dancing and eye-popping fashion. For more information, check out Part 1 of this series!
I was pleased to read such positive feedback on the last post, and there were so many suggestions on who I should cover next. It was difficult to narrow it down, but let's be honest – if I covered the majority of K-Pop groups, this series would never end.
For this post, I'll be creating outfits inspired by Girls Generation, Super Junior, and After School. Scroll down to see the looks:
Girls Generation
Girls Generation (also known as SNSD) is one of the biggest K-Pop groups around. They're currently made up of eight extremely talented girls, and have even released an English track (called "The Boys" if you're curious).
For today's post though, I've decided to create an outfit inspired by their track "Mr. Mr." because it's filled with perfect outfit inspiration for Valentines Day!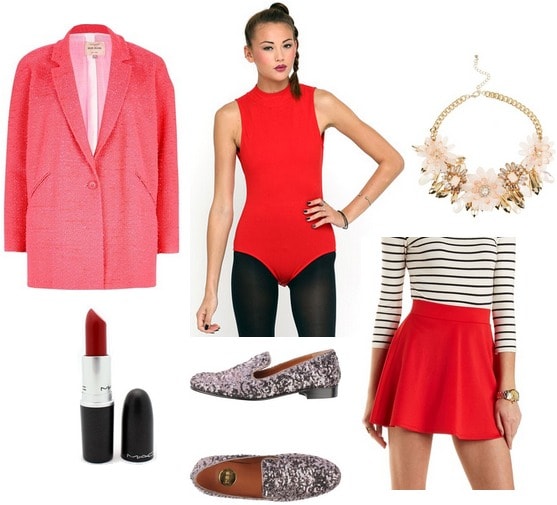 Coat // Bodysuit // Skirt // Necklace // Flats // Lipstick
The colorful hospital scenes were filled with splashes of sequins, pink, and red. To recreate a similar style, I stuck with that color palette, starting off with a red bodysuit. These can be tucked into any type of bottoms, but for this romantic look, I went with a matching, red flared skirt.
Continue the feminine color palette by throwing on an oversized pink coat and decorating your feet with sparkly flats. Swipe on a coat of red lipstick and you're all set!
Super Junior
Another huge name in the K-Pop industry, Super Junior has been at the top of the game since 2005. They've been the best-selling K-Pop artist for three years in a row! You can see why in the music video above. With hit tracks filled with earworms, combined with spectacular dancing, they demonstrate exactly what makes their genre so enjoyable.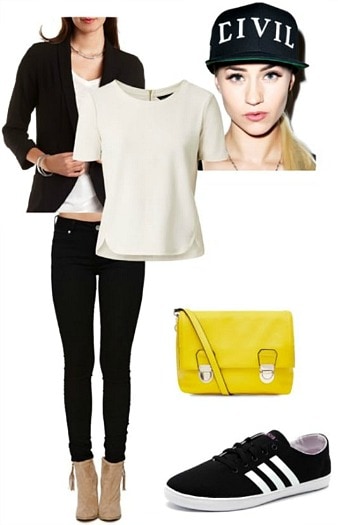 Blazer // T-Shirt // Jeans // Hat // Bag // Sneakers
We're switching gears with this outfit. From super-girly and romantic to menswear-inspired, Super Junior adds a stylish flair to the typical office attire in "Swing."
Start with a loose, boyfriend blazer on top of your favorite white tee. Keep the look streamlined with a pair of dark skinny jeans, then add a pop of color with a bright bag. To maintain that flavorful K-pop style, throw on a statement snapback with the saying of your choice. Finally, keep it simple with stylish yet comfy sneakers.
After School
Comprised of seven members, After School was formed with an "admissions and graduation" concept. This group serves as a great source of fashion inspiration if you're looking for ideas for what to wear on a fun night out. They are the masters of creating sexy going out looks!
Their music video for "Flashback" features some impressive fringed bodysuits, which certainly added to their dance routines and inspired me to create the look below.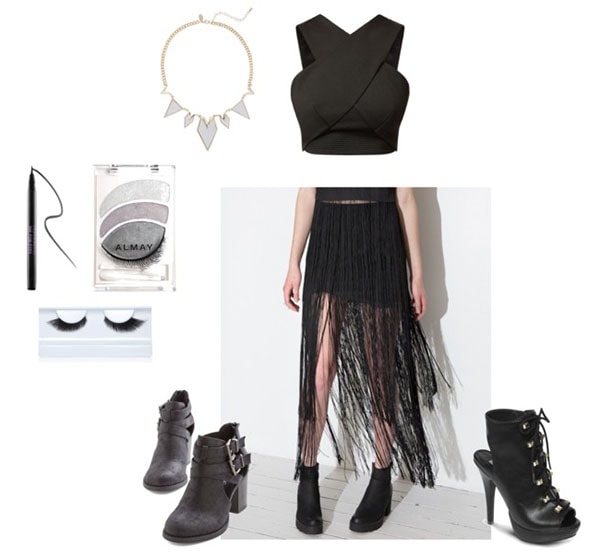 Crop Top // Skirt // Necklace // Boots // Heels // Eyeliner // Eyeshadow // Lashes
Isn't this skirt amazing? Invest in this piece, and you'll have many magical nights spent twirling the night away. A sexy crop top and statement necklace completes your going out look, and as for shoes… it's your choice!
I opted to include two different pairs, both of which would work just fine. If you want to go the comfier route, try a sturdy pair of cut-out boots. However, if you're feeling bold and want to go all out, slip into a pair of lace-up heels. Don't forget to really play up your eyes, and you'll be turning heads with your After School outfit.
Final Thoughts:
What did you think of Part 2? Were your favorite K-pop groups covered? Let us know in the comments below what your favorite looks were and which ones you would wear! And don't forget to check out Part 1 if you want to see more K-pop inspired looks.