Ever since the popular TV series The O.C won the hearts of millions of teenage girls in 2003, their starlet Rachel Bilson (a.k.a Summer Roberts) has slowly been making her name known in the fashion world with her effortlessly-chic style and bohemian vibe.
Today, the 29-year-old, California-born actress has made it to fashion's major leagues, gracing the covers of top fashion magazines such as InStyle, GQ, Lucky, NYLON, Teen Vogue, Seventeen, Cleo, Cosmopolitan, and Page Six. On top of all that, she's got some serious fans here at CF: We're always receiving emails asking for tips on nailing her style, and she's a regular fixture in our Celebrity Street Style column!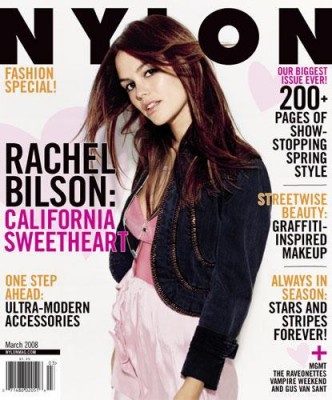 While the O.C may have put her on the map, Rachel remains a fashion mainstay eight years after its debut. Rachel is the queen of California girl casual-cool, so for those of your who worship her style, here are five Rachel Bilson-inspired outfits recreated on a college student budget!
How to Get Rachel Bilson's Style for Less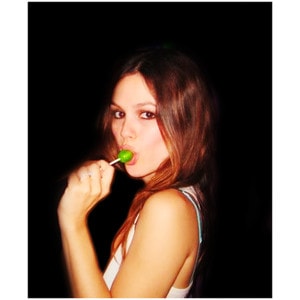 It should come as no surprise that the wardrobe of fashionista has quite the price tag. That said, it's easier than you think to emulate Rachel's look without emptying out your wallet. Want proof? The following outfits are completely comprised of items that cost $100 dollars or less!
Outfit 1: Printed Mini Dress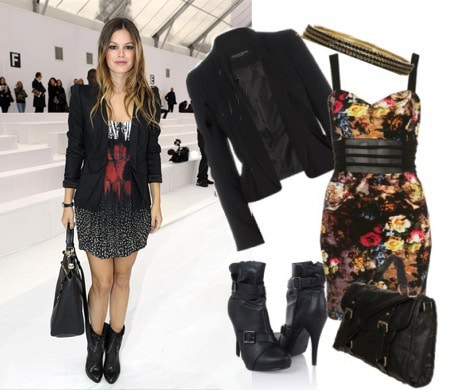 Blazer, Dress, Booties, Bag, Bangle
Glammed up to attend a fashion show, Rachel looked stunningly chic in a printed dress and black leather booties. She dressed up the playful mini with a sleek cropped blazer with structured shoulders and 3/4 length sleeves. She added even more sophistication to the outfit by opting for briefcase-style tote that worked perfectly with her edgy look.
Outfit 2: Welcome to the Jungle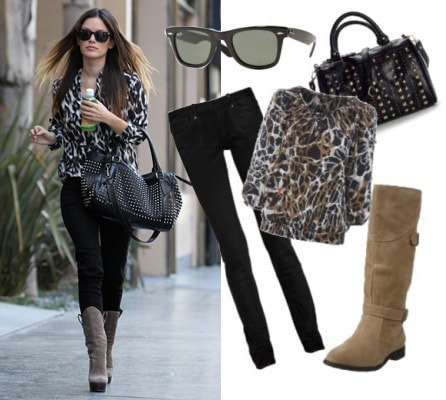 Jeans , Top, Boots, Bag, Sunglasses
Usually I am not a fan of animal print tops, but Rachel's look above is an exception. She looked so put-together and classy in her loose-fitting blouse and knee-high boots as she headed to a meeting in West Hollywood. However, my favorite part of her look is her beautifully edgy and chic Burberry studded carry-all. Can't afford Burberry? I found a bag that looks similar to Rachel's, for a fraction of the cost!
Outfit 3: Seattle Grunge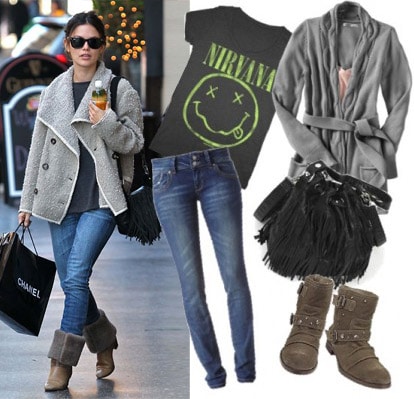 T-Shirt, Wrap Sweater, Jeans, Bag, Ankle Boots
While shopping at Chanel in Beverly Hills, Rachel was gorgeous in grunge as she rocked a oversized heather-gray sweater, an old t-shirt and vintage shearling boots. Get her look for yourself by pairing medium wash skinny jeans with studded boots, a loose gray cardigan, and your favorite band tee.
Outfit 4: Perfectly Polka-Dot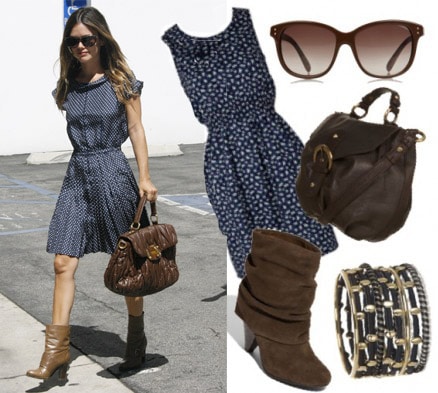 Dress, Glasses, Bag, Booties, Bangle
To me, one of the main factors that makes Rachel a fashion icon is her ability to make any look their own. In true Rachel Bilson style, she rocked a pair of ankle booties with this silk, cap-sleeve, button-down sundress. As we all know, polka dots aren't an easy look to pull off, but by keeping the rest of her ensemble simple, Rachel looks flawless in them.
Outfit 5: Red, White & Beautiful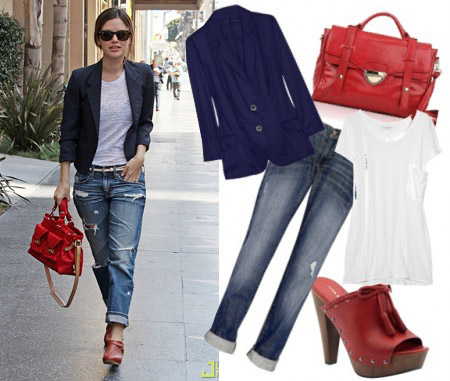 Not everyone can pull off red, white and blue so effortlessly, but Rachel looked casual cook while strolling through Los Angeles in a pair of destroyed boyfriend jeans, a tailored navy blazer, and a cherry-red bag. I love that she topped the look off with a pair of muted red clogs to make the entire look pop.
Your thoughts?
What do you think of Rachel Bilson's style? Which look is your favorite? Which are you most excited to try? Are you happy we finally did an entire article Rachel's style? Who would you like to see featured? Leave a comment and tell us what you think!