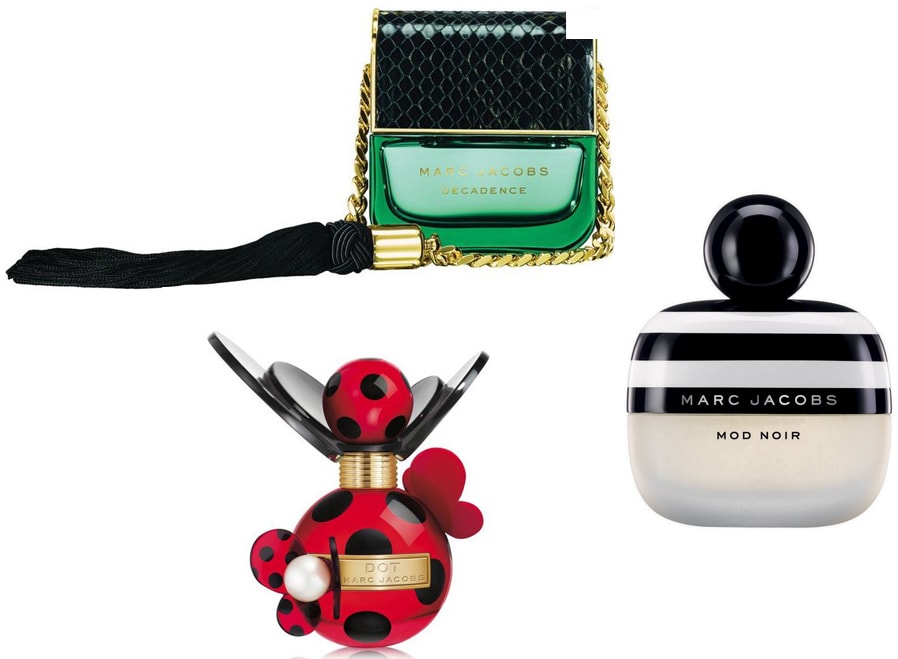 When we talk about perfume, we usually talk about scent. But with so many designers like Marc Jacobs and Mary Kate and Ashley Olsen putting out perfumes, fragrances are as much a part of the fashion industry as handbags or shoes!
Marc Jacobs has had a commanding presence in the perfume aisles of Sephora for years now, with popular scents like Daisy. (While Daisy is an amazing perfume and loved by many, I once read an article comparing its scent to bananas and now I can't not smell bananas. It's a real tragedy for me.)
Luckily, Jacobs' has a whole line of perfumes, so there's probably something there for everyone. Each bottle is stylistically different, but they're all beautiful works of art. Plus, the use of shapes, colors and patterns in the bottles make great inspiration for glamorous holiday party looks!
Decadence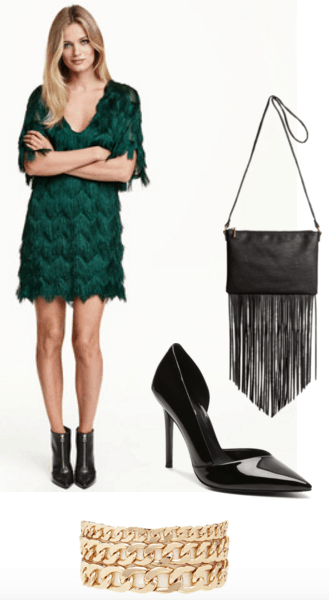 Products: Dress, Bracelet, Shoes, Bag.
This perfume has become my absolute favorite fragrance, not just from Jacobs, but in the entire scent world! I love it, though I think it smells quite different from most of his others, which I would call light and pleasantly airy. This one is intense.
That intensity is reflected in the bottle, which is one of the strangest (and coolest) perfume bottles out there. The fancy tassel and the deep green create a vibe perfect for a sultry holiday party outfit.
This dress from H&M has both Decadence's bottle green color and fringes reminiscent of the bottle's tassel. Pair it with accessories in blacks and golds and you'll have the perfect show-stopping outfit for a formal evening party.
Plus, let's be honest. This dress kind of looks like a Christmas tree, so that's a plus, if you're into that.
Mod Noir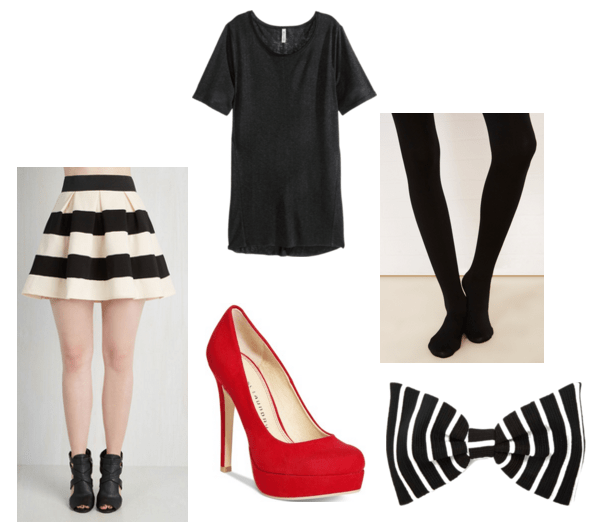 Products: Skirt, Shirt, Heels, Tights, Bow.
Another new-ish Jacobs scent, Mod Noir plays with fun contrast and stripes. The bottle is a little bit less whimsical than, say, Daisy, but it makes an impression despite, or perhaps, because of it. That simple design is perfect for a more conservative, sleek party style.
This is an easy one to draw inspiration from. You just need stripes! Striped bow. Striped skirt. This look requires all the stripes. Add some sleek black tights and a pop of red to the look and you're ready to party.
Dot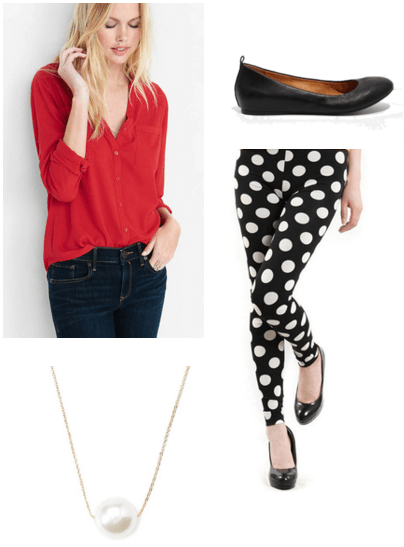 Products: Blouse, Necklace, Shoes, Leggings.
Dot is a classic that's been around for a while, and I can see why! Have you ever seen a more precious bottle? Channel Dot for a charmingly adorable party look.
These polka-dot leggings are laid-back and quirky, but dress up easily when paired with a blouse in Dot's signature shade. Add a spherical accessory or two and you'll have a polished look suitable for any occasion.
What do you think?
What's your favorite of the Marc Jacobs fragrances? Do you have any fun holiday party plans? Let us know!