This post may contain affiliate links, which means we may receive a commission if you purchase through our links. Please
read our full disclosure here
.
Valentine's Day, Galentine's Day, Mal-entine's Day… whatever you call it, February 14th is fast approaching. (Yes, I know that the Parks and Rec Galentine's Day is on the 13th, but my friends and I have always celebrated it on the day of!)
There's no holiday that can't use a little extra geeky pizazz, so I've looked to four of my favorite sci-fi/fantasy heroines to create outfits that they might wear on Valentine's Day. Cue the Gilderoy Lockhart army of singing dwarfs!
The Sensible Sweetheart: Hermione Granger
Official Promotional Images
February in Scotland is pretty chilly and Hermione is possibly the brightest witch of her age…  she's way too practical not to be dressed for the weather! She's too busy saving her friends from trouble to get dolled up too often, but when she does, she goes for lots of ruffles in colors that inexplicably deviate from those so wonderfully described by J.K. Rowling. (Obviously, Emma Watson looks amazing in everything, but I spent too many hours as a child imagining Hermione in swirling periwinkle robes at the Yule Ball to forgive this costuming travesty.)
Stay warm and cozy on Valentine's Day (even without a jar of magical bluebell flames) by layering a sweater over a flirty, ruffly dress reminiscent of the one Hermione wears to Fleur's wedding. Pile on the cold weather accessories: a pink scarf and over-the-knee socks are stylish but warm, while a pale blue beanie and gloves pay tribute to the periwinkle robes Hermione deserves. Last but not least, add a pair of otter earrings as a quirky tribute to Hermione's Patronus.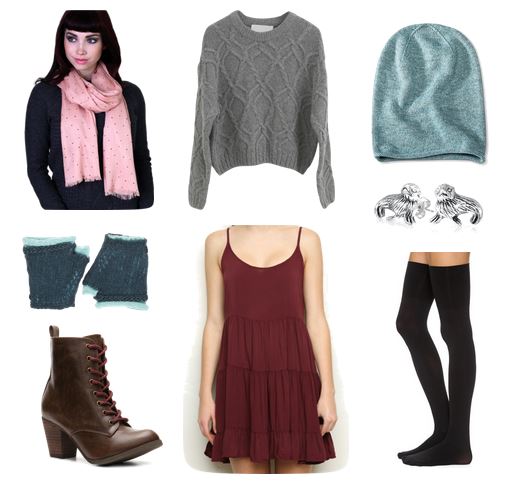 Product Information: Sweater, Dress, Scarf, Socks, Boots, Earrings, Hat, Gloves
The Ethereal Romantic: Arwen
Official Promotional Images
Arwen is all about that drape: just look at the way the Elven princess's clothing glides over her curves! A dress doesn't have to be tight to be sexy, after all. And boy does that velvet look soft… I can't look at those red sleeves without wanting to wrap myself in them like it's Middle Earth's most luxurious Snuggie.
Since floor length velvet gowns might look a bit out of place anywhere but a Ren Faire, try a less literal interpretation by opting for a soft, draped gown in lightweight fabrics like chiffon or jersey. Keep the rest of the look simple: a pair of minimal yet chic sandals, a beaded clutch, and an ear jacket (because pointy prosthetic ears are so last year) will complement any dress.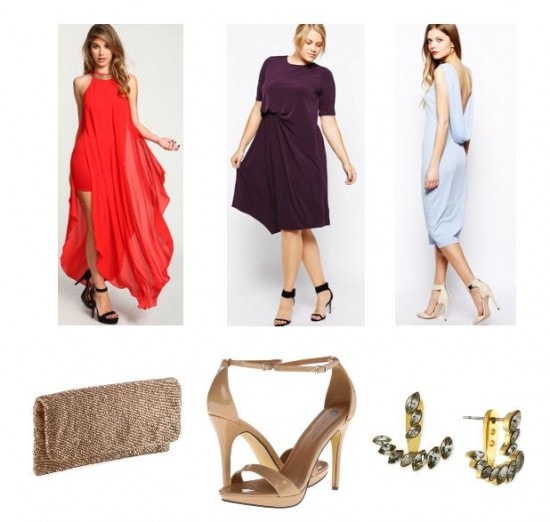 Product Information: Red Dress, Blue Dress, Purple Dress, Earrings, Heels, Clutch
The Badass Bombshell: Natasha Romanoff
Photo Courtesy of The Walt Disney Company
Natasha Romanoff, aka Black Widow, doesn't seem like the kind of girl who even has time for Valentine's Day, what with her constantly saving the world as one of the Avengers. If she did go on a Valentine's date though (with Hawkeye, because OTP), she'd probably wear something well-tailored and sophisticated, yet unabashedly sexy.
Her favored color palette of black and red works perfectly for an edgier Valentine's Day outfit. Start with a sleek, crimson-colored peplum top and a pair of second-skin charcoal jeans, then kick it up a notch with a faux leather jacket and over-the-knee boots.  Finally, slick on a coat of the aptly named "Hourglass" lipstick for a classic red lip that won't budge all night!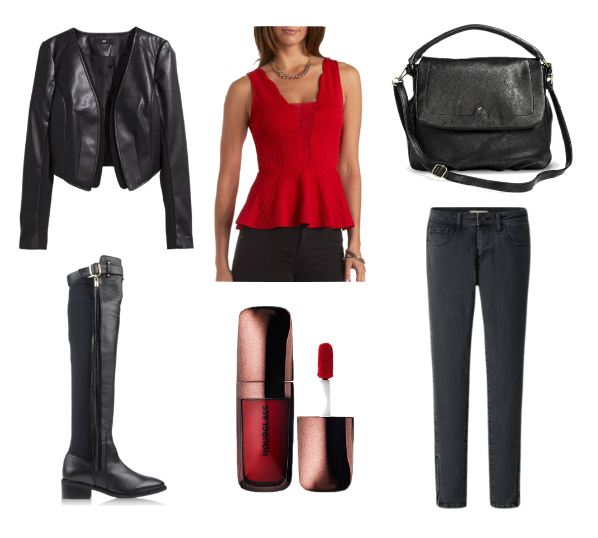 Product Information: Jacket, Top, Jeans, Boots, Bag, Lipstick
The Sassy Spitfire: Buffy Summers
Official Promotional Images (Yes, devoted Buffy fans, I know one of these pictures is not *technically* Buffy, but it does fit the Valentine's theme!)
I'd imagine Buffy's not too into this particular holiday, considering her relationships tend to result in total heartbreak/unspeakable tragedy. However, I could definitely see her hitting up the Bronze on Valentine's Day with the rest of the Scoobies for a much needed break from slaying.
Admittedly, most of the '90s fashion from Buffy the Vampire Slayer has not aged well, but there are still some trends she wore that have cycled back into popularity, like crop tops, bucket bags, and oversized coats. Buffy's signature mini skirt and knee-high boots combination is still stylish today; update it with a fluffy pink sweater and a less chunky heel. Next, put on spike-shaped earrings as a reference to Buffy's weapon of choice, then throw on a roomy trench coat. Time to patrol the streets of Sunnydale!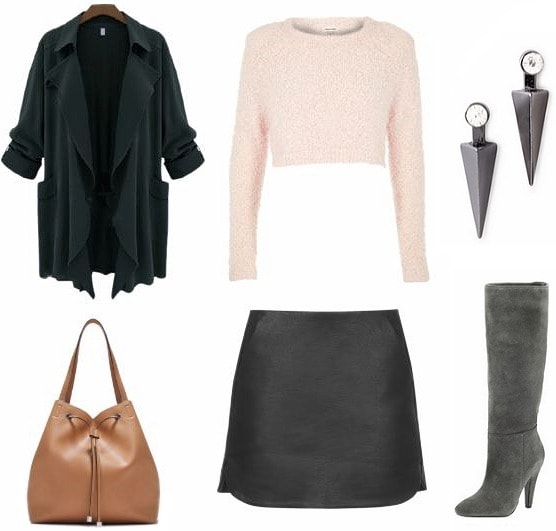 Product Information: Coat, Sweater, Skirt, Boots, Bag, Earrings
What did you think?
Would you wear these outfits? What are you planning to wear on Valentine's Day? Let us know in the comments!