Can you guys believe it? October is here! It's time to start brainstorming Halloween costumes, pulling out the pumpkins, and, of course, checking out the fantastic street style looks we saw over the past few weeks.
I don't know about the rest of you guys, but this month's been pretty crazy for me- with school in full swing, you'd think the weather would let up a little, but instead it turned up the heat, hitting a record 110 degrees in California! That said, for this month, I've found some great transitional street style looks from the past few weeks to keep you from getting too hot or too cold, no matter how the weather in your area is treating you.
Interested? Read on to see what people around the world are wearing, and how you can get their looks too!
Summer Love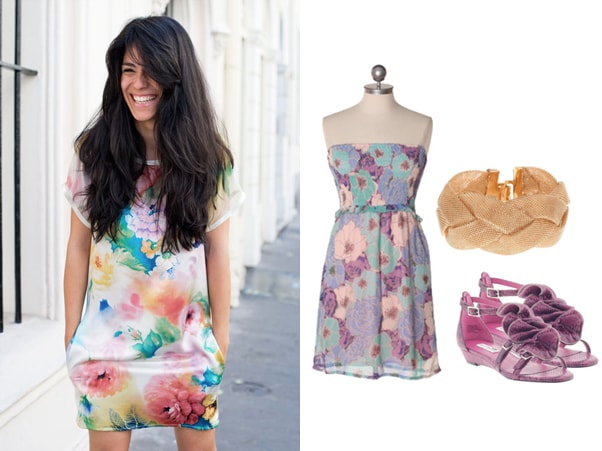 (Source: NAST | Dress, Bangle, Shoes)
I am absolutely in love with this look. It's like all the fun of summer in one dress- it's simple, light, and happy (AND IT HAS POCKETS!). I love how straightforward this dress is and how it accentuates the model's body shape without giving too much away.
To get a similar look, I found an adorable pastel printed dress with a beautiful floral pattern. I then paired the dress with a pair of lavender sandals that are a beauty in themselves, and this great braided gold cuff to rest on your wrist. Pull all of these things together, and you have a perfect day outfit for warm weather- and even better, all you have to do to dress it up is pull on a blazer or leather jacket – simple, easy, and fun.
Sultry Chic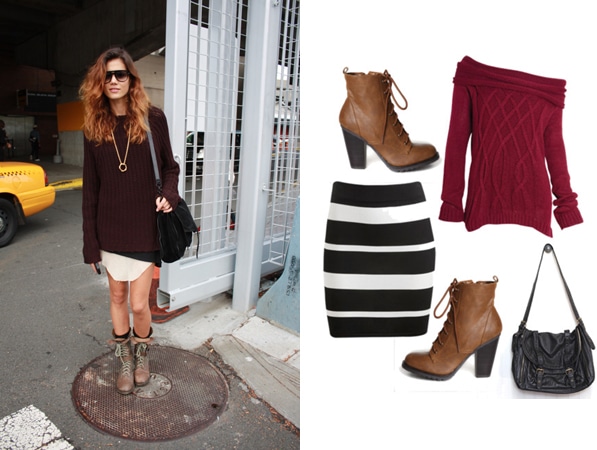 (Source: Knight Cat | Boots, Skirt, Pullover, Bag)
All you rocker girl tough chicks will love this look. It's a great way to rock the disheveled aesthetic in a sultry way. I love this girl's necklace as well as her slouchy boots- they are the perfect height!
To get a similar look, I found a slouchy off-the-shoulder sweater and paired it with this great striped bandage skirt. Both cling to your body just enough to show off your curves. Throw on some cute brown boots and a shoulder bag like the ones I found, and you'll be campus couture for sure.
Versatile Vixen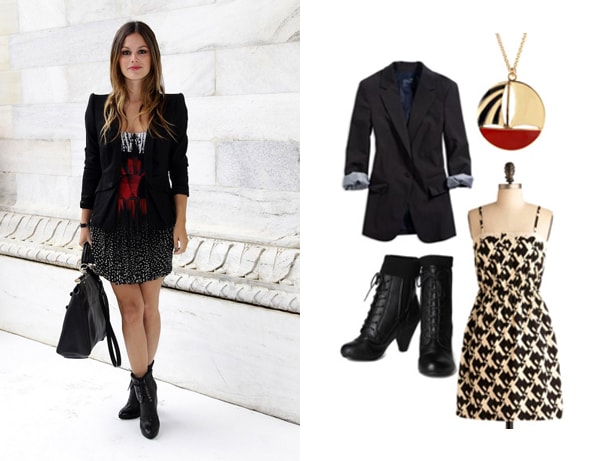 (Source: Because I'm Addicted | Blazer, Boots, Necklace, Dress)
Fashionista Rachel Bilson looked cute (as always) rockin' strong shoulders with her head held high. I love this entire look and how it's both office and street-appropriate.
To get a similar look, I found a great black and white printed dress and paired it with this super cute sailboat necklace with a pop of red. For your shoes, I found a similar looking pair of black lace-up boots. Finally, to add some masculinity to the look, I picked out a cool blazer with sleeves you can roll up, to get the Rachel look. This outfit is so versatile that you can either make your look flirty without the blazer, or professional with the blazer- it's a win/win.
Cat Girl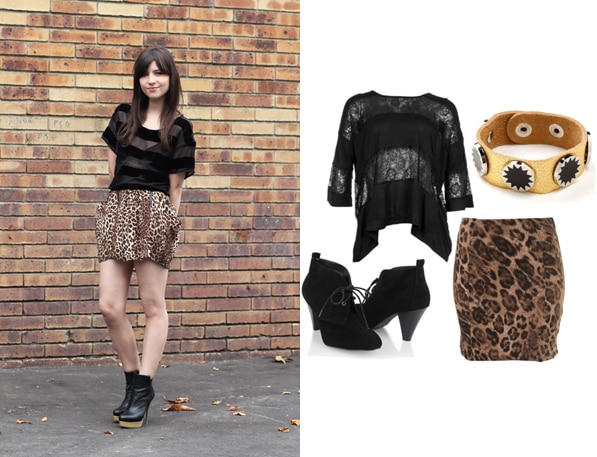 (Source: Leblog De Betty | Top, Boots, Skirt, Bracelet)
Casual cool – that's the best way to describe this look. I love the naive sexiness the sheer shirt and leopard skirt combo evoke, and those heels are too perfect!
To mimic this simple yet chic look, I tracked down a cool leopard print skirt and paired it with a sheer, lacy, drapey top. I then picked out a fierce gold bracelet with awesome silver grommets attached to it and finished the look off with a pair of black kitten heeled boots. This is a great "going out" look as it shows just enough skin without being trashy.
Day 'n' Nite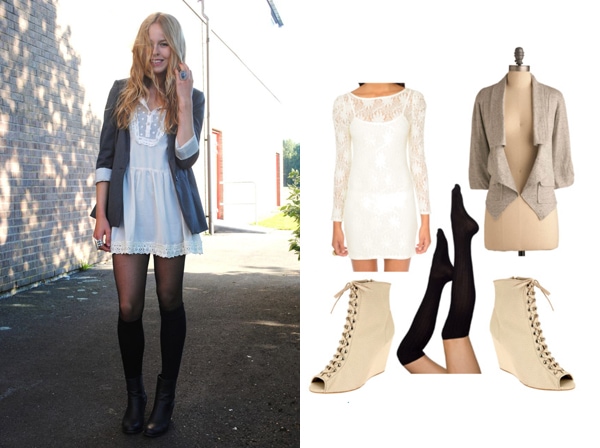 (Source: FYNDIGT | Dress, Blazer, Socks, Boots)
I'm in love with this look because it proves that lace can be worn any time of day. By switching up colors and adding a blazer, this girl has successfully showed us how to wear the lace trend in a casual way.
To help you get a similar look, I found a great body-hugging white lace dress and paired it with this casual draped blazer in gray. I then picked out some trendy over-the-knee socks and a pair of neutral wedge lace heels. This look, like many of the other looks I featured this week, is a great day-to night option. Throw on the jacket and you have a great casual day look, or lose the jacket and you have a sexy yet sweet night look! Another win/win!
Thoughts?
So what do you guys think? Are you loving these street style looks? How's the weather treating you so far: are you sweating it out still, or is it starting to cool down? Whatever your thoughts, let me know in the comments!