This week's Reader Spotlight embodies all that fall has to offer: deep, sparkling hues and layers, layers, layers! Read on to meet Angie, our latest featured reader!
The Interview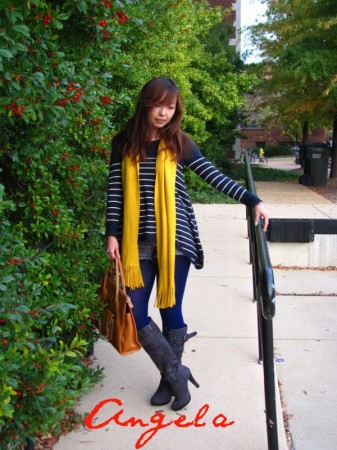 Name: Angie Chen
Age: 20
School: Washington University in St. Louis
Major: Biology – Neuroscience
Class standing: Junior
Hometown: San Diego, CA (originally from Toledo, OH)
Your style in three words: Chameleon, Eclectic, Happy
Interests and hobbies: Blogging, playing video games, writing, dreaming, hunting for that perfect piece.
Where do you get your fashion inspiration? "I usually take something brilliant I see in a magazine or fashion blog and add my own tweak to it. Sometimes I'll open my closet doors and grab a few pieces to throw together, piling on layers and taking them off until it feels and looks right. I also enjoy finding inspiration from the runway, the ultimate creative canvas for the style-inclined."
What is your style philosophy? "Always dare to be looked at. Clothes are meant to draw attention – they really do make or break an impression. I always try to have fun with what I wear and hold my head up high even if I have a million clashing colors on and am breaking all the fashion 'rules.' Be comfortable with what you have on, but break out of your shell a little. Life is much more thrilling that way!"
Who is your fashion idol? "I read the blogs of Rumi Neely (FashionToast) and Alix (The Cherry Blossom Girl) religiously. I think there's something so enticing about their different lives, and the way they convey those moments through photography makes my head spin. I read more fashion blogs than I have time for but I love it."
Where do you like to shop? "I don't like to splurge, so I visit whatever's close to campus and affordable. I've really been into H&M and Target lately for their fall styles."
What is your favorite fall trend? "The autumn color palette! Everyone needs a trusty mustard piece. My favorite is this super soft Merona scarf in the best shade of happy mustard there is. Lush ruby reds, golds, hunter greens, and various khakis are also gorgeous against the changing foliage. Also, layers, layers, and more layers. A pants-less fall and winter is very possible with mad layering skills and a few pairs of fun sweater tights."
An Outfit Inspired by Angie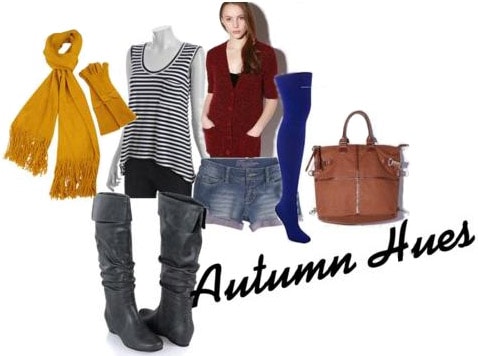 Product Info: Shirt- Bluefly, Cardigan- Urban Outfitters, Shorts- Delia's, Tights- Dillard's, Boots- Forever 21, Tote- Urban Outfitters, Scarf and gloves- Forever 21
To channel Angie's super chic look for fall, begin with a nautical-inspired shirt. This black and white striped tank is a great neutral piece that can go with everything.
I admit it; I am not a huge fan of the shorts and tights combo. But Angie pulls this look off flawlessly! At first glance, one cannot even tell that she is wearing shorts because they effortlessly blend in with the rest of her ensemble. That, my friends, is the mark of a true fashionista. So grab some jean shorts and a pair of bright blue tights, if you dare!
Next, add a cardigan to emulate Angie's knack for layering. This burgundy one is perfect for fall- bright and warm! And to accessorize, add a pair of gray boots. They are a neutral color, the perfect height, and are an excellent staple for the colder months.
In her interview, Angie raves about fall hues. Her favorite is mustard, an energetic color that will make any outfit pop! This mustard scarf and glove set will do just that in this outfit. Finally, complete your look with a brown tote bag to carry all of your books around campus!
Wanna be our next featured reader?
Would you like to be featured in our next CF Reader Spotlight? Do you push the fashion boundaries? Do you have a unique sense of style? We want to see something unexpected! If that sounds like you, please send an email to readerspotlight AT collegefashion DOT net and include the following:
Your name
Age/year in college
College
A picture of yourself in an outfit that you believe evokes your own personal and unique style
Your style in three words
Once we have received your entry, we will send you a short interview to complete as soon as possible. If you are chosen, you will be notified via email prior to the article's publication. Good luck!
What do you think?
Are you impressed by Angie's style? What do you think about her look? Do you like the nautical trend? What about the shorts and tights combo? What is your favorite fall hue? What are you wearing this fall? Feedback? Ideas? Questions? Chat with us in the comments!