Fashion inspiration can be found anywhere, and books are incredible sources for style innovation. Book-Inspired Fashion explores these treasure troves, and brings them them to you in looks inspired by vibrant characters, far away lands, brilliantly woven plotlines, and more.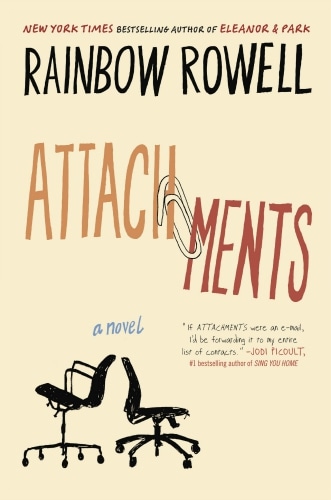 Book Cover via Amazon
I'm actually thrilled that one of you correctly guessed what I'd be covering this week, so I'm going to dive right into this week's installment of Book-Inspired Fashion. Expect lots of blubbering on just how much I adore this book…
I will say, however, that I am secretly happy The Hundred Dresses isn't as popular as some more mainstream children's books because it makes it feel just a little bit more like a secret to me.
Now, on to some background!
Reading Between the Lines
The Hundred Dresses was written in 1944 by already-established children's author Eleanor Estes, who would go on to write perhaps her most well-known book, Ginger Pye. Now, this book isn't actually as unknown as I make it out to be– it was a Newbery Honor book of 1945, which makes it the third such book I've featured for Book-Inspired Fashion. (The other two are Ella Enchanted and Newbery Medal winner Holes.)
Combined with the vibrant, emotion-packed illustrations of Louis Slobodkin, The Hundred Dresses isn't just a story to allay boredom– it contains a powerful, heartstrings-tugging message of discrimination and forgiveness, and in the words of Book Week, "No young person… will ever forget it."
The story is simple, but immediately relatable, despite the fact that it was written more than 70 years ago. Maddie and Peggy are best friends that go to school together every day. Polish classmate Wanda Petronski is the target of their "fun" for a number of reasons: for living on Boggins Height, for having a "weird" name, for wearing the same dress every day, and most importantly, because of her seemingly outrageous claim that she owns 100 dresses. The conflict, however, arises when one day, Wanda has disappeared and doesn't seem to be coming back.
This story is based on a real experience from Eleanor Estes' childhood, and is fueled by her desire to apologize to a girl from her past who likely had a very similar experience to Wanda Petronski's. This makes the story all the more poignant. It's not the girls' regret of letting Wanda leave that packs the hardest punch, but the fact that she (spoiler alert!) ultimately forgives them. This is especially true for Maddie, who had been having second thoughts about Peggy's comments to Wanda and harbored guilt for never standing up to her.
Above all else, there's the penetrating message that bullying is not okay, which is all the more potent here because it highlights another side to bullying; sometimes, the bullies themselves are unaware of just how destructive they're being:
"Peggy was not really cruel. She protected small children from bullies. And she cried for hours if she saw an animal mistreated. If anybody had said to her, "Don't you think that is a cruel way to treat Wanda?" she would have been very surprised. Cruel? What did the girl want to go and say she had a hundred dresses for? Anybody could tell that was a lie. Why did she want to lie? And she wasn't just an ordinary person, else why would she have a name like that? Anyway, they never made her cry." (16)
So I suppose that in choosing this book, I wanted to pass on the message that sometimes, it's really easy to not realize how cruel we're being– that maybe we should take a step back, and understand if what we're doing really is justified or not. It's never too late to stop, and regret is one of those things that you never fully recover from.
Now– moving on from the heavy stuff– I've created three looks representing three key moments of the book, which wasn't at all difficult because of the simplicity of the plot. I did, of course, include dresses in each look to pay homage to the premise of the book. Without further ado, here we go!
1. Alone
"Wanda didn't have any friends. She came to school alone and went home alone. She always wore a faded blue dress that didn't hang right. It was clean, but it looked as though it had never been ironed properly. She didn't have any friends, but a lot of girls talked to her […] Then they'd let her go. And then before she'd gone very far, they couldn't help bursting into shrieks and peals of laughter." (10-13)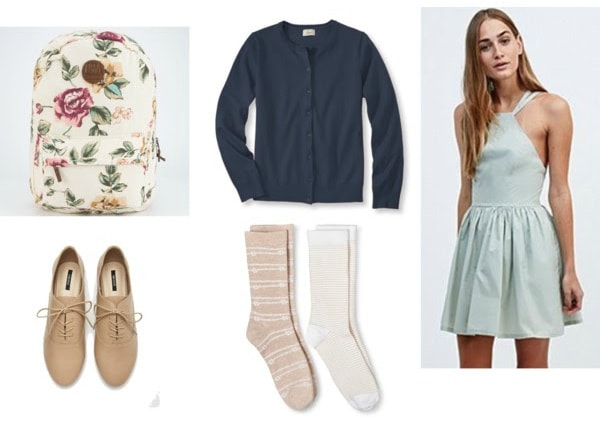 Product Info: Dress – Urban Outfitters, Cardigan – L.L. Bean, Backpack – Tilly's, Shoes – Forever 21, Socks – Target
This scene comes from the beginning of the book, and provides context for the daily bullying Wanda receives before finally leaving. She is singled out not just because of her dress, but because of her (brave!) claim that she actually has a hundred luxurious dresses at home. This, of course, makes her the target of laughter and jokes, leaving her even more alone and isolated than she already was.
This outfit immediately conveys a schoolgirl-esque design, with oxfords, socks, a backpack, and a cardigan. This is wholly intentional because above all else, Wanda is a student like everyone else, and deserves to have a safe space at school.
The faded blue Urban Outfitters dress has the same worn feel that I imagine Wanda's blue dress to have, and though fairly plain, it lends itself with fair versatility to the rest of the outfit.
The color palette is faded and neutral, but I did have fun picking out a pretty floral backpack and neutral shoes, since nobody can deny Wanda's sense of imagination and fashion. I love the simplicity of the pieces, so I decided to leave the rest of the look pretty bare of accessories.
2. A Hundred of Them
"The minute they entered the classroom they stopped short and gasped. There were drawings all over the room, on every ledge and windowsill, tacked to the tops of the blackboards, spread over the bird charts, dazzling colors and brilliant lavish designs, all drawn on great sheets of wrapping paper. There must have been a hundred of them all lined up!" (41)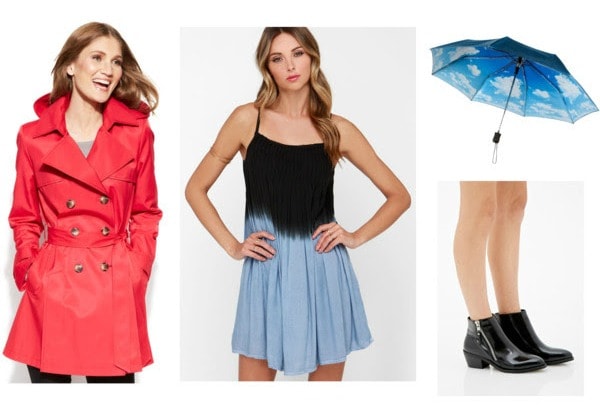 Product Info: Dress – Lulu's, Jacket – Macy's, Shoes – Forever 21, Umbrella – Amazon
Following Wanda's disappearance, the class eagerly awaits the results of their drawing contest, only to discover that Wanda had entered the contest before leaving. Although the class could never know whether or not Wanda really had 100 dresses hanging in her closet, her artistic talent, creativity, and spirit is clearly expressed by her 100 drawings of the dresses she had described to the other girls.
Although Wanda's picture of Maddie shows a simple blue dress, it is contrasted with splashes of red in the same way that illustrator Louis Slobodkin places those colors together throughout the book. So, I decided to go with a color-blocked outfit with bright colors. The dress features a subtle color-block design, but I included the red trench coat not only for its color, but because of the rainy setting of the second half of the book. That, of course, it also where the awesome umbrella comes in.
This outfit, like all three of the ones I've created, is simple at the core. Regardless of Wanda's talent, I envision her as a girl who appreciates simplicity at heart, so I didn't want to do anything over-the-top or extravagant. (That umbrella is pushing it, but I absolutely adore the cloud design so I couldn't resist!)
3. Making Things Right
"After a long, long time, she reached an important conclusion. She was never going to stand by and say nothing again. If she ever heard anybody picking on someone because they were funny looking or because they had strange names, she'd speak up. Even if it meant losing Peggy's friendship. She had no way of making things right with Wanda, but from now on she would never make anybody else so unhappy again." (63)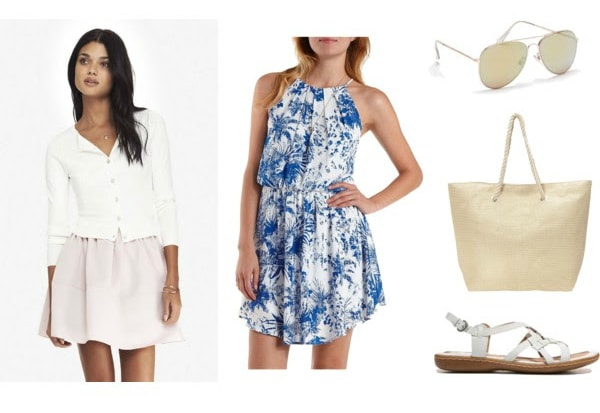 Product Info: Dress – Charlotte Russe, Cardigan – Express, Shoes – Famous Footwear, Bag – eBags, Sunglasses – Pacsun
This is the moment of triumph, in which Maddie finally realizes what it is she has to do. She discovers the significance of compassion, and how much more important it is than peer pressure, which is a huge paradigm shift for a little girl who didn't know any better.
I mentioned the impact of Wanda's forgiveness, but this scene also depicts a moment of Maddie's forgiveness for herself; her assertion to stand up to bullying changes her guilt and transforms it into determination.
Because of this new-found maturity within Maddie, I purposely chose a more mature look than the other two outfits, but there's a bit of other symbolism in the pieces, too. I originally had an all-white dress picked out to represent Maddie's fresh start, but I ended up choosing one that combines blue and white, because Wanda's impact on Maddie will presumably never disappear– at least not in the short term. (Blue, of course, is Wanda's color).
The summery accessories might seem out of place, especially compared to the rainy day outfit right above, but the coming sunniness is also representative of Maddie's (and hopefully Peggy's!) new approach to life after being given a second chance from Wanda. Sure, Wanda doesn't actually say "I forgive you," or even show up in person, but her letter indicates that she has moved on. So this outfit is really just metaphorically reflecting Maddie after gaining forgiveness and a chance to redeem herself.
I did keep some schoolgirl-type items, such as the white cardigan and sandals (versus the heels I always use) because the girls are still young– hopefully young enough to continue learning and growing.
Final Words
I hope I've made it clear by now that this book is so much more than a childrens' story, but a tale that stresses the significance of compassion and kindness in a way that transcends differences in time and place. The Hundred Dresses really is an enduring book that has certainly affected me every time I've reread it– and I'm sure it will continue to do so for many years to come.
Surely all of us have so much in common, whether it's an interest in fashion or in college-age issues. I'd like to end this with a hopeful message, that we will start seeing these similarities in each other and show more understanding than we probably have in the past.
Next time, I'll be returning with a complete surprise. Given the huge rush of finals and moving out, plus everything else that accompanies the end of a school year, I actually haven't decided what I want to cover next!
In lieu of guessing, I'd love any suggestions that you guys have, so if you want a specific book covered, please let me know.
Your Thoughts?
What is your favorite book from childhood? Does it leave a resonating, moral message like The Hundred Dresses or is it a fun-filled adventure that keeps you up late with excitement? Let us know what you think in the comments below!