This post may contain affiliate links, which means we may receive a commission if you purchase through our links. Please
read our full disclosure here
.
Fashion inspiration can be found anywhere, and books are incredible sources for style innovation. Book-Inspired Fashion explores these treasure troves, and brings them them to you in looks inspired by vibrant characters, far away lands, brilliantly woven plotlines, and more.
So, Beowulf isn't actually a book – it's an epic poem, but I'm thrilled that some of you guessed correctly! This is one literary work that most of us had to read in high school and/or college, and while we might have found it a bit dry or hard-to-get-into at first, the story and history behind it are so interesting and action-packed that I thought it would perfect to use for this week's literary fashion inspiration.
Now, for some much-needed background (with a special shout-out to my awesome English professors!):
Reading Between the Lines
Beowulf, written by an anonymous writer, is widely considered one of the oldest – if not the oldest – Old English manuscripts of epic poetry ever discovered. The date of the manuscript is estimated to be in the early 1000s, but the setting of the story is estimated to be earlier, possibly in the 800s-900s. This indicates that it could have originally been orally transmitted, and finally written down a few centuries later. It could also have been written with a Christian motive, if the setting is thought to have taken place later, in the late 900s /early 1000s.
This brings us to a big point of contention within the story – Christian vs. Pagan religion. Beowulf can be read through either lens, as there is conflicting evidence for both types of readings.
Another point of debate is the origins of Beowulf himself. Beowulf is the eponymous hero of the tale, but while the poem mentions Jutes (Danes), Frisians, Swedes, and more, Beowulf's origins are never explained. Whether he is supposed to be viewed as a sympathetic outsider who triumphs over Scandinavian forces is up to your interpretation, but I think it's definitely interesting that in this Old English poem, the English are never once mentioned.
This ambiguity is pretty prominent throughout the poem. Beowulf is an action-packed tale, and Beowulf faces three major opponents in the span of the poem. The first two, however, Grendel and his mother, are never conclusively described as human or nonhuman. There are moments when they seem entirely beast-like, but there are also passages that describe them as human-like.
What we do know is that the third opponent is an unnamed dragon – that's made clear, and the dragon is in fact the downfall of Beowulf, in a mutual slaying at the end of the tale.
With so much inspiration, I wasn't sure on what direction to take with Beowulf-inspired outfits. I finally decided on three looks based on Beowulf's fight with his three major opponents. First up, of course, is Grendel.
Note: The translation I use to quote Beowulf is the Seamus Heaney edition, which preserves the original poetry format instead of translating it as prose.
1. Grendel
"[Grendel] has no ideas of the arts of war,

Of shield or sword-play, though he does possess

A wild strength. No weapons, therefore,

For either this night: unarmed he shall face me

If face me he dares. And may the Divine Lord

In His wisdom grant victory

To whichever side He sees fit." (l. 681-687).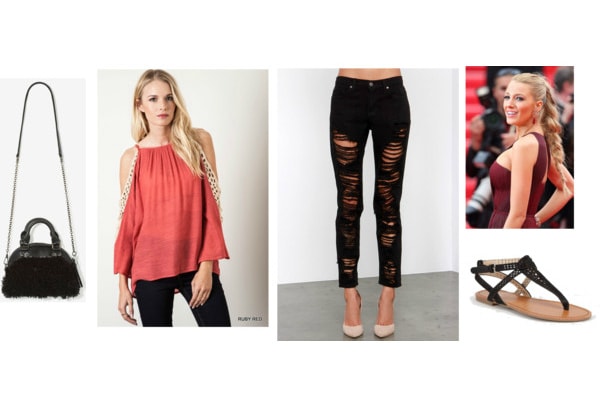 Product Info: Top – Knitted Belle Boutique, Jeans – Lulu's, Shoes – Tilly's, Bag – Nasty Gal | Hair Photo: ELLE
As stated in the above quote, Beowulf decides to fight Grendel without any weapons because he wants to be on even ground with him. He relies instead on the strength of his own bare hands, and manages to defeat Grendel in this way. He mortally injures Grendel by tearing off his arm, leading Grendel to flee (to his mother's lair, as we later find out).
This provides the previously unknown Beowulf much glory and recognition across the land, and this is probably the most famous of the three battles as well – at least to contemporary readers.
This look is relatively simple and bare bones because Beowulf doesn't wear armor or have any weapons. The cold shoulder blouse pays homage to the fact that Grendel was defeated by having his arm torn brutally from his shoulder – a moment that really showcases Beowulf's almost inhuman strength. This is similarly represented by the distressed jeans.
The quirky faux fur Nasty Gal purse also pays homage to Grendel's appearance, which is frequently interpreted as being covered in hair.
And of course, (head) hair out of the face is a must, and I'm a sucker for a simple braid.
2. Grendel's Mother
"Without more ado, [Beowulf] dived in to the heaving

Depths of the lake. It was the best part of a day

Before he could see the solid bottom.

Quickly the one who haunted those waters,

Who had scavenged and gone her gluttonous rounds

For a hundred seasons, sensed a human

Observing her outlandish lair from above." (l. 1494-1500).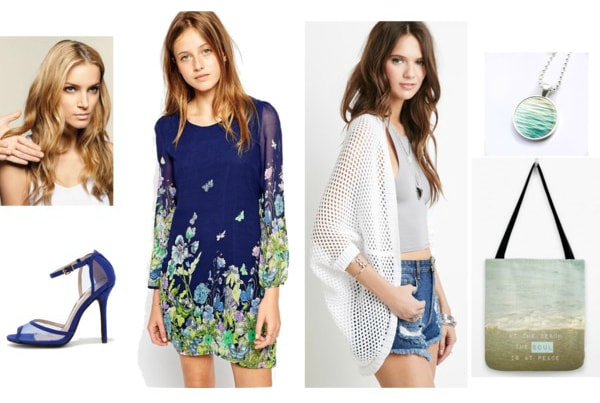 Product Info: Dress – ASOS, Cardigan – Forever 21, Shoes –Lulu's, Necklace – Etsy, Tote – Etsy | Hair Photo: ELLE
Interestingly, while Beowulf needed nothing but his hands to slay Grendel, he wears armor and needs a sword in order to defeat Grendel's mother. No, it's not intended as a female-empowering scene, but the fact that this formidable foe is female is a major influence on the simple yet girly dress I chose for this look.
Because of the aquatic setting of this battle, I played a lot with a blue color palette, with some greens to represent the marshes as well.
The open knit of the cardigan feels a bit net-like to me, and therefore reminds me of fish, so I thought it would be a good addition to the underwater theme here. The same goes for the ocean-inspired necklace and beach-inspired tote.
The hair is admittedly a bit gratuitous, because the thought of beachy, mermaid-like waves appeals to my girly side, even though Grendel's mother was probably not a beauty in any sense.
3. The Dragon
"He stuck it deep into the dragon's flank.

Beowulf dealt it a deadly wound.

They had killed the enemy, courage quelled his life;

That pair of kinsmen, partners in nobility,

Had destroyed the foe. So every man should act,

Be at hand when needed; but now, for the king,

This would be the last of his many labors

And triumphs in the world." (l. 2704 – 2711).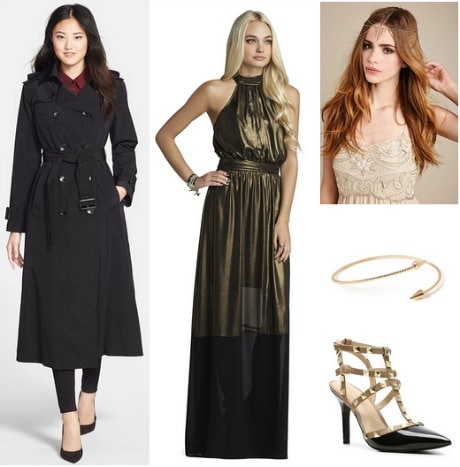 Product Info: Dress – BCBGeneration, Coat – Nordstrom, Headpiece – Forever 21, Arm Cuff – Forever 21, Shoes – DSW
Although this scene is the one in which Beowulf is finally defeated, it highlights the significance of loyalty and companionship, because of the aid Beowulf receives with Wiglaf after being mortally injured in his battle with the venomous, fire-breathing dragon. It also casts Beowulf into a bit of a more mature light, because instead of recklessly volunteering to defeat the dragon, Beowulf does so because one of his people had stolen one of the dragon's treasures.
Despite being more armored than when he had faced Grendel's mother, Beowulf is much older at this point, and would not have been able to deal the "deadly wound" without Wiglaf's intervention. I think this is a really important moment of the poem that should be emphasized more.
I chose this heavy metallic fabric for a number of reasons: I think of a dragon's scales as metallic, Beowulf is in full shiny armor in this fight, and the fight is essentially over (metallic) treasure.
The gown is formal because Beowulf is a king at this point. It's also his last stand as a hero and king, so I thought the look needed to be ornate. There's a huge element of sacrifice here as well, and that reminds me of the pagan sacrifices that often took place centuries ago, which were sometimes elaborate rituals.
The accessories are kept to a minimum to keep the dress as the focus of the look, and I added a long trench coat to mirror the idea of heavy armor/protection.
The dress and trench coat are definitely two of the priciest items I have ever included in my outfits, but after all, Beowulf is a richly decorated king. That said, the trench coat is a classic piece you can wear for years to come, and the dress is splurge-worthy if you have a special event coming up.
Final Words
Whether or not you're a fan of Old English epic poetry, you have to admit that Beowulf has been an incredibly significant and influential work of Anglophone literature. The extent of its influence is impossible to measure, but it's abundantly clear – for example, J.R.R. Tolkien's The Hobbit's major source of inspiration was Beowulf, which can be seen in the presence of the dragon in both tales.
Like many of you, Beowulf wasn't my favorite part of high school English, but upon rereading it for my undergraduate English literature class, I have found that I have a new appreciation and liking for it, and am glad that I was able to share it with all of you through a fashion lens because it really did inspire me.
Next time, I'm going to cover a memoir that I am so excited for because I had the honor or meeting the author last week! It's the inspiration for a popular TV show, so you've probably heard of the title if not the original book.
Hint: Prison.
Your Thoughts?
Have you ever read Beowulf? What do you think about his three major battles, and these outfits inspired by them? Let us know in the comments below!