Over the past few months, we've been interviewing some of our favorite fashion bloggers and finding inspiration in their styles. In case you missed them, see our past interviews with Maria of Lulu Letty, Elizabeth of Delightfully Tacky, Georgina of Cupcake's Clothes, Tieka of Selective Potential, Rebecca of The Clothes Horse, Keiko Lynn, Kendi of Kendi Everyday, Sally of Already Pretty, Mel of Idee Geniale, La Carmina, Julie of Orchid Grey, Alicia of Cheetah is the New Black, Andrea of Blonde Bedhead, Emily of Cupcakes and Cashmere, Blair of Atlantic Pacific and Rachel of That's Chic
Today we're meeting Veronika of Girl and Closet!
About Veronika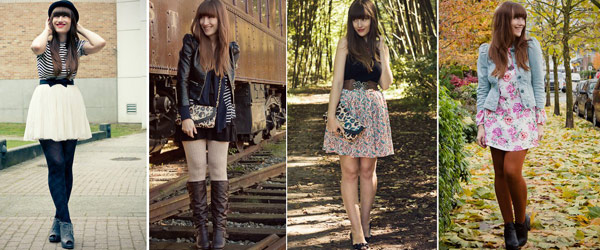 Veronika is not only gorgeous and stylish, but one of the nicest bloggers I have ever met. She lives in Canada with her husband and works as a freelance photographer. Her blog features a great mix of bits of her style and life, and one of the coolest and most unique features about her blog is her "Remix Options" – every outfit on her blog has a note about how you could remix the items involved – great for those of us on a budget! Let's meet her.
Our Interview with Veronika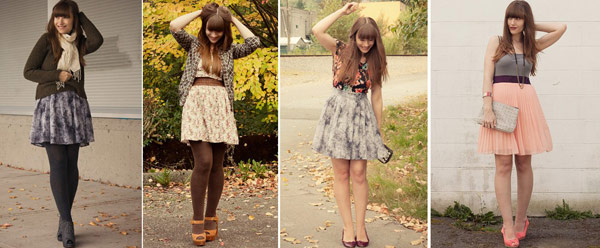 1. Tell us a little bit about yourself (who you are/what you do/where you're from, etc.)
Hello! I'm Veronika and I work as a freelancer doing several fun & exciting things: photography, online e-commerce, and I run the blog "Girl & Closet" – which I absolutely adore!! I'm originally from the Czech Republic but now reside in beautiful British Columbia, Canada, with my amazing husband, our chubby orange cat and super adorable pooch.
2. How would you define your style?
Gosh, that's a hard one. I think my style is always changing and I definitely seem to dress based on moods & trends. But I can say that I usually choose looks that are comfy, a little bit vintage, and definitely girly!! I seem to live in cute dresses, cozy cardy's and my knee-length boots. I also LOVE to layer since it adds so much to any look.
3. What inspired you to start a style blog? What motivates you?
I had just spent a year working from home on my own business, which meant I was often living in nothing more than tights & cardigans. Needless to say, I was craving an outlet for fashion – big time! I spent most of my free time pouring over fashion blogs: Jen Loves Kev, Strawberry Koi & Selective Potential. As for what keeps me motivated? I would say the blogging community, as I've made so many wonderful friendships via my blog. My love of fashion & photography also keeps me going. It's SO much fun!!
4. Did you go to college? What was your college experience like?
Yes, I did a theatre program, and then a few years later I went back to college for Business Administration which was very grueling, but an amazing experience nonetheless. I had quite the course load with huge amounts of homework, so basically I had no life. But I found I college to be such a wonderful experience, and it taught me to be more disciplined & organized – which is such an invaluable life/career skill.
5. Where do you like to shop?
I love to shop at ModCloth, Forever 21, H&M, and I also do a lot of vintage shopping. I'm usually pretty budget-conscious when it comes to my clothes, although I always splurge on amazing shoes – especially Jeffrey Campbell's. I'm so in love with them!
6. What advice do you have for being stylish on a college budget?
I would recommend shopping at second hand stores, and another great option would be budget-friendly stores like the ones mentioned above. I also think that starting a college clothing swap group would be a great way to get new things. I do a blogger swap with a few of my blogging besties, and it's such an amazing way to try new styles and refresh my wardrobe. Nothing better than free clothes, right?!
7. What are your favorite pieces in your wardrobe?
My shoes! I seriously adore shoes and consider myself to be a collector/hoarder of them. I love how they can transform an outfit. And speaking of transforming outfits?! I also love my accessories: belts, scarves, tights, hats! They help me re-style my wardrobe staples over & over again – so budget friendly.
8. Who/what inspires you?
I'm inspired by my super stylish girlfriends, fellow bloggers, and I can't live without my Lucky magazine. I'm also inspired by movies and my favorite TV shows, including Sex & The City, Gossip Girl, and my new favorite: The New Girl… oh my gosh, I love Zooey Deschanel – she's such an indie fashion icon.
9. What are the pieces you couldn't live without?
Hmm, couldn't live without my tights collection, cozy cardy's, hats, and my retro-inspired dresses. Love em!
10. What advice do you have for new bloggers or people considering starting a blog?
Be kind and be genuine. Also, don't be afraid to connect with other bloggers that you admire. It's a very supportive community! I'm so thankful for the wonderful gals I've had the opportunity to meet & connect with. I would also say that having great blog design, a solid camera, and quality content are at the top of the list. And it's important to blog about the things that you truly love – remember to stay true to who you are!
How to Dress Like Veronika

1. Have fun with prints and patterns.
Veronika is a great print-mixer, but she also understands how a great print can stand out against a block of color. Most of her outfits include at least one print or pattern, and patterned tights are a great way to do this yourself. Most of all, play around with your closet and don't worry too much about what should and shouldn't "go" – part of the beauty of Veronika's look is that it's so playful and creative.
2. Mix neutrals and pastels.
Veronika's look is always very put-together as she relies on a pretty simple color palette. She usually mixes light colors with greys, blacks and browns to keep them from looking too girly. Neutrals are also a great way to tie an outfit together.
3. Embrace feminine pieces.
Veronika's look is very feminine, without being overly girly – think lots of dresses, skirts and blouses. She also adds feminine touches, like a flowy top or floral pattern to a simple jeans-and-flats outfit, and balances out leather jackets and patterned pieces with floaty skirts and dresses.
4. Think polished, clean and classy.
Veronika loves to look pulled together. She doesn't over-accessorize or add too many elements to her outfits. Her look isn't messy or uncoordinated – she always looks "done." So take the extra second to make sure your outfit is in balance; it will do wonders for your look.
5. Remix!
Veronika is all about remixing – she always comes up with new and creative ways to wear her wardrobe favorites. Stuck for remixing inspiration? Look at Veronika's suggested Remix Options, or examine other fab remixers such as Kendi of Kendi Everyday. Veronika always manages to make her remixed items look different in each of her outfits, so be creative in putting things together and you can do the same.
Outfit Inspired by Veronika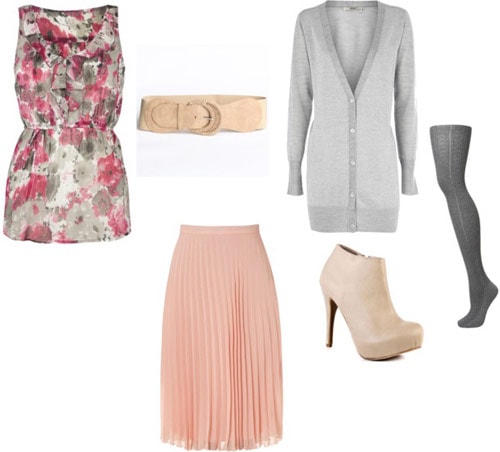 floral blouse / pleated skirt / cable knit tights / beige shoe boots / belt
To create a look inspired by Veronika, I started out with a girly basic – a pretty pale pink pleated skirt – and added a print with the floral blouse. I threw in cable knit tights and a cardigan in neutral grey tones for colder climates, and paired it all with beige ankle booties. I also included a scarf for an extra feminine touch.
Your thoughts?
Do you find Veronika's style as inspiring as we do? How do you add feminine touches to your looks? Would you start a "clothing swap" group with your friends? Leave a comment and let us know!