This post may contain affiliate links, which means we may receive a commission if you purchase through our links. Please
read our full disclosure here
.
Over the past few months, we've been interviewing some of our favorite fashion bloggers and finding inspiration in their styles. In case you missed them, see our past interviews with Maria of Lulu Letty, Elizabeth of Delightfully Tacky, Georgina of Cupcake's Clothes, Tieka of Selective Potential, Rebecca of The Clothes Horse, Keiko Lynn and Kendi of Kendi Everyday.
Today we're meeting the wonderful and inspiring Sally McGraw of Already Pretty.
About Sally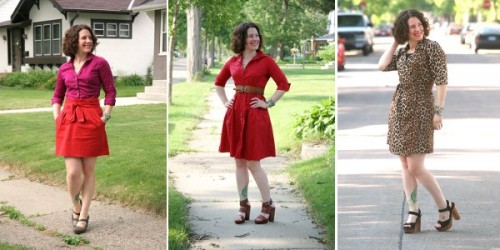 Sally's blog isn't just pictures of her outfits and a discussion about what she wears every day. Already Pretty is one of the best one-stop-shops for advice on everything from how to wear colorful tights, to how to use fashion tape, to tips on thrifting, and everything in between.
Already Pretty also covers one topic most bloggers won't touch – body image. Body image is often the elephant in the room when it comes to style blogging, but Sally tackles these issues head-on, helping all women to be body positive with wonderful advice on increasing your confidence, plus tips on how to dress your body to feel your best
Of course, in true fashion blogger form, Sally combines all of the above with a wonderful sprinkle of her personal life and plenty of daily outfit photos. Overall, her blog is informative, interesting, and inspiring – it's a total must-read!
Our Interview with Sally
1. Tell us a little bit about yourself (who you are/what you do/where you're from, etc.).
My name is Sally and I'm the creator of Already Pretty, a blog about the intersection of style and body image. I live in Minneapolis, where I work as a blogger, freelance writer, and communications professional. I'm originally from Chicago, went to college in upstate New York, and worked in San Francisco for a couple of years, but I absolutely love it in the Twin Cities. I'm here to stay!
2. How would you define your style?
Ah! I've actually given this loads of thought over the years and formulated a phrase that I think captures the essence of my deeply quirky dressing choices. I describe my style as arty-eclectic with a broad streak of retro influence. I should totally trademark that …
3. How did you find your style?
It took a long, long time. I'd say I took an active interest in style – especially as it pertains to figure flattery and personal expression – about seven years ago. Before that, I just wore whatever my peers told me was "in," or whatever I saw on the girls around me. Once I began playing around with color and proportion, shape and texture, I slowly began noting which styles of garments worked WITH my body instead of AGAINST it. I honed my style by tracking down items that highlighted my best assets, and now those items form the foundation of my wardrobe.
4. What inspired you to start a style blog? What motivates you?
I used to utilize so much energy hating my body that I exhausted myself into depression. For years I tried to change my body with diets and exercise, believing that its shape and size were the root of the problem, but I just kept on hating it. When I began exploring fashion and style – dressing in fun, flattering, and form-fitting clothes – an unexplored universe opened up to me. For the first time, I respected my body. I realized that there was nothing wrong with my body. I saw my body as integral to my identity. I wanted to show it off, and decorate it joyously, and hone my personal style so that I could understand it on new levels. That connection between looking good and feeling good, as it relates to style, is what inspired me to launch Already Pretty. Because when I started to dress in a way that made me look amazing and feel amazing, I finally stopped actively, continually, exhaustingly hating my body. And I immediately wanted to show other women how to make that connection so they could stop hating theirs.
5. Did you go to college? What was your college experience like?
I did! I went to Binghamton University in Binghamton, New York. My college experience was absolutely amazing; I got my creative writing degree in just three years, and regularly kick myself for taking the fast track! Binghamton has a stellar writing program, and I got to work with some top-notch professors and authors while working toward my major. Courses were offered in a huge range of subjects, so I also took classes in everything from archaeology to behavior disorders to Spanish literature. I wrote for the school paper, sang in an all-female a-cappella group, and worked at the cafe on campus. I've kept in touch with many of my college friends, and those relationships are so dear to me. One of my best friends is a native New Yorker who now lives in Brooklyn, and we STILL speak on the phone once a week!
6. Where do you like to shop?
I do most of my shopping either online or in thrift stores. If I'm looking for something specific, I go online where I can order from anywhere in the world and be guaranteed to find my ideal size, color, and style. If I just want to shop for fun, I hit the Twin Cities' amazing thrift scene. Nothing beats getting your duds for pennies on the dollar, and knowing you're being environmentally conscious as you do it.
7. What advice do you have for being stylish on a college budget?
Invest in basics, skimp on accessories. It's an old adage for a reason. If you love jeans and live in 'em, fork over for a pair that fits perfectly and will last multiple years. Get a gorgeous cardigan in a timeless style or a crisp black skirt that makes you feel amazing. But don't fork over big bucks for accessories. You can purchase or make them for cheap, and if the foundation of your outfit is comprised of quality pieces, no one will be the wiser.
8. Your blog is full of great advice, especially on thrifting. What advice do you have for bargain hunters who are new to thrifting? Which posts would you point them towards?
Either wear something that's easy to tear off (a dress and slip-on shoes) or underlayers that will serve as a bodysuit (leggings and a tank) in case you end up somewhere sans dressing rooms.
If you're bringing a list, make sure it's pretty general. You're more likely to score looking for "floral dresses" than "large-print floral dresses in cotton voile."
If you're not bringing a list, tackle the store department by department. Otherwise, you'll get overwhelmed and give yourself a migraine! Start with pants, then move on to sweaters, then dresses, then outerwear … and if you just can't do it all, that's OK. Come back next week.
Durable goods like blazers, outerwear, leather handbags, and jeans usually hold up to wear better than tees, dresses, and blouses. If you're concerned about thrifted clothes falling apart, stick to the sure things.
As far as posts go, I've actually got an entire category of posts on thrifting! A few of my faves are Your Thrifting Checklist (great for beginners), Thrift Tips, and Thrifting Lessons from a Pro.
9. Who/what inspires you most?
My fellow bloggers are my main source of inspiration, when it comes to dressing. Fashion for Nerds, Keiko Lynn, SnugBug365, Joelle Van Dyne, and Le Blog de Big Beauty are some of my faves.
10.What are the pieces you couldn't live without?
Don't suppose I could say, "My entire shoe collection"? No? OK, fine. But I'm still putting my Frye Harness boots, Tsubo Acrea pumps, and John Fluevog moto boots on there. I live in my organic cotton dresses from Athleta all summer, and my enviable collection of leggings all winter. And I'd have to put a pair of silver hoop earrings on the list, too. They're my signature.
11. What advice do you have for new bloggers or people considering starting a blog?
Be patient. Fashion blogs that become overnight successes are the exception, not the rule. Start by creating a niche for yourself and building a loyal audience. Once you've established yourself, opportunities will begin coming to you.
12. You're great at abstaining from shopping. How do you remix your clothes to help them feel new and exciting?
I keep a running list of outfit ideas. Every couple of months, I spend some time looking through my closet and building outfits from pieces that I already own. That way, I've always got several dozen potential ensembles just waiting to be tried, and absolutely no cause to trot out the lament, "I've got a closet full of clothes and nothing I want to wear."
13. What are your favorite pieces in your wardrobe?
I've got a gorgeous, highly detailed sweater I bought while visiting Tasmania back in 2005 that I absolutely adore. Also a flame orange full, pleated skirt that I bought on a whim but has turned into a wardrobe staple. And, again, I am a self-confessed shoe hoarder so pretty much all of my shoes are favorites!
14. Your blog focuses on body image a lot – what advice do you have for young girls struggling with their self perception?
No matter what anyone says, there is absolutely nothing wrong with your body. Your body is natural and lovely and utterly amazing just as it is, right now, today. And your body deserves your love and care just as it is, right now, today. Never let anyone tell you that you're inferior or wrong or inadequate just because you don't fit into some narrowly-defined beauty ideal. Never let anyone strip you of your power and confidence by convincing you that you should change your essential self. Fight those messages with the knowledge that true beauty is diverse, and true beauty encompasses you. Right now. Today.
How to Dress Like Sally
1. Choose pieces that flatter your figure.
Sally has a wonderful hourglass figure and knows how to dress for her shape. All bodies are different, so experiment with which styles make you feel better about your shape and find outfits that bring you confidence.
2. Have fun with prints and patterns.
Sally has a great knack for throwing on a pair of unexpected bright tights or a great patterned piece that gives an outfit that extra burst of fun.
3. Utilize belts.
Sally is all about the belt for an extra-defined waist, but she's also written an article demonstrating other uses of a belt.
4. Don't consider shoes an after-thought.
Sally mentioned that she loves shoes and it shows! Her statement-making shoes are always a well-thought out part of her ensemble, and Sally admits that she often builds entire outfits around them. So make like Sally and have fun with unexpected or playful shoes to add another element to your outfit.
5. Play with layers.
Sally has some great advice on layering and, as a resident of Minnesota, she definitely has some great skills for staying warm while looking cute in the colder months. She has a great knack for coordinating jackets and cardigans to add some extra interest to any ensemble.
Outfit inspired by Sally
I loved this full, '50s-style skirt and its bright blue color – when belted, it will give you that hourglass shape Sally loves. I paired the skirt with this adorable coral polka-dot blouse to reflect Sally's love of patterns and bright colors, and added coral wedges to tie in the coral from the top.
Comments
What do you think of Sally's style? Have you been inspired by any of her blog posts? What other bloggers would you like to see featured in this series? Let us know in the comments!