This post may contain affiliate links, which means we may receive a commission if you purchase through our links. Please
read our full disclosure here
.
Over the past few months, we've been interviewing some of our favorite fashion bloggers and finding inspiration in their styles. In case you missed them, see our past interviews with Maria of Lulu Letty, Elizabeth of Delightfully Tacky, Georgina of Cupcake's Clothes, Tieka of Selective Potential, Rebecca of The Clothes Horse, Keiko Lynn, Kendi of Kendi Everyday, Sally of Already Pretty, Mel of Idee Geniale and La Carmina.
Today we're meeting Julie of Orchid Grey.
About Julie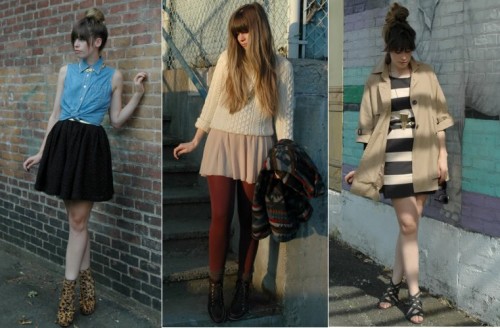 Julie's blog is a great source of inspiration, whether that's clothing inspiration, hair inspiration or art inspiration. Her outfits are always beautifully put together. Her style is fresh but also very classic – her wardobe is full of incredibly wearable and often affordable pieces that create amazing combinations without breaking the bank. Her blog also covers her day-to-day life: She is currently planning her wedding to fiance Chris and right now, her posts are full of exciting wedding plans and adventures.
Our Interview with Julie
1. Tell us a little bit about yourself (who you are/what you do/where you're from, etc.)
Hi! I'm Julie and I write about my life and personal style on my blog, Orchid Grey. I'm originally from Maine but moved to Massachusetts in 2002 for college. I now live outside of Boston where I work as a blogger and Brand Ambassador for the Swapaholics. I am also part of the Delightful Dozen, a group of 12 bloggers who swap clothes across the country. Along with that, I also volunteer at a local Shipbuilding museum, and work part time as a barista; I like to stay busy!
2. How would you define your style?
This question always holds me up, I have a hard time defining my style because I feel like it's constantly evolving. I also don't like to label myself, after so many years spent worrying about labels and trying to prove myself in the punk and rockabilly scenes (exhausting), I am relishing in the freedom of wearing whatever I like. I would say there is a definite vintage influence – I have been vintage and thrift shopping since I was a kid – and I love classic New England style, I grew up in Maine after all. I think people would say I'm pretty girly, too.
3. How did you find your style?
I have always loved clothes and fashion (I had a pretty amazing vintage collection as a 6th grader), but I definitely was not stylish as a teenager, I was a total tomboy trainwreck. I wanted everyone to think I didn't care: I had super short hair and wore baggy clothes that completely concealed my body, it was awful! Once I went off to college, I started playing with clothes more, I made a lot of my own outfits and everything else was from Salvation Army. But, it took a long time for me to start dressing for myself, rather than for other people and I think that had a lot to do with my self-esteem. I'm not sure when the shift in my thinking occurred, when I found out I had bone spurs and arthritis in my knees (from years of snowboarding and skiing) I started taking better care of myself and focusing more on how I felt than how I looked. I think how you feel on the inside (both mentally and physically) relates a lot to how you present yourself on the outside.
4. What inspired you to start a style blog? What motivates you?
I realized that I was vastly under-utilizing my closet around the same time that I discovered blogs like What I Wore and The Cherry Blossom Girl. I decided I wanted to try my hand at blogging and here we are! I'm motivated by the connections I've made with other bloggers and with my readers. There are also a lot of similarities in the blogging world and the art world, and I find I utilize what I learned as a fine-art student on a daily basis. I find that correlation very motivating. My co-workers Amy (of Punky Style) and Melissa (of Shoe String Magazine) – the founders of The Swapaholics – are also two of the most inspiring forces for me, to see what they started, and to be a part of that, makes me want to do more.
5. Did you go to college? What was your college experience like?
I did go to college! I went to a very small (300 students) fine arts college and received my B.F.A. in photography. After being quite the slacker in high school, I threw myself into college and probably stretched myself too thin: I was on the judicial board, an orientation leader, an RA, head of student government, worked at the front desk, as an admissions tour guide, worked in the maintenance department and also worked at a skate/snowboard shop off campus. As much as I loved school, I've found the years after graduation to be so much more fulfilling. I spent a lot of time growing up in college.
6. Where do you like to shop?
I still love thrift shopping, I would say that about 85% of my wardrobe was bought at either Savers or charity thrift stores around New England. The rest is a mix, but I love shopping online, I think you find better pieces that way. I hate the mall and I hate trying things on – if I don't have to go there, I'm very happy. I do love the J.Crew sale section for basics, and Madewell jeans are the only jeans I will wear, they fit me so well. I also love clothing swaps! I get so many great pieces at the swaps held by the Swapaholics, some of my favorite items have been from clothing swaps.
7. What advice do you have for being stylish on a college budget?
Remix! There are a million ways to wear the items you already own, so look at blogs for inspiration, and join Wardrobe Remix on Flickr. If you're tempted to spend because you feel like you have nothing in your closet, try some inexpensive accessories, or hit up the thrift stores. Even better, host a clothing swap! Get together with some friends, bring the gently used clothes from your closet that never see the light of day, and get swapping. Don't depend on magazines to tell you what's "in", wear what makes you feel wonderful. Blogs are fantastic resources, every type of person, every size, shape, race is represented, you don't see that in magazines.
8. What are your favorite pieces in your wardrobe?
Ohh, I have so many! Somehow I've turned into a major shoe girl, I have a pair of Frye motorcycle boots that I got at a clothing swap this past winter that are amazing, and I love my dress collection. But my most cherished pieces are the items of my mother's from the 60's and 70's that still fit me (she was tiny): A lace tank, an eggplant corduroy dress, and a leather backpack that I've been repairing.
9. Who/what inspires you?
I find inspiration everywhere: blogs, art, music, movies from the '70s and '80s. I especially love '80s and '90s teen movies, fashion gold!
10.What are the pieces you couldn't live without?
My Madewell Hi-Riser jeans, a men's style button-up shirt from J.Crew, my white vintage oxfords, a really pretty (comfortable) dress, a fantastic bathing suit, and gym clothes that don't embarrass me. And all my shoes.
11. What advice do you have for new bloggers or people considering starting a blog?
Patience is a virtue. Don't give up if your blog isn't an overnight success, persistence has staying power. Never be satisfied with the way your blog looks: tweak it, learn some HTML, make a banner in Photoshop (there are great online tutorials for this), learn how to take a great photo. Don't spam other bloggers with "follow me!" comments, leaving thoughtful comments goes a long way. Do what's right for you, start a blog for YOU. Your readers will find you and opportunity will find you. And lastly: don't listen to ANY of the cruel comments you may receive, everyone gets them.
12. You work in the fashion industry now- tell us about your job and the Swapaholics!
I'm in love with my job! As Brand Ambassador I coordinate blogger outreach, generating buzz about the various clothing swaps the Swapaholics host across the country. I coordinate guest posts and interviews on the Swapaholics blog, man the Twitter feed, and basically do anything else that needs doing.
13. What advice do you have for girls wanting to work in the fashion industry?
After college, I worked as a college Admissions Counselor for the art college I attended, we were constantly telling prospective students to create a career out of what they loved. It eventually became difficult for me to do my job, because I realized I wasn't practicing what I was preaching. It took a lot of hard work (and quite a few terrible jobs), but I've finally found a position that is the perfect fit for me. Getting from point A to point B isn't always a straight line, finding a career that you love takes a lot of hard work. Don't allow yourself to be discouraged, just work harder.
For girls wanting to break into the fashion industry, I think it's important to realize that there is more out there than being a designer, photographer, or stylist. Ask yourself: what is it about fashion that you love? What are you most drawn to? You don't have to live in New York or LA to be successful. Do not allow naysayers to get you down. An old boss once told me that the fashion industry is full of cruel and negative people and that I wouldn't last because I was too nice. While I'm sure this may be true in some respects, as of this moment, I'm working with some pretty amazing ladies, and I'm still a nice person.
14. You are great at remixing- what are your favorite remixing tips?
Thank you! Before I started blogging, I had never heard the term "remixing", I thought of it as "wearing something again, only a little differently". Get creative with your clothes and challenge yourself, can that dress be tucked into a skirt? Can you belt something? When you organize your closet, spend some time trying things new ways, you'll find that your options will expand tenfold.
How to Dress Like Julie
Julie's style is simple and effortless, but still fun and fresh. Here are a few ways to channel her style…
1. Invest in classic pieces.
Julie's wardrobe is built around those classic pieces you will wear forever. You can't go wrong building a wardrobe from a great pair of jeans, a well-cut blazer and a classic beige trench. These are the pieces that will go with everything, regardless of trends.
2. Build your outfit on neutrals.
Julie is a big fan of navy, cream, grey and tan. These colors work really well together and other colors will always complement them. She is also really good at mixing neutrals, and adding other muted colors, such as maroon and light blue. Her love of the East Coast is demonstrated in her favoring of blues and greys, which most of her outfits include.
3. Learn the art of layering.
As Julie demonstrates in many of her outfits, the addition of a great jacket or coat can really enhance a look. A classic blazer can add a masculine edge to a feminine dress, or smarten up jean shorts and a blouse.
4. Keep it simple.
Julie's looks are never over-accessorized. Her look is simple, polished, and stylish from season to season. I love her addition of classic accessories – satchel bags, vintage-style scarves and pendant necklaces. Her style is never over-the-top and she lets the clothes do the talking. She always balances out patterns and prints with simple pieces.
Outfit Inspired by Julie
chambray dress / navy blazer / wool tights / ankle socks / ankle boots
I love Julie's spring and fall look, so I wanted to create something that would be perfect for transitioning into next season. Chambray dresses have been a huge trend for summer but I wanted to show how they can be worn in the colder seasons, too. I paired this dress with a navy blazer, and then added ankle boots, tights and ankle socks. The layered tights and socks look is really cute and keeps your feet extra warm. I've also picked pieces in Julie's favorite neutrals.
Your thoughts?
What do you think of Julie's style? Are you inspired by her look? Also, let us know which bloggers you want to see featured next – we may interview your favorite in the weeks to come!